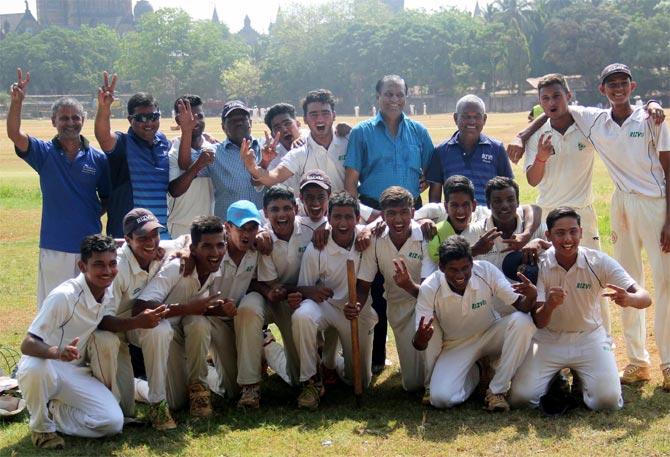 IMAGE: Rizvi Springfield High School celebrate after winning the Harris Shield Inter-School Cricket Tournament title in Mumbai.

Indian cricket legend Sachin Tendulkar's idea of 14-a-side teams at the school level has got the green signal from the sport's governing body in Mumbai.

Mumbai Cricket Association (MCA) recently passed a proposal allowing 14 members, instead of 11, to play in a team at the school level, a move aimed at popularising the game among children.

The idea floated by the batting great will be implemented in well-known Giles Shield and Harris Shield tournaments, both inter-school events.

"The association (MCA) has recently given the go-ahead for the proposal and the same would be implemented in the Haris Shield and Garris Shield tournament," MCA Joint Secretary P V Shetty said on Sunday.

According to the proposal, every side can field their best batsman and bowlers, enabling all the 14 members to play. All the players will be also be allowed to bowl.

At present, 11 players are allowed to play in each side.

Sources also said that the Mumbai Schools Sports Association (MSSA) has reportedly agreed to implement the proposal.

The idea had initially come up during the felicitation function of Tendulkar by MCA following his retirement a few years back.

This proposal has been reportedly accepted by a few other states, including Haryana, it is learnt.