'I am a private person, but over time I have figured there are certain things people want to see, which people want to know.'
Rediff.com's Harish Kotian listens in.
Photos: Hitesh Harisinghani/Rediff.com
Videos: Afsar Dayatar/Rediff.com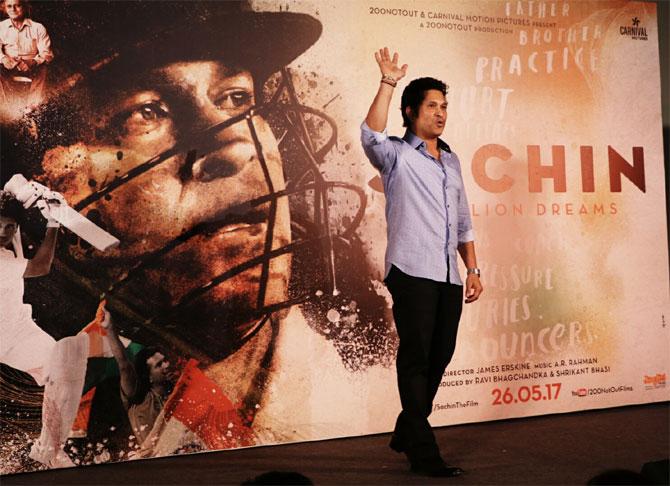 The world has seen and heard almost everything about Sachin Tendulkar in the 24 years he played cricket for India, but nothing seems to satisfy his fans who yearn for more.
In a month, fans will get fresh insights into his life and illustrious career when the film Sachin: A Billion Dreams hits the big screen on May 26.
The movie trailer was launched in Mumbai on Thursday, April 13, and the batting legend seemed excited about his big screen debut. "I never thought something like this is going to happen in my life," he said.
The trailer offered a sneak preview of what we can expect when Sachin: A Billion Dreams releases next month.
It traces Tendulkar's career from being the tyke from Mumbai's Sahitya Sahawas colony inspired to take up cricket by his elder brother Ajit to being coached by the tough Shivaji Park coach Ramakant Achrekar to becoming one of the greatest players ever to have graced the game.
The film will reveal the great man's relationship with his wife Anjali (many forget that she is a qualified doctor who was a brilliant student in school and college) and his children Sara and Arjun who accepted that cricket always came ahead of them when their dad donned India colours.
We'd love to know more about the Anjali-Sachin love story. We don't know if the film will reveal how the shy lad from Bandra East wooed the charming only child of an English mum and a bridge champion dad from Altamount Road.
How did they meet? How did they fall in love? Gosh, we'd like to know more about one of the great love stories of our time.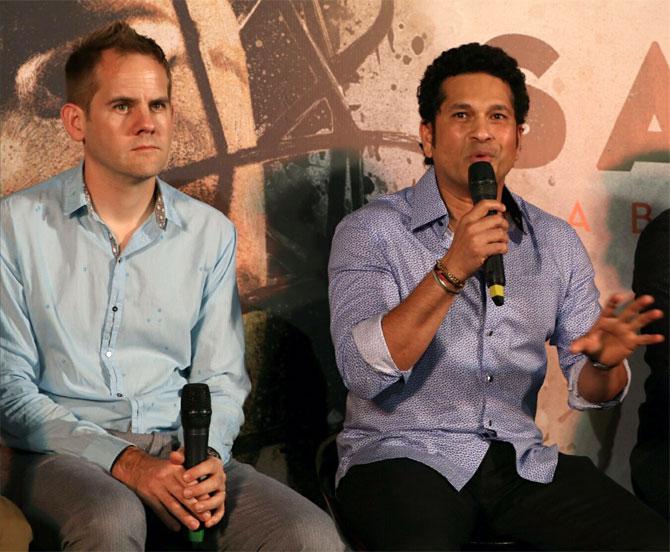 At the trailer launch, Tendulkar touched on the 1999 match-fixing controversy, which he described as "the worst moment in the history of Indian cricket."
Sachin: A Billion Dreams is directed by the Emmy-nominated (for The Human Face) James Erskine who made the documentary Battle of the Sexes on the famous tennis match between then Wimbledon champion Billie Jean-King and Bobby Riggs.
Erskine also wrote and directed Shooting for Socrates following the Northern Ireland team at the 1986 World Cup, and produced The Accidental Death Of A Cyclist on Marco Pantani, the flamboyant Italian cyclist who won the Tour de France in 1998 before he was found dead in a hotel room in Italy six years later from a cocaine overdose.
"I am really, really excited," Tendulkar said about the film, "because it is a new experience for me. To work with James who has so much experience. He has shown a different side of me which not many people have seen."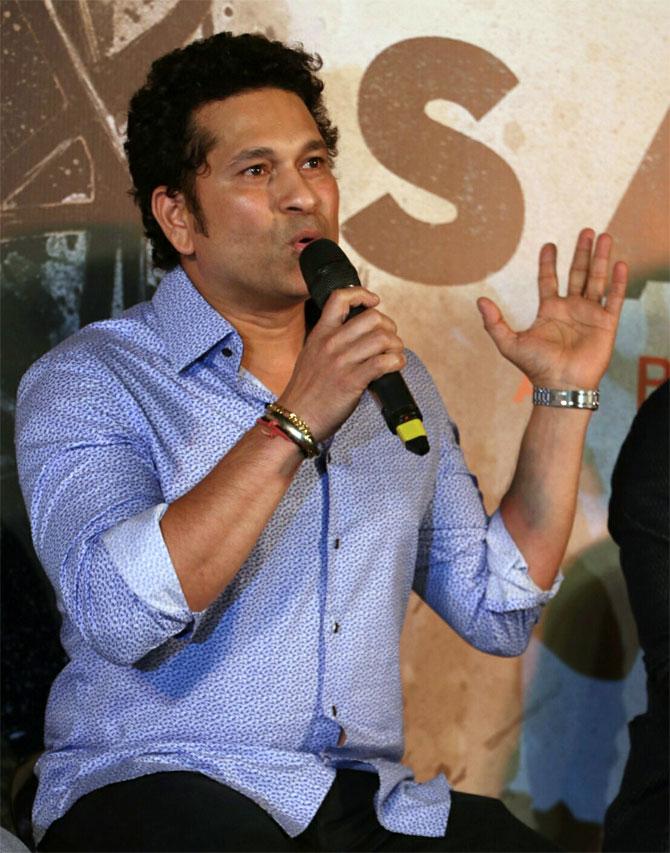 Tendulkar also recalled going to see his first-ever movie in a theatre with his family.
"I was three or four and my family was constantly talking about this movie called Maa, which I think was Dharmendra's movie. Then came the day when we finally went to watch the movie. The whole family was travelling by bus and when the conductor asked, 'Which ticket do you want?' I replied: 'I want tickets for Maa'."
"There are moments in the movie which stay with me and I am hoping they will stay with you," Tendulkar said. "While making this movie there were so many moments that we were able to relive and through those moments I feel we were able to get closer to my fans and understand them more"
"I am a private person," the wizard with the willow said, "but over time I have figured there are certain things people want to see, which people want to know. I have made all possible effort to try and live up to their expectations and what I also feel comfortable with."