'If we feel someone makes an impact, even if he makes a 30, we surely let him know that it was vital so that he knows he is making an impact for the team'
'Test matches need to have a wicket which gives you a result'
India captain Virat Kohli addressed the media after the rain-ruined second Test against South Africa in Bengaluru. Harish Kotian/Rediff.com reports.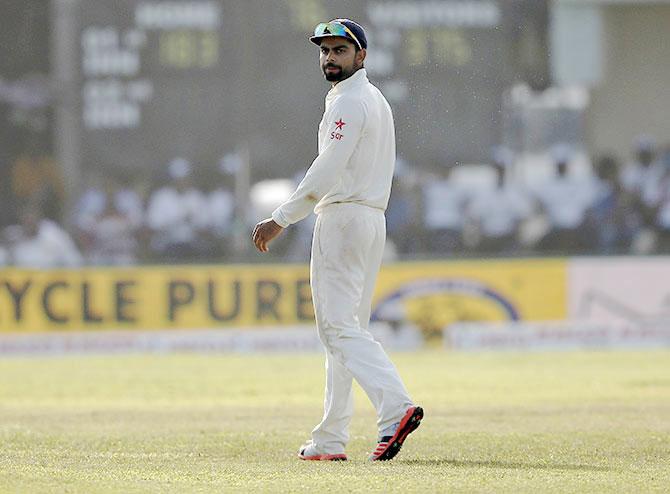 IMAGE: India's Test captain Virat Kohli. Photograph: Dinuka Liyanawatte/Reuters
India hammered the South Africans in Mohali and looked set for another crushing victory in the Bengaluru Test before the weather played spoilsport.
The Proteas surely must be happy to have escaped with a draw in the second Test following four days of rain.
India, who won the first Test by 108 runs, dominated Day 1, as they bowled out the visitors for 214 before racing to 80 without loss in the first innings by stumps.
Thus, it was not surprising that India captain Virat Kohli was left a frustrated man after rain washed out the fifth and final day's play as well at the M Chinnaswamy in Bengaluru on Wednesday.
"It was very disappointing; the second and third days especially were very frustrating because we had a very good first day. It is the toughest task to set up a Test match and then you have to win the important moments later on. So were on course to do that, to get control of the important moments of the game and capitalise.
"We had a good chance of putting South Africa under more pressure, but, as I said, the weather turned out to be in such a way that we had no control over it for the course of the next four days," moaned Kohli, after not a single ball was bowled on the last four days of the Test.
He again emphasised the need for producing result-oriented wickets for Tests in India, similar to the one in Mohali and what was on offer on the first day of the Bengaluru Test. He believes such wickets will attract more spectators to the grounds.
"Test matches need to have a wicket which gives you a result. So I am sure the people concerned, who are preparing the wicket or from the association, will obviously relate to the fact. To keep this format as exciting you need to have wickets that give results; that will be the basic idea of the administrators, I am sure, because every ground wants to have an exciting game, wants to have a result.
"I think that, ultimately, is the main goal of hosting a Test match," he said.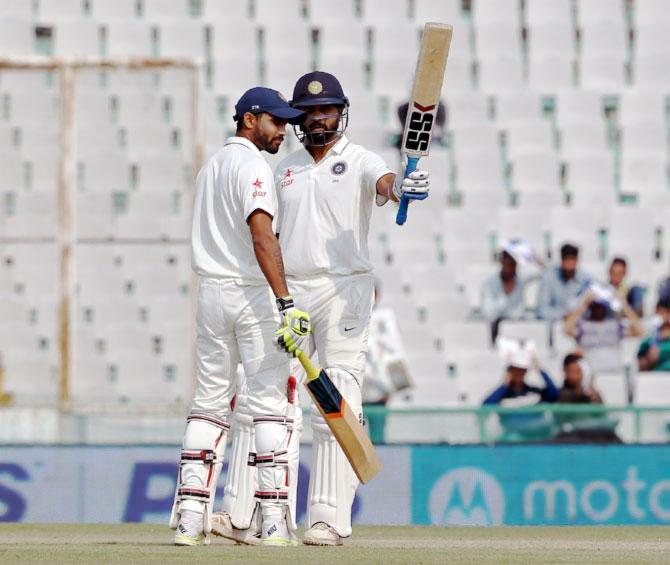 IMAGE: Murali Vijay (right) celebrates his half-century with Ravindra Jadeja in the first Test in Mohali. Photograph: BCCI
The draw in Bengaluru also halted Kohli's winning run as captain, having won the last two Tests in Sri Lanka before victory over the Proteas in Mohali.
Stressing on the need for his team to perform as a unit and not derive satisfaction out of individual glory, the 27-year-old said: "This team is not worried about personal performances or putting numbers in front of names. We just want to go out there and win a Test. And if we feel someone makes an impact, even if he makes a 30, we surely let him know that it was vital so that he knows he is making an impact for the team.
"When we get going -- any batsman wants to get going -- everyone is in that zone of performing for the team firstly and not about their individual score. That's the pleasing thing about the confidence and mindset of this team.
"You don't need to put a certain number of score in front of your name to make sure you make an impact. Someone scoring 30 runs also... (like) you take (Ravindra) Jadeja's knock of 38 (in the Mohali Test). Nobody talks about it, but it was as important as (Cheteshwar) Pujara's and (Murali) Vijay's runs in the course of the Test match, seeing the first innings and how it went.
"(Wriddhiman) Saha's 25-odd in the second innings was as crucial as that of Pujara and Vijay early on because that gives you a competitive target," he added.
Kohli pointed out that even had play in the Bengaluru Test resumed on Day 4, India had a good chance of pushing for a result.
"If we had proper two days of play, even from fourth day to the end of the fifth day, we were still looking at it as positive to bat for a full day and get lot of runs and put pressure on opposition.
"I am not saying that we would have bowled them out, but you can actually put pressure even if we had two more days of play. That's how well we played on Day 1 and that gave us the liberty to think that way."
Also Read