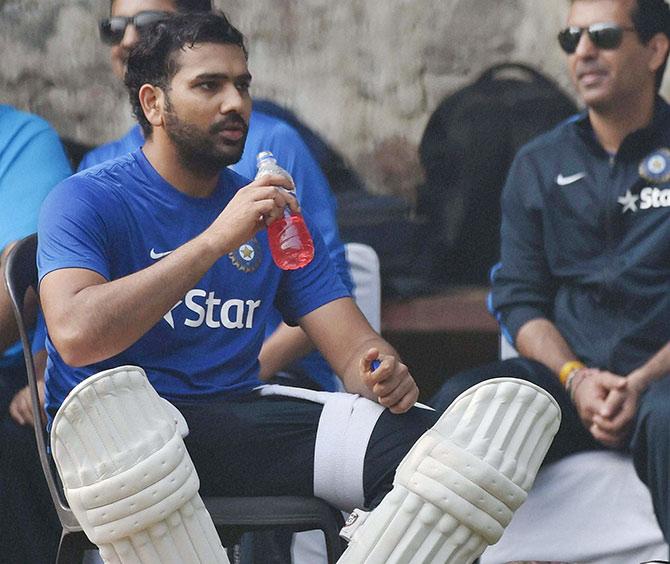 IMAGE: India's Rohit Sharma during a practice session in New Delhi. Photograph: PTI
Former batsman Sanjay Manjrekar feels that Rohit Sharma is on a self-destructive mode and said it will be difficult for him to retain his place in India's Tests squad.
"He would be hoping for a second innings and he gets an opportunity to bat and he needs to score to save his Test place. It has come to that situation where the selectors will be thinking hard if Rohit Sharma deserves a test place," Manjrekar said.
"What goes against him is the way he gets out. Even today, at a crucial juncture trying to hit a bowler for a six and getting out. His game is built on lofted shots. the sixes and big shots are part of his DNA, his basic game.
"What he has struggled to do is rein it in. In England also he got out while playing a big shot. He plays a lot of them in other format of the game. He is almost on self-destruction mode," he said.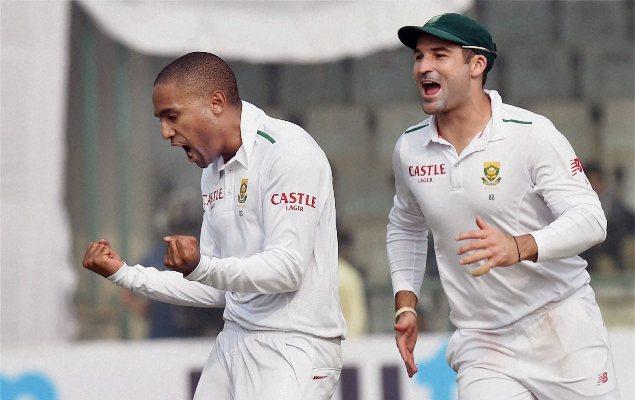 IMAGE: South Africa's Dane Piedt celebrates with teammate Dean Elgar the wicket of Indian batsman Murali Vijay during the fourth Test match in New Delhi. Photograph: PTI
Rohit got out while looking for a big shot and was caught by Imran Tahir at the long-on off Dane Piedt.
Manjrekar was also impressed with off-spinner Piedt and said South Africa made a mistake by not playing the youngster earlier in the four-Test series.
The 25-year-old Piedt, who is playing only his second Test, took four wickets on the opening day of the fourth and final
Test and Manjrekar said he is a good find for South Africa.
"Dane Piedt seems to be a good find for South Africa. I think the visitors made a mistake by not playing him earlier in the series. He seems to be an accurate bowler and if there is some purchase for the spinners from the pitch, he can trouble the batsmen," he said.