'I don't mind compromising on averages as long as we are winning Test matches'

India scored just 201 and 200 in the two innings in Mohali, while in Nagpur they put up 215 and 173. Yet, skipper Virat Kohli has no complaints. Harish Kotian/Rediff.com reports from Nagpur.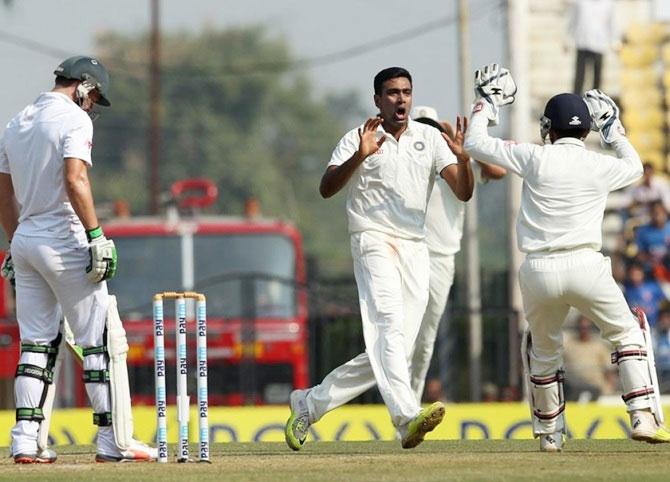 IMAGE: India's Ravichandran Ashwin celebrates the wicket of South Africa's AB de Villiers during the third day of their third Test match in Nagpur on Friday. Photograph: BCCI
Gone are the days when Indian batsmen would dominate at home. The last couple of years has seen the trend being reversed, with pitches being produced to favour spinners and the focus on winning Tests at any cost.
In what could be a rarity for a Test series in India, not a single batsman from either side scored a century in the first three matches of the ongoing four-Test series against South Africa.
Save the rained-off second Test in Bangalore, the pitches for the Mohali and Nagpur Tests were loaded heavily in favour of spin, offering a lot of turn and bounce from Day 1.
- Images from the third Test, Day 3
While India are getting the desired results by streamrolling opponents within three days, they have also had to face collateral damage to some extent.
India's batting has suffered a great deal in the series. Ajinkya Rahane and Virat Kohli, their premier batsmen, are struggling. While Rahane aggregated just 39 runs in the three Tests, Kohli has 68. Except for Murali Vijay (195 runs) and Cheteshwar Pujara (160) no other Indian batsmen has scored even a fifty!
India managed just 201 and 200 in the two innings in Mohali, while in Nagpur they scored 215 and 173. It was only the poor showing by the South Africans that camouflaged the team's failings with the bat.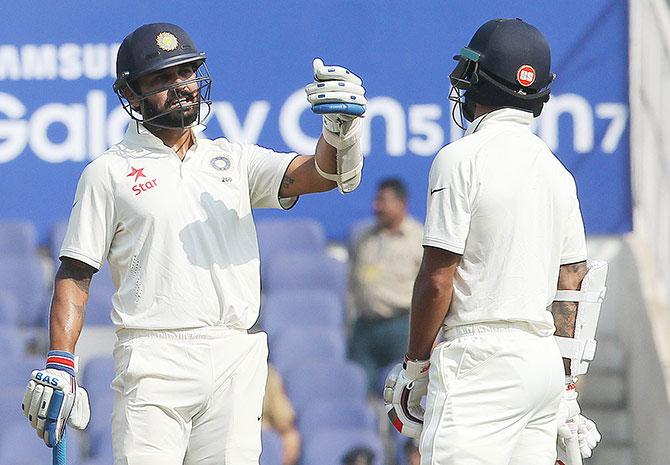 IMAGE: Murali Vijay of India and Shikhar Dhawan of India during Day One of the third Test against South Africa in Nagpur. Photograph: BCCI
Interestingly, India captain Kohli revealed the team is ready to sacrifice his batsmen's records as long the primary goal of winning Test matches is achieved.
"I don't mind compromising on averages as long as we are winning Test matches. I think that's our main concern. We are not playing for records; we are not playing for numbers or averages. Let's not get into that matter. Yeah, that's all there is to it.
"In Sri Lanka our performances weren't that great with the bat, but we still won the series," he said, in Nagpur on Friday, after India beat South Africa by 124 runs in the third Test to seal the four-match series 2-0.
Kohli believes that no matter how the batsmen fare, it is the bowlers who ultimately win you Tests and pitches must be prepared to support them.
"It's the bowlers who are going to win you Test matches, as simple as that. If you don't take 20 wickets, you can have an average of 55, it doesn't matter. These small contributions and team winning are more important rather than having an average of 50 and above and bowlers not being able to take wickets.
"I think you need to find an appropriate balance and sometimes small contributions are more important than the big hundreds that we get in Test cricket."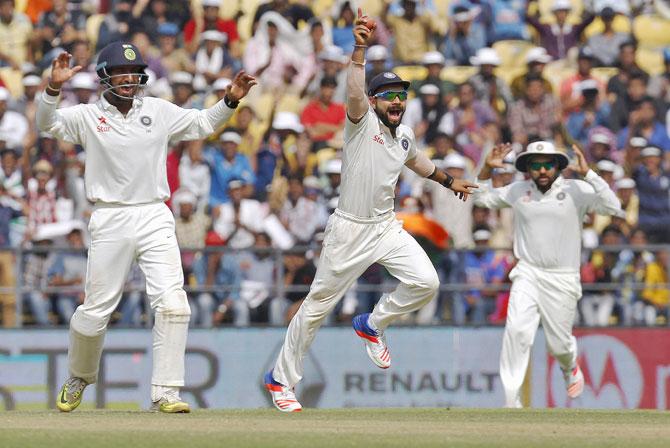 India's captain Virat Kohli (centre) along with his teammates Cheteshwar Pujara (left) and Rohit Sharma appeal unsuccessfully for the wicket of South Africa's Faf du Plessis. Photograph: Amit Dave/Reuters
He asserted that it is not unusual to find turning wickets in India, as preparing flat wickets can only result in high-scoring dull draws.
Asked if the Indian team will persist with the policy of playing on turning tracks at home, he replied: "It is not a policy; it is the conditions that you get in India. Otherwise you will just play Test matches which will get you 500 runs in an innings. You don't create bowlers like that, you don't win Test matches like that. The key is to win Test matches."
He also took a dig at critics, saying when Indian batsmen struggle overseas they are blamed for their technical or mental deficiencies but the same is not applicable when overseas batsmen struggle on Indian tracks.
"We have never complained when we had challenging conditions and won't complain in the future either. We have tried to improve our game; it is always a matter of us not having the technique or us not having the mental strength to cope with conditions away from home. But when these sorts of things happen here, everybody starts talking about how it is an undue home advantage.
"In the last few years, if you see out the stats of any team, they are dominating at home and that is how Test cricket has gone," he added.