'I don't care where I play my 100th Test. I didn't mind where I played my 50th; I don't mind where I play any of my Test matches. Representing my country is a great honour'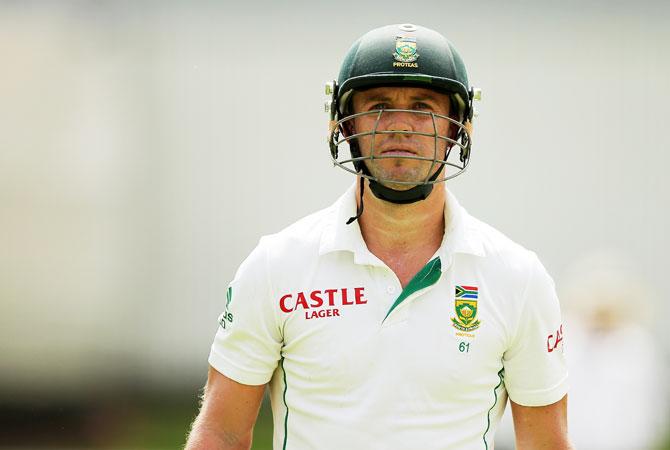 IMAGE: South Africa's AB de Villiers. Photograph: Morne de Klerk/Getty Images
For South Africa's batting superstar AB de Villiers, the setting could not have been perfect.
The right-hander, who dons the colours of Royal Challengers Bangalore in the Indian Premier League, is set to play his milestone 100th Test match in Bangalore, which can be rightfully called his 'home away from home'.
And, De Villiers himself admitted that achieving the landmark at the M Chinnaswamy Stadium is special, but added that any other venue would have also worked out fine.
"I've never been very fundamental about these kinds of things. I don't care where I play my 100th Test. I didn't mind where I played my 50th; I don't mind where I play any of my Test matches. Representing my country is a great honour.
"But I have to add that playing in Bangalore -- the fact that it worked out this way -- is really special for me. I love coming here. I enjoy touring India in general. I love coming here for the IPL. But I don't really mind where I play my 100th. I would have been okay with Bangladesh as well," the swashbuckling South African said in Bangalore on Thursday.
However, the team man that he is, de Villiers, claimed personal landmarks don't matter in a team sport.
"I don't feel any pressure because it's my 100th Test; I feel pressure because we are 1-0 down. It's a huge honour to play my 100th Test and I never in my life thought I will be in this kind of position. I feel humbled and privileged to get the opportunity to walk out onto the field in my 100th Test. I've never put too much pressure on myself. I just want to have an impact on the game. That's the kind of pressure I'm feeling. I want to play my role in the team and get us into a position where we can win this Test match and get back into the series," he said.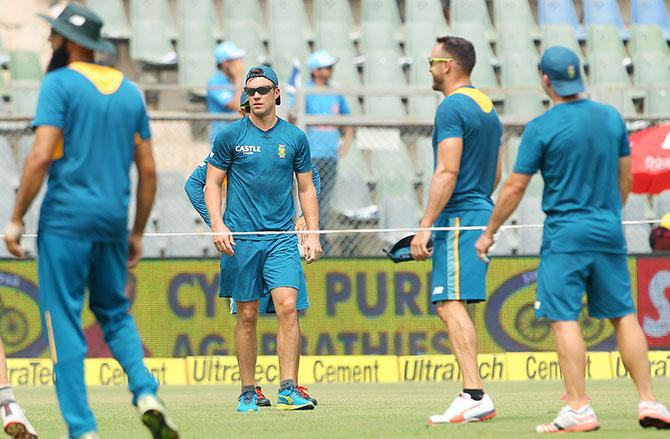 IMAGE: South Africa's AB de Villiers during a practice session. Photograph: BCCI
De Villiers pointed out that he is not too happy with celebrations planned around his 100-Test mark and he would rather focus on the match.
"I know we are 1-0 down and we want to get back into this series. I don't like looking back too much; I've got lots of time after my career to do that. I don't like to celebrate my own achievements.
"There is a function tonight, which I am not too happy about. But at the end of the day, looking back, they are going to be special memories for me. I will enjoy the function and I will enjoy the Test match as well but definitely no celebrations at the moment. I just want to win this Test match for the team.
His exploits with the bat in the past few years across all formats has evoked comparisons with West Indian batting great Vivian Richards but surprisingly, De Villiers didn't seem that pleased.
"I have watched him play a little bit, some of the highlights, and he was an incredible cricket player. I don't like to be compared to other players. I never put myself up on the pedestal. I just enjoy the game of cricket. I know I have been playing well this year and I would love to extend that run of form. But more importantly, I would like to have an impact on us winning cricket games. I would like us to win this Test match," he claimed.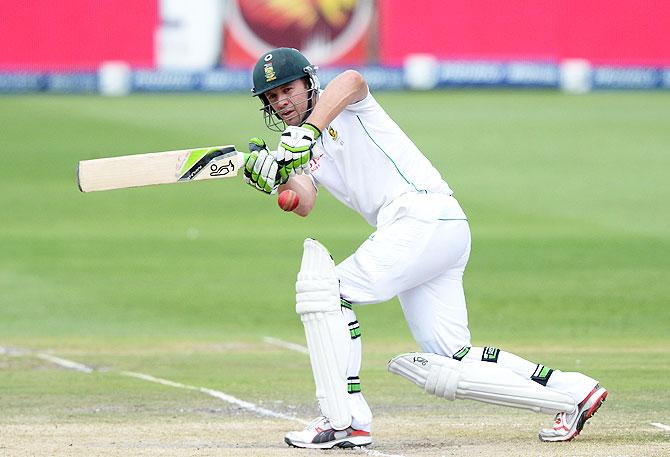 IMAGE: South Africa's AB de Villiers plays a shot at square leg. Photograph: Duif du Toit/Gallo Images/Getty Images
The South African mainstay also revealed another interesting facet of his personality, which many might not have been aware.
"I am not a nice guy on the field. I want to win games. I will do whatever it takes for us to win games of cricket. If I have to sledge, I will get involved like that. I will try and intimidate a player if I have to. I will try and get Virat [Kohli] off his game by talking about his technique and little flaws -- I don't mind doing things like that, whatever it takes to win games of cricket.
"I am not a nice guy on the field and I have never really respected a guy who has been a 'nice guy' on the field. I want opposition to be hard, to play to win the game for their team. Off the field, I try to be a good human being. It goes a lot deeper than that; it's got nothing to do with cricket. I know my role in the side and that is to win games for my team. A lot of times I don't have to be a nice guy to do that," he added.
South Africa have not lost an away Test series for the last nine years and de Villiers is hoping that they can continue their good run and conquer India as well, where they lost won a Test series way back in 1999-2000.
"It is just about winning away from home. We have never done it away in India. It will be a great achievement. That is enough drive for this team. To dominate cricket, that is ultimately the goal, to dominate world cricket. If we do this, we are slowly but surely taking another step in the right direction, towards doing something special," he stated.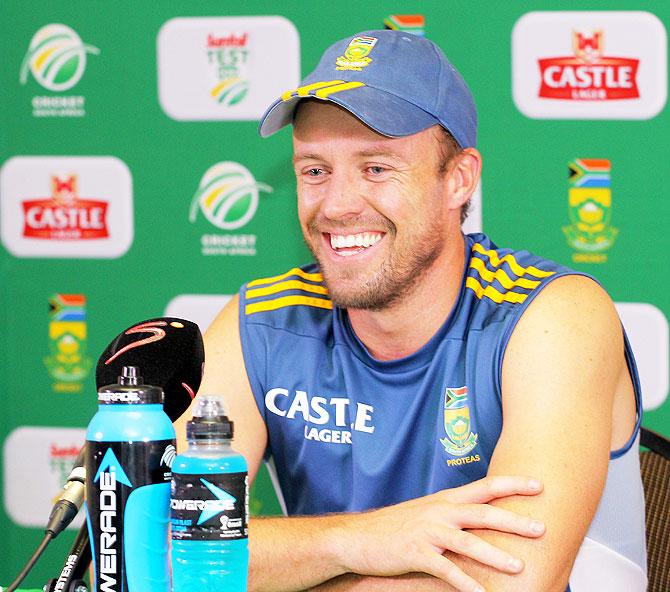 IMAGE: Proteas' AB de Villiers speaks during a press conference. Photograph: Carl Fourie/Gallo Images/Getty Images
Looking back, de Villiers claimed having two elder brothers, who actively played sports, were instrumental in him taking up cricket seriously and thanked his parents for supporting his dream.
"All kinds of sports, growing up, shaped me into the cricket player that I am today. I don't think I can turn my back on that. I played a lot of ball sports growing up -- a sports crazy family. Two older brothers that always kept me busy in the backyard with all kinds of games. My parents were never against me playing all kinds of sports. They always let me make my own decisions and learn from my own mistakes. That's a very valuable lesson growing up. They really allowed me to spread my wings and to do my own thing.
"It was completely my own decision to go into cricket. I think my dad would have liked me to be a doctor or to go to university and get a degree behind my name but he will obviously be happy with where I am at the moment and the career that I have chosen and what I have achieved with my cricket. And the same goes with my mom, no pressure from her side. I grew up in a very solid family, really allowing me to do what I want. They gave me a lot of opportunities to express my talent," he stated.