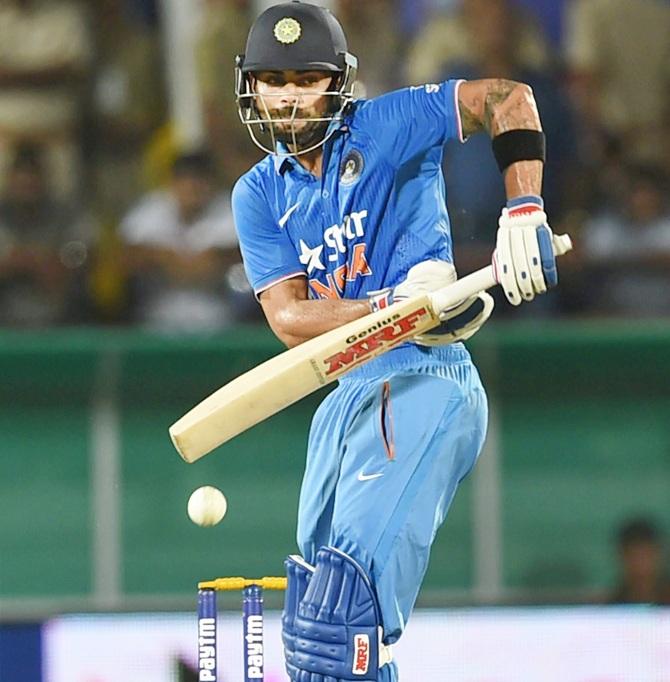 IMAGE: India's Virat Kohli plays a shot during their third ODI match against South Africa, in Rajkot, on Sunday. Photograph: PTI
Mainstay of Indian batting line-up, Virat Kohli was struggling to score runs of late. Since the arrival of South Africa team, the stylish right-hander has accumulated mere 67 runs in three innings - two T20s and two ODI matches.
INTERESTING numbers from Rajkot
India's batting order woes continue to baffle Dhoni
But it was time that Kohli struck form with his bat and he top-scored with 77 runs.
Asked about Kohli, Mahendra Singh Dhoni said his deputy has never been out of form in the series.
"He's (Kohli) not somebody who is out of form. He got run out in a few games. We wanted to try him out at No 4 and he got run out and it became slightly more difficult for this line up. The good thing is Ajinkya Rahane batted really well when he got the opportunity to bat higher up. He can play authentic cricket shots and can exploit the field well.
"But in this game I felt it was important for Virat to bat at 3 and that's the slot he will generally bat at. We are still looking for someone at No 7 who can play big shots. We also have to play five bowlers," Dhoni said.
Talking about Sunday's game that India lost by 18 runs after failing to chase South Africa's 270 on a slow pitch, Dhoni said the wicket became increasingly slower as the game and made life difficult for the batsmen.