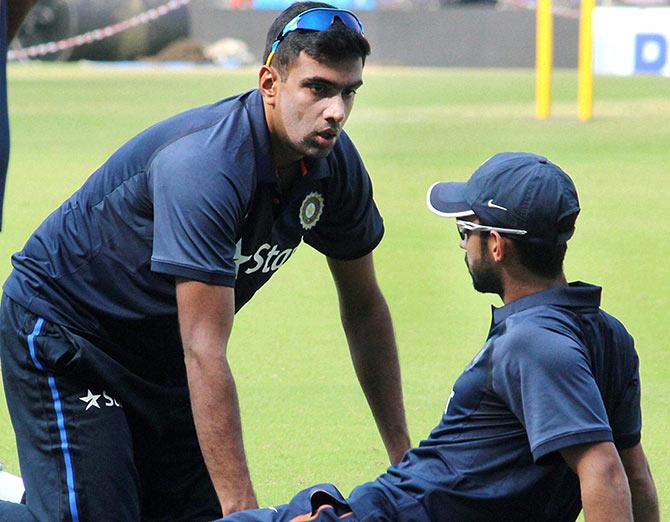 IMAGE: India's Ravchandran Ashwin during a training session in Nagpur. Photograph: PTI
Ravichandran Ashwin's stupendous performances over the past year is a result of getting "back to basics without trying too much", feels his Test captain Virat Kohli.
Ashwin was instrumental in India winning the Test series in Sri Lanka and is also jointly leading the wicket-takers' list with 12 victims to his credit.
"If you see his bowling in the last six months he has got back to basics, he has not tried too much with the ball. You hardly see the carrom ball which means he is relying on his natural bowling action and his stock ball," Kohli said at the pre-match press conference ahead of the third Test.
"He (Ashwin) is flighting the ball and is giving more revs (revolutions) to the ball. He has got stronger fitness-wise as well, which is helping his bowling big time because he is able to put the force behind the ball and get more turn and bounce off the pitches which other bowlers are finding difficult," Kohli waxed eloquent about the Tamil Nadu tweaker.
"Obviously he is using his skill combined with fitness and he is just becoming a better bowler every day. As a captain, I am delighted that Ashwin is in our team along with Amit Mishra, who brings a lot of variation for us and Ravindra Jadeja, who is very, very consistent.
"I am sure it is not pleasant facing all three together and I am glad we have all three in our team," he added.