New Zealand cricketer Jesse Ryder is reportedly disappointed at missing the chance to play at this season's Indian Premier League (IPL) following an assault that left him with a fractured skull and a punctured lung.
Ryder, who was attacked last week as he left a bar in Christchurch, New Zealand where he had been socialising with members of his Wellington cricket team, was first placed in an induced coma but regained consciousness on Saturday, Sport24 reports.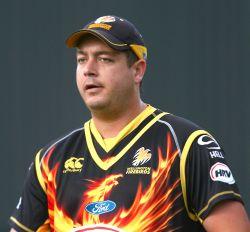 Stating that Ryder was disappointed about missing the IPL, his manager Aaron Klee said that while the cricketer could converse and take short walks, he is still not recovered enough to be able to take up his IPL contract with the Delhi Daredevils.
According to Klee, Ryder saw the IPL as a great opportunity to get back on the world stage, adding that the cricketer has remarkable progress from his injuries.
Klee further said that although Ryder is still weak, he is getting better and building his strength, adding that the cricketer needs time and rest to make a full recovery.
Klee also said that it was too early to determine whether Ryder would play cricket again.
Photograph: Teaukura Moetaua/Getty Images