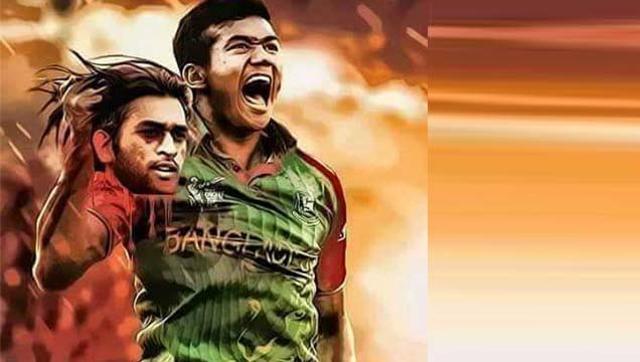 IMAGE: The controversial photo of Taskin Ahmed holding the severed head of MS Dhoni. Photograph: Twitter.
A photograph posted by a Bangladeshi fan has gone viral and attracted massive outrage from Indian fans ahead of the Asia Cup final between India and Bangladesh on Sunday.
The picture posted on Twitter shows Bangladeshi fast bowler Taskin Ahmed carrying the severed head of the India's limited-overs captain Mahendra Singh Dhoni.
This picture was uploaded on Twitter after Bangladesh stunned Pakistan on Wednesday to set up a Asia Cup summit clash with the Men in Blue.
This isn't the first time that a Bangladeshi fan has resorted to such dirty tricks on the social media to target Indian players.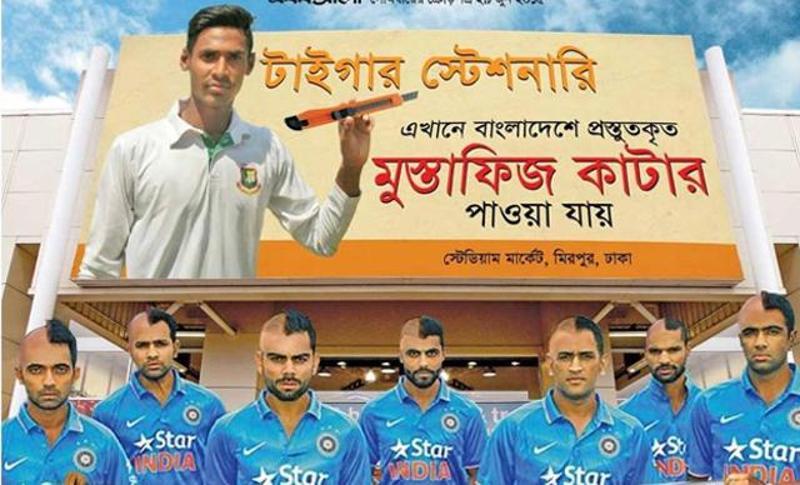 IMAGE: Photo published by Bangladeshi newspaper after India's ODI series defeat against Bangladesh in 2015. Photograph: Twitter.
After India's defeat against Bangladesh in the ODI series in 2015, a Bangladeshi newspaper had carried a picture of half-shaved heads of the Indian players with Bangladesh's top bowler in the series Mustafizur Rahman holding a cutter in his hand in order to show the after-effects of Mustafizur's slow deliveries or cutters.
India's team director Ravi Shastri commented on the recent picture (Taskin holding Dhoni's head) which has been a stirred controversy.
On being informed at the pre-match press conference that this has been the top story of quite a few national dailies of Bangladesh, Shastri said, "It's not our job to look at news papers, our job is to play cricket. It's your job to find out what stories are getting published in the dailies.
"When we play cricket, we do not concentrate on newspaper articles. So you all can make your own assessments by reading those stories."
While India has always enjoyed an upper hand over Bangladesh, an intense rivalry came into the fore during the quarterfinal clash at 2015 World Cup in Australia.
The incident when Rohit Sharma was given not out owing to a waist-height no-ball was severely criticised by many Bangladeshi's with Indian fans also reiterating.