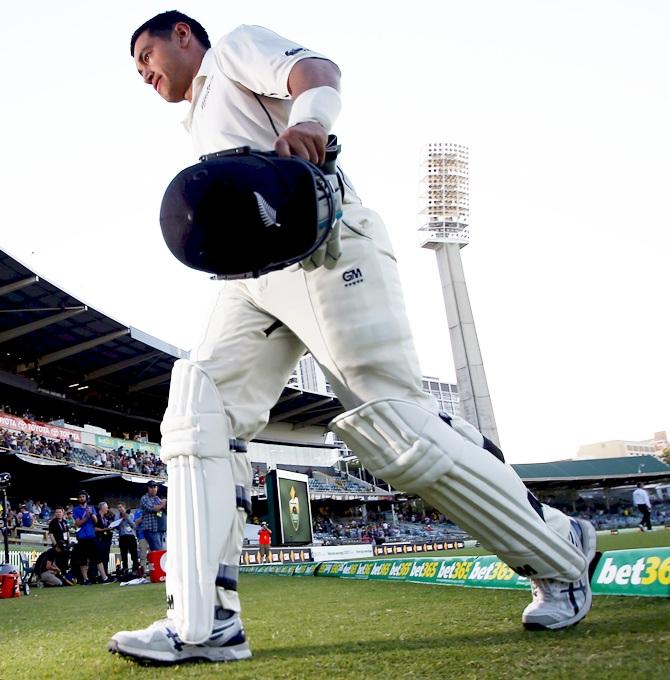 IMAGE: New Zealand's Ross Taylor walks off the ground. Photograph: David Gray/Reuters.
New Zealand head coach Mike Hesson has confirmed that senior batsman Ross Taylor has vision problems and will be soon seeing an eye specialist before the second Test of the ongoing two-match series against Pakistan.

Taylor, who has been under the scanner owing his recent Test form, did not bat at his usual number four spot in the second innings of the Christchurch Test which the Black Caps comfortably won by eight wickets.

The New Zealand head coach said the 32-year-old had his eyes checked before the start of the match and "it certainly showed he needed to see a specialist."

"It just appears the eyesight has deteriorated. Ross was keen to get it seen to," Hesson was quoted as saying by Sport24.

It is, however, not confirmed whether Taylor would play the second Test beginning at Seddon Park in November 25

Hesson also informed that the right-handed batsman had a check-up six months ago and there were no issues then.

"There's a growth that's come across a little bit. It's been fine for a long time but it's part and parcel for any human being. You do different tests, you want to make sure things are all in order," Hesson said.

The 32-year-old, who averages 45.95 in his Test career, has only averaged just over 10 in his last 10 innings, scoring 11 in his only knock against Pakistan.