Root shocked by Vaughan's 'unfair' criticism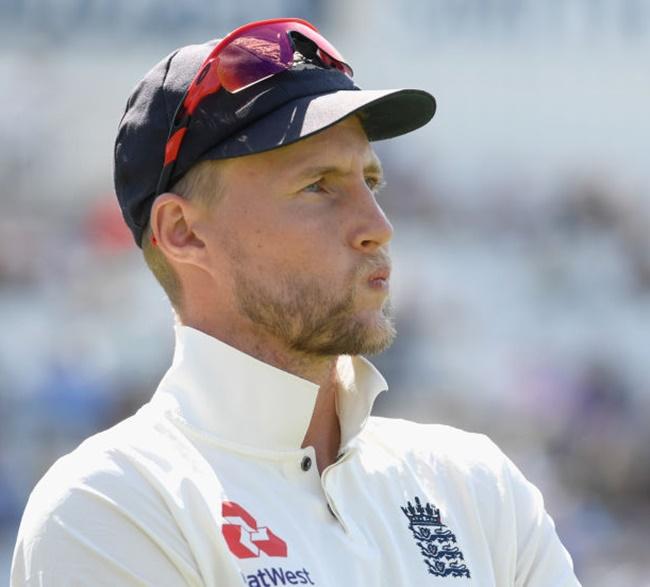 IMAGE: England captain Joe Root reacts. Photograph: Stu Forster/Getty Images
New England skipper Joe Root was taken aback by the 'unfair' criticism made by Michael Vaughan of his side's performance during the Trent Bridge Test against South Africa which they lost by 340 runs.
"The England batting has been appalling. Maybe it's a lack of respect about what the game is," Vaughan had said after England were dismissed for 205 runs in their first innings of the Trent Bridge Test.
"They look like they are playing a Twenty20 game. I look at the approach - yes, the ball has done a little bit but it's not been drastic. They have this approach of attack, attack, attack. There is no thought or feeling of seeing off a bowler or wearing a team down," he added.
Chasing a mammoth target of 474 runs to win, the hosts failed to counter South Africa's bowling attack and were eventually collapsed to 133 all out in their second innings on the fourth day, succumbing to the second biggest defeat, in terms of runs, in their history against the Proteas.
None of the England batsmen were able to contribute much in the side's second innings, with former skipper and opener Alastair Cook being the top scorer with 42 runs.
While South Africa's first innings lasted 96.2 overs, the hosts batted for only 96.1 across the entire match, thus inviting criticism from many.
Root, though, was unimpressed with Vaughan's assessment.
"That's very unfair," he said. "I can't believe he's actually said that, to be honest," ESPNcricinfo quoted Root as saying.
"We pride ourselves on winning series like this and unfortunately we've played poorly this week," he added.
While the newly appointed England skipper admitted that some of his side's batting was "disappointing", he insisted that the result was not a fair representation of the quality of the side.
"It was very disappointing the way we played today," Root said. "We're a side that doesn't like giving anything away and unfortunately today that wasn't a fair representation of how good we are as a team."
The England batting mainstay further said that it was important for his team to stay calm and focus on the remaining two game of the Test series.
"It's important to stay calm. There's a lot of cricket left to be played in this series. It's important we don't sulk and we don't get too down on ourselves. We're a good side and we don't lose that overnight," Root said.
"We need to learn the lessons quickly from this week. We didn't assess the situation well enough in the first innings and then from that we couldn't find a way to get back into the game.
"A lot of sides do (struggle to adjust between formats) in world cricket: the amount of white-ball cricket we play and the crossover between formats," he added.
The four-match series is now leveled at 1-1 and the two sides will now take on each other in the third Test, beginning July 27 at the Oval.
Hussain criticises 'abysmal' England selection
Former captain Nasser Hussain has criticised the selection committee of the England cricket team after the Joe Root-led side slumped to a 340-run defeat to South Africa in Trent Bridge Test.
According to him, too many recent call-ups led to this debacle.
He believes that the match in Trent Bridge reflects poorly of the selection committee comprising chairman James Whitaker, who played one Test as a batsman for England in 1986; former Test seamer Angus Fraser, now the director of cricket at county champions Middlesex and Mick Newell, who holds a similar position at Trent Bridge-based Nottinghamshire, a Second Division county.
In addition to them, coach Trevor Bayliss and Root have a say in selecting the team.
Hussain blamed England's top order for not producing the goods.
"The lads who are coming in aren't doing anything," Sport24 quoted Hussain as saying.
"They won (the first Test at Lord's because of Joe Root...the ones they've won before have been because of Root, Ben Stokes, Moeen Ali, Jimmy Anderson, Stuart Broad in Johannesburg."
""The selectors are going to have to have a good long look at themselves because their record in the last two years -- two years ago it was one-day cricket, now in Test match cricket -- their selections have been abysmal," he added.
The former England skipper criticised Gary Balance, who was recalled for a third crack at Test cricket this series following his prolific form for Yorkshire this season.
However, Hussain insisted, "Selection is not just about saying 'Gary Ballance has 1,000 first-class runs so Gary Ballance plays'.
"Speak to umpires, speak to bowlers, has he actually changed? He hasn't changed a thing and we're getting exactly what we got the last two times. He'll go back to county cricket and score runs again but that doesn't mean he's an international cricketer," he added.