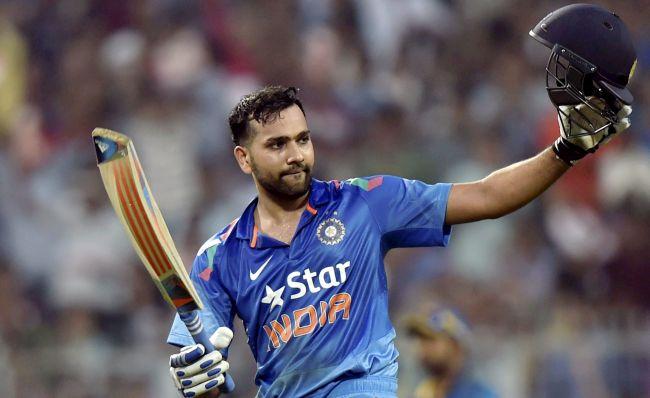 Rohit Sharma celebrates after completing his double century. Photograph: PTI
Virat Kohli is a fan of Rohit Sharma's batting and the India captain feels his teammate's record-breaking ODI score of 264 against Sri Lanka will not be surpassed anytime soon.
"I said in the press conference yesterday that once Rohit gets going he is very dangerous," said Kohli after leading India to a 153-run win in the fourth ODI at the Eden Gardens.
"Today is the kind of day I can tell my kids I was there (and watched Rohit bat). I don't think this record is getting broken anytime soon."
Rohit shared a 202-run stand with Kohli on way to his mammoth knock.
"I was glad I was batting with him. There was a time when Rohit will admit runs were not coming easily, and I just asked him to take his time. Once he gets to 70-80, he is almost unstoppable," said Kohli.
'I am quite happy as of now as captain'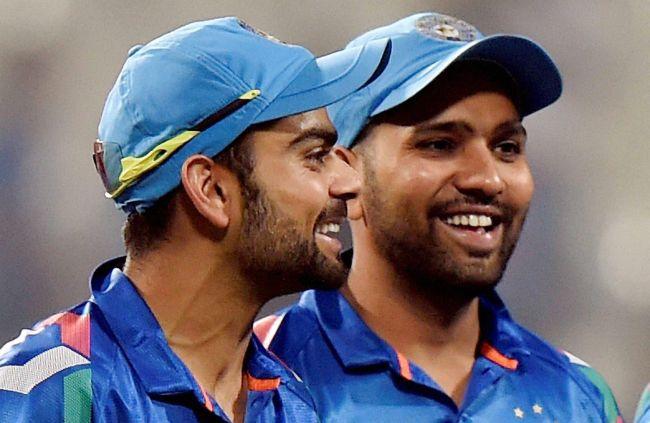 Virat Kohli and Rohit Sharma walk back to the pavillion after the game. Photograph: PTI
India lead 4-0 in the series, having hardly being troubled by the opposition.
Asked he felt captaining the side in the absence of MS Dhoni, Kohli said: "I am quite happy as of now as captain. I have had more wins than losses, but your character is tested only in bad times. That time will come sooner than later."
Kohli has no plans to take it easy in the fifth and final ODI in Ranchi.
"No we don't want to let up. That's what we are looking to develop as a team culture. We will continue to be ruthless," he added.
Kohli's counterpart Angelo Mathews said it is embarrassing that his team is not able to compete against India.
"It is embarrassing that we are not even competing," said Mathews.
"We lost our way in the last 20 overs. It is not acceptable. Our bowlers didn't have any answers for them. To score 290 in the last 25 is unbelievable. Nothing can be taken away from Rohit, though. Our fielding was terrible again. We need to fix our problems. We need to get everything - batting, bowling and fielding - right," he said.