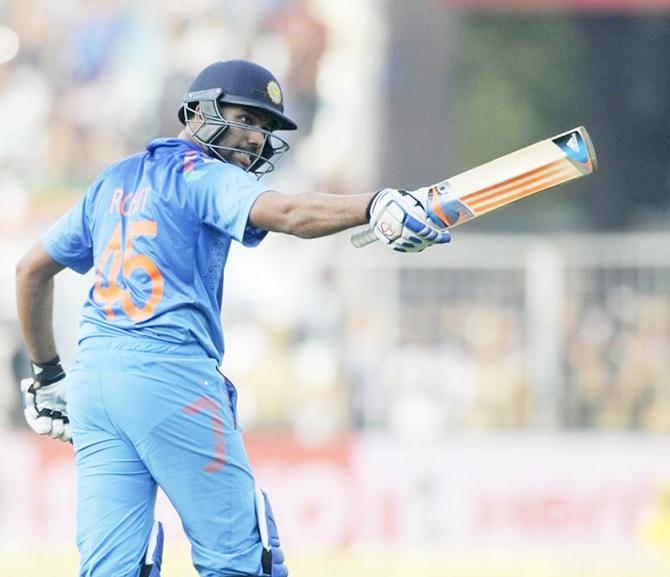 Rohit Sharma made history on Thursday with a scintillating 264, the highest individual ODI score, as India amassed 404 for five in the fourth one-dayer against Sri Lanka at the Eden Gardens in Kolkata.
Returning after a 10-week injury lay-off the Mumbai right-hander toyed with the Sri Lankan bowling en route to a 173-ball 264, which was studded with 33 boundaries and nine sixes.
In the process, he also broke compatriot Virender Sehwag's record of 219 runs, which was set against the West Indies in 2011, and became the first batsman to register two double centuries in ODIs.
Rajneesh Gupta presents a statistical outlook on the highest individual scores in One-day cricket
Progression to highest individual score in ODIs
| | | | | | |
| --- | --- | --- | --- | --- | --- |
| Score | Batsman | Opponent | Venue | Date | Match # |
| 82 | JH Edrich (Eng) | Australia | Melbourne | 05-01-1971 | 1 |
| 103 | DL Amiss (Eng) | Australia | Old Trafford | 24-08-1972 | 2 |
| 105 | RC Fredericks (WI) | England | The Oval | 07-09-1973 | 9 |
| 116* | D Lloyd (Eng) | India | Trent Bridge | 31-08-1974 | 14 |
| 171* | GM Turner (NZ) | East Africa | Edgbaston | 07-06-1975 | 20 |
| 175* | Kapil Dev (Ind) | Zimbabwe | Tunbridge Wells | 18-06-1983 | 216 |
| 189* | IVA Richards (WI) | England | Old Trafford | 31-05-1984 | 264 |
| 194 | Saeed Anwar (Pak) | India | Chennai | 21-05-1997 | 1209 |
| 194* | CK Coventry (Zim) | Bangladesh | Bulawayo | 16-08-2009 | 2873 |
| 200* | SR Tendulkar (Ind) | South Africa | Gwalior | 24-02-2010 | 2962 |
| 219 | V Sehwag (Ind) | West Indies | Indore | 08-12-2011 | 3223 |
| 264 | RG Sharma (Ind) | Sri Lanka | Kolkata | 13-11-2014 | 3544 |
Highest individual innings in One-day internationals
| | | | | | |
| --- | --- | --- | --- | --- | --- |
| Score | Player | For | Vs | Venue | Year |
| 264 | RG Sharma | Ind | SL | Kolkata | 2014 |
| 219 | V Sehwag | Ind | WI | Indore | 2011 |
| 209 | RG Sharma | Ind | Aus | Bangalore | 2013 |
| 200* | SR Tendulkar | Ind | SA | Gwalior | 2010 |
| 194 | CK Coventry | Zim | Ban | Bulawayo | 2009 |
| 194 | Saeed Anwar | Pak | Ind | Chennai | 1997 |
| 189* | MJ Guptill | NZ | Eng | Rose Bowl | 2013 |
| 189* | IVA Richards | WI | Eng | Old Trafford | 1984 |
| 189 | ST Jayasuriya | SL | Ind | Sharjah | 2000 |
| 188* | G Kirsten | SA | UAE | Rawalpindi | 1996 |
| 186* | SR Tendulkar | Ind | NZ | Hyderabad | 1999 |
| 185* | SR Watson | Aus | Ban | Mirpur | 2011 |
Highest individual innings in One-day internationals by Indian batsmen
| | | | | |
| --- | --- | --- | --- | --- |
| Score | Player | Vs | Venue | Year |
| 264 | RG Sharma | SL | Kolkata | 2014 |
| 219 | V Sehwag | WI | Indore | 2011 |
| 209 | RG Sharma | Aus | Bangalore | 2013 |
| 200* | SR Tendulkar | SA | Gwalior | 2010 |
| 186* | SR Tendulkar | NZ | Hyderabad | 1999 |
| 183* | MS Dhoni | SL | Jaipur | 2005 |
| 183 | SC Ganguly | SL | Taunton | 1999 |
| 183 | V Kohli | Pak | Mirpur | 2012 |
| 175* | Kapil Dev | Zim | Tunbrdge Wells | 1983 |
| 175 | V Sehwag | Ban | Mirpur | 2011 |
| 175 | SR Tendulkar | Aus | Hyderabad | 2009 |
-RAJNEESH GUPTA