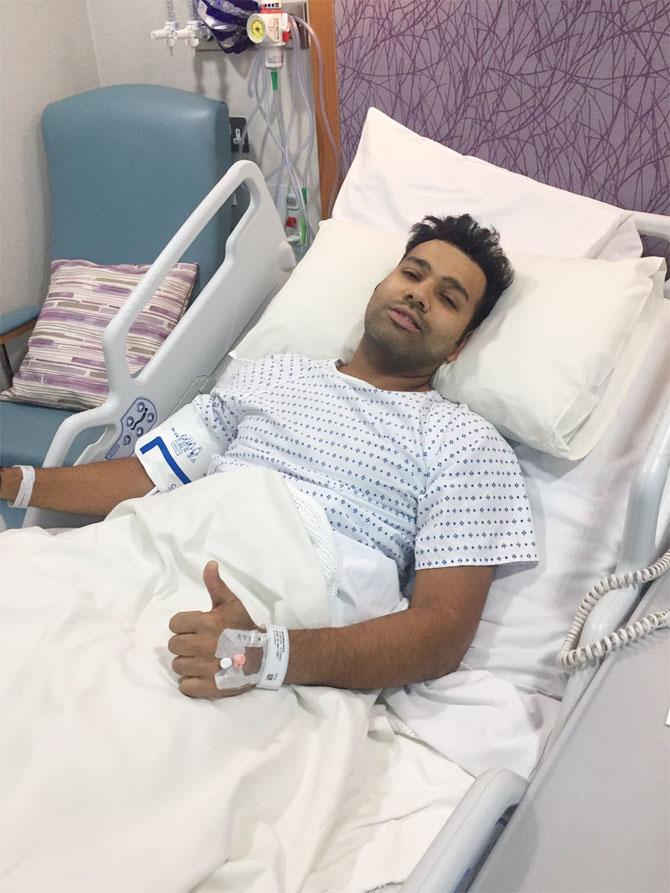 IMAGE: India cricketer Rohit Sharma gives a thumbs up following his surgery on Friday. Photograph: Rohit Sharma/Twitter
India cricketer Rohit Sharma underwent a thigh surgery in London on Friday.
The surgery, conducted on his right upper quadriceps tendon, was necessitated after picking up an injury during the fifth and final ODI at Visakhapatnam on October 29.
While taking a run, the limited overs opener dove to make it to the crease, but get injured in the bargain.
Following his surgery on Friday, Rohit tweeted a picture from his hospital bed and posted: "All went well. Thank you for your good wishes. Can't wait to be back at it."
By his own admission, the 29-year-old could be sidelined for three months.
"The picture is not fully clear. I think in one or two days the picture will be more clear, whether it (surgery) is happening or not. It is an important decision if we do surgery. If I do the surgery, I cannot play for 3 to 3 and half months. We are waiting for the doctors' opinion, let's see what happens," the Mumbai player had said at an event last week.
The talented Rohit holds the world record for highest score by any batsman in ODIs.
Here's wishing Rohit a speedy recovery!