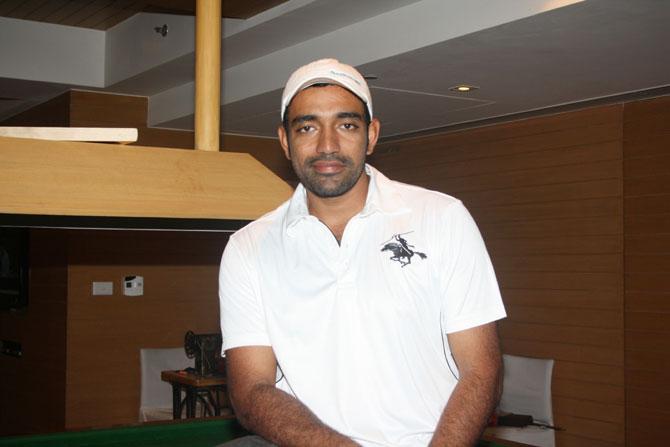 India's Robin Uthappa poses for the camera.
Hoping to make the final cut after being named in the 30-man probables list for the 2015 World Cup, Karnataka batsman Robin Uthappa has said that he would love to open the innings for India but would not mind being included as a wicketkeeper-batsman.
"My first love would be to play as an opener, but will not mind playing as a finisher donning the wicketkeeper's gloves. If picked up as a wicketkeeper-batsman, I can open up two-three slots, for others to get selected. However, everything depends on selectors," Uthappa told PTI.
Uthappa said he is hopeful of making it into the 15-probable list as he has been getting heaps of runs in the domestic circle.
"Absolutely I have hopes to get in. I have done well in last two seasons. I am the highest run-getter in the Ranji Trophy as well as the IPL. Extremely confident of my ability as far as ODI is concerned. So, definitely looking forward for an opportunity," he said.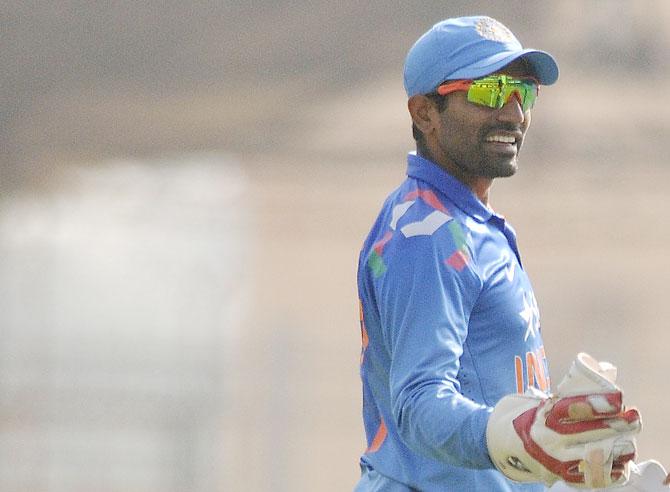 India's Robin Uthappa in action. Photograph: BCCI
Uthappa is keen to hone his skills in Ranji matches as defending Champions Karnataka kickstart their campaign against Tamil Nadu starting December 7 at Chinnaswamy stadium.
"I would utilise the opportunity of playing in Ranji matches to hone my skills further and increase my confidence level," he said. Asked about Pravin Amre's influence on him as a changed batsman, Uthappa said he understands the technique better after he made some technical adjustments under the tutelage of the Mumbaikar coach.
"I understand the technique better after Amre sir helped me change my technique a bit. Now, I play a lot more straighter, and have made some adjustments in body movements while batting," he said.
"I wouldn't like to speak much about Amre sir. No matter how much I speak, words will not match his abilities. I have said a lot about him in the past," Uthappa added.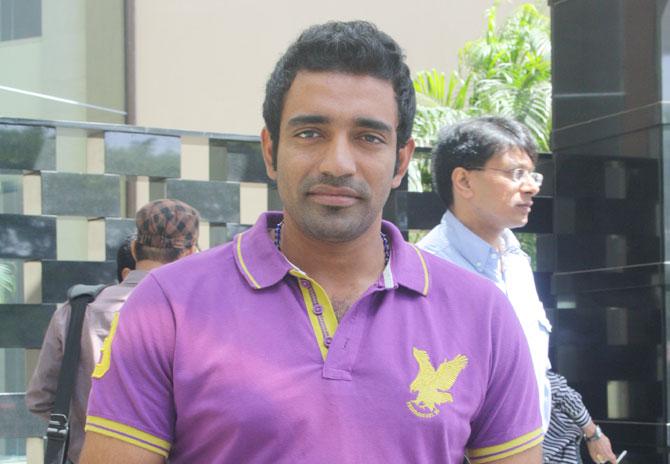 India's Robin Uthappa poses for the shutterbugs.
Earlier, interacting with the media at the unveiling of the ICC World Cup trophy, Uthappa said the tag of defending champions will bring responsibility on the Indian team.
"There will be pressure, and pressure is there always in any match, but the tag of defending champions will bring added responsibility on to our team, which is good. We do good when the chips are down," he said after the beautiful trophy reached here as part of the six-city tour courtesy MoneyGram,
a leading money transfer and payment services company.
Asked which other teams have the chance to lift the World Cup, Uthappa said that India are well equipped to defend the title, but Australia and South Africa are also among the favourites.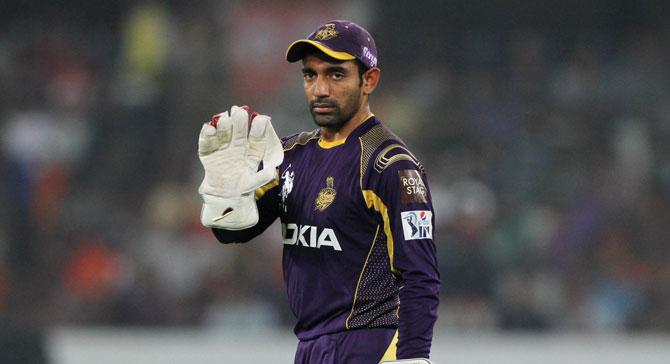 Kolkata Knight Rider's Robin Uthappa during the Indian Premier League. Photograph: BCCI
Australia have a chance because they will be playing in their home conditions and South Africa are also a good team. However, the clear picture about the favorites will emerge depending upon the start a team gets in the initial stages of the world cup," he said.
Replying to a query, Uthappa said India's pace battery, led by Ishant Sharma, is really good but a bit of experience would have done good to the side.
"India's pace battery, which is led by Ishant Sharma, is good. One good thing is that Ishant and Bhuvneshwar Kumar have taken up the responsibility in the absence of experienced bowlers. I don't think we are missing anyone, but yeah experience could have been good," he said.