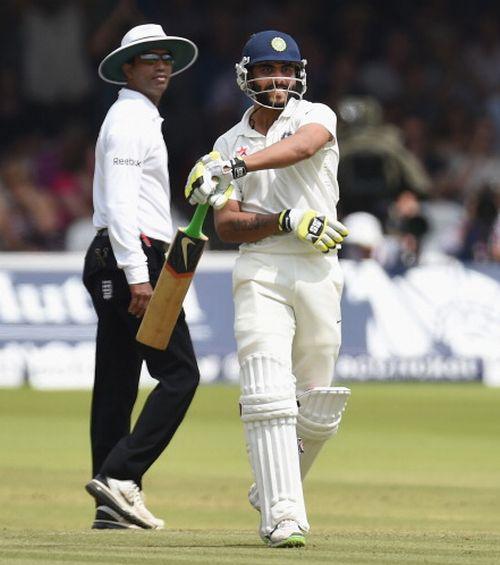 Ravindra Jadeja celebrates after scoring a half-century during the second Test against England at Lord's. Photograph: Stu Forster/Getty Images
He loves horses and fast cars. He can ride well and brandish a sword as expertly as he does a bat. Yet he is down to earth and religious, and has just agreed to an arranged marriage...
Haresh Pandya explores the unknown side of the star all-rounder in an exclusive chat with his sister Naina Jadeja.
India's star all-rounder is closer to his sister Naina than any other member of his family. She is more like a friend than an elder sister to Ravindra Jadeja.
Bubbling with enthusiasm and understated pride, Naina spoke exclusively to Rediff.com at Ravindra's posh restaurant, Jaddu's Food Field, in Rajkot, the day after his IPL team, the Chennai Super Kings, won the Champions League T20.
'Sir Ravindra's' remarkable story in his sister Naina's words:
The reality is yet to sink in that my brother plays for India and is a huge star today.
We are a middle-class family, hailing from a small but famous cricket town, and everything appears to be a dream still. I'm very happy for my brother, like any sister would be.
We are two sisters and one brother. I am the eldest and Ravindra is the youngest. We lost our mother when Ravindra was hardly 17. She was very keen that her son played for India. Though a busy nurse in the government hospital in Jamnagar, she ensured that Ravindra had no cause for complaint on the cricket front.
My father wanted Ravindra to study at an army school near Jamnagar and become an officer. Ravindra always wanted to pursue cricket. A bit scared of my father, he asked my mother to persuade him about where his son's talent lay.
He was very close to my mother who was an inspiration to all her children.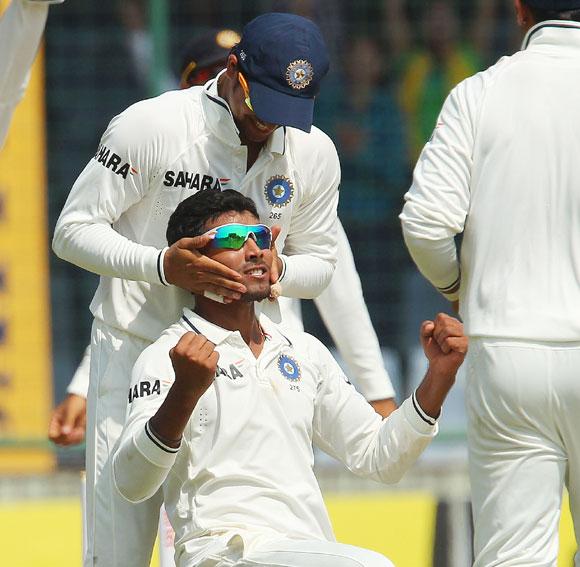 Ravindra Jadeja is thrilled after taking a wicket against Australia in the Delhi Test, March 2013. He picked five wickets for 58 in 16 overs in the second innings.. Photograph: BCCI
After my mother's death it fell upon me to look after Ravindra and all his needs in his single-minded pursuit of cricket. I followed in my mother's footsteps and became a nurse at the same hospital to help the family financially.
Ravindra being so young, I often had to play the role of mother. He was very dedicated towards his cricket. And very, very, focused. Not being much interested in cricket those days, it never struck me or any other member of our family, even when he was scaling one peak of success after another with all-round performances in junior cricket, that he had it in him to represent India at the highest international level.
Though cricket was taking so much of his time, Ravindra was a promising student. He was intelligent, blessed with good understanding and a sharp memory. I often feel his shyness -- yes, he is very, very, shy -- belies his scholarship and maturity. He couldn't complete his graduation for want of time, not interest.
Though he is shy, even introverted sometimes, he is a livewire with his close friends. I guess he is like that in the Indian dressing room as well. Shane Warne must have observed several things about him and only then called him 'Rockstar'.
Ravindra probably felt uncomfortable and embarrassed when Mahendra Singh Dhoni and others began calling him 'Sir Ravindra.' Ravindra knew they were just pulling his leg.
Ravindra can be very mischievous and play pranks if the mood seizes him. He teases my younger sister Padmini and won't leave until she is in tears sometimes. He shares everything with me and doesn't dare play any mischief with me. We're more like close friends.
When he is away from home, we have long telephone conversations. He avoids talking about cricket with my sister and me most of the time though he told me the night the Chennai Super Kings beat the Kolkata Knight Riders that he was delighted about his IPL team winning the Champions League.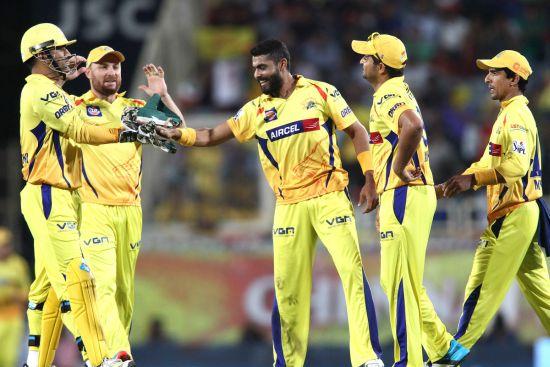 Ravindra Jadeja celebrates after picking up a wicket for the Chennai Super Kings. Photograph: BCCI
Leave alone cricket, he speaks very little with our dad, which is more out of respect. In our Rajput community children don't talk too much with their elders. Dad remains mostly at the farm house in Pasaya village near Jamnagar, which Ravindra bought.
Ravindra is very fond of clothes and shoes. More than that, he is passionate about horses, which is a favourite pastime for most Rajput men anyway. There are five horses -- including three steeds -- at his farm house. I won't be surprised if the number doubles in a couple of years.
He loves riding, which he learnt on his own, and it's a sight to see him on horseback.
He is also good at brandishing the sword, which again is in keeping with Rajput tradition. It comes as naturally to him as batting and bowling. Nobody taught him how to brandish a sword. I wasn't surprised when, upon reaching his fifty at Lord's, he brandished his bat furiously like a sword (please see top image).
He is fond of cars, and is proud of his Audi4, which he doesn't drive often because of security reasons. You know how crazy the fans can be in India. He also owns a Hayabusa motorcycle.
Ravindra is still down to earth, and I'm sure he will always remain so. He is very religious, and often helps the needy monetarily, but never makes a public display of his donations. Despite being a celebrity, his feet are firmly on the ground.
Having risen from a lower middle-class family, he knows the value of hard-earned money. A few years ago we started a restaurant, Jaddu's Food Field (Ravindra is nicknamed Jaddu by his India captain Dhoni), in Rajkot. It has a cricketing theme and the restaurant has become very popular. I am on a two-year sabbatical from the hospital pursuing a degree in nursing. We are planning to expand the restaurant on Diwali.
The World Cup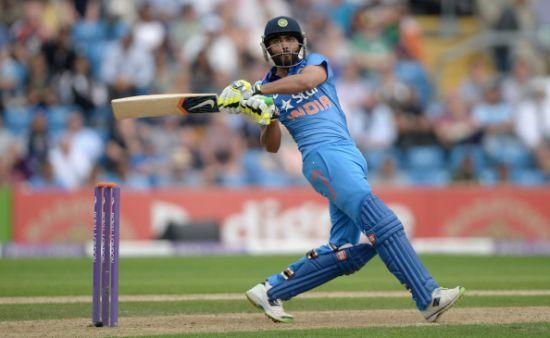 Ravindra Jadeja hits a boundary. Photograph: Gareth Copley/Getty Images
I am often asked when Ravindra will marry. The time has come and we are looking for a right life partner for him. She will obviously be from our community. Ravindra has agreed to this.
Right now, his focus is the World Cup early next year. He is very keen to be part of the World Cup-winning Indian team. I am sure India will successfully defend the title it won in 2011.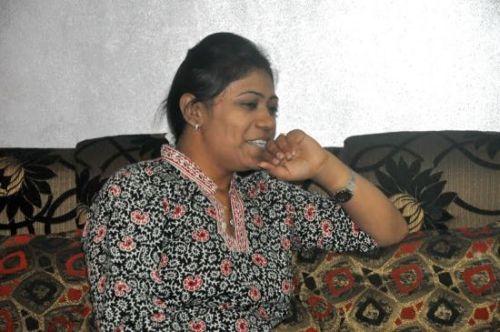 Naina Jadeja. Photograph: Haresh Pandya
When will I marry? I don't want to marry until Ravindra settles down. Ravindra, his cricket and his happiness are my top priority.
Ravindra often brings expensive gifts for Padmini and me. And also for dad. His greatest gift to all of us has been the honour and pride that he has brought our family and our beloved city of Jamnagar by playing for the country.
Every day and night I pray for his success. I am sure he will bring many more laurels to the country in the days and years to come.