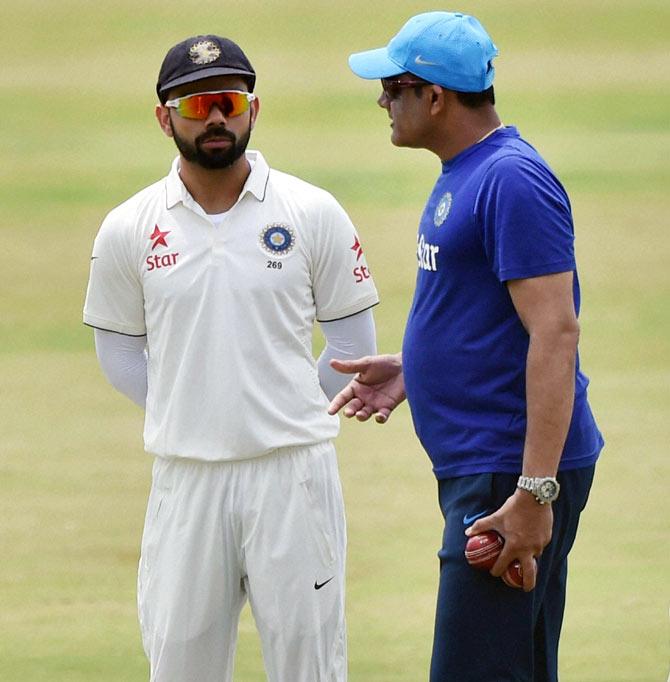 IMAGE: India's Test skipper Virat Kohli, left, with coach Anil Kumble during a training session. Photograph: PTI.
Chief coach Anil Kumble has laid down a "protocol" that a player recuperating from injury needs to play "domestic cricket" in order to be considered for a comeback in the national team.
In the past, there has been instances of player breakdown in their bid to make a quick comeback post serious injuries.
With Rohit Sharma (quadriceps), KL Rahul (hamstring), Shikhar Dhawan (thumb fracture) and Bhuvneshwar Kumar (back) in the injured list, Kumble feels that "communication with players is key" as one can understand their eagerness to comeback.
"Communication is key in any team activity. Whether doing well or not, communication with injured players is equally important. Having played the game, I know exactly what goes through players' mind while watching somebody else playing. While he expects the team and that player to do well, it is important to keep all of them in loop," Kumble said.
He was sad for both Rahul and Rohit, who recently sustained a serious thigh injury which might require surgery.
"It is unfortunate that KL Rahul, who batted brilliantly is missing out. So is Bhuvi, Shikhar. And it's a big blow for Rohit. Specially feel sad for Rohit as he was doing well in Test format. Obviously we all know the importance of Rohit in shorter format."
Kumble then spoke on importance of being fully fit rather than trying to get quickly fit.
"Timing of injuries is not ideal for them. They realise it's an occupational hazard. One should not look at coming back quickly. That might not help the individual and also let the team down. I believe in comeback when someone is 100 percent.
"We are trying to set certain protocols. We want people to play domestic cricket if its happening. Play under pressure before coming back.
"One needs to understand that injuries are part and parcel of a player's life."