'As a cricketer I don't believe that anyone is a specific player for T20s, ODIs or Test cricket.'
'As a player you need to react and play according to situations.'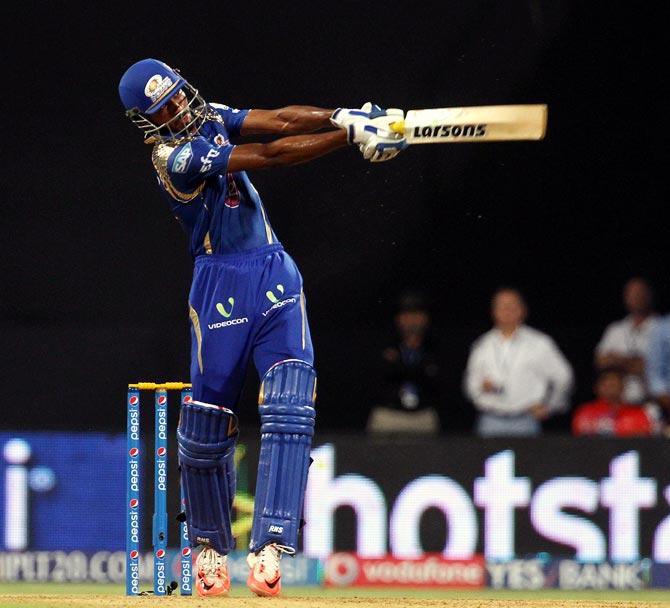 IMAGE: Hardik Pandya in action for the Mumbai Indians in the IPL. Photograph: BCCI
The Indian selectors sprung a surprise by including limited overs specialist all-rounder Hardik Pandya in the Indian squad for the first two Tests of the five-Test series against England.
While the 23 year old's inclusion caught many off guard, Pandya was quietly expecting the call up to the Test team.
Which is why he didn't travel with the Baroda squad for the Ranji Trophy game against Tamil Nadu in Raipur. He felt if he was picked to play for India, he would have to make the long journey to Rajkot from Raipur.
His exploits in his debut Indian Premier League season for the Mumbai Indians -- where he excelled with bat and ball and helped his team win the IPL title last year -- caught the national selectors' attention.
He broke into the Indian T20 team in Australia earlier this year and featured in the World T20 where he bowled a stunning last over against Bangladesh, giving away just 9 runs and picking up 2 wickets with 11 needed for victory.
His good showing for India 'A' in Australia where he excelled with bat and ball got him a maiden call up to the Indian ODI team.
He made a smashing start to his ODI career, bowling in the 140s to claim 3/31 in a man of the match performance against New Zealand in Dharamsala last month.
Pandya was the opening bowler in 3 of the 4 T20 games that he played in, and it was his good showing with the ball that convinced the selectors to give him a chance in the longer format.
Hardik Pandya spoke to Rediff.com's Harish Kotian soon after his selection was announced and revealed the secret behind his recent transformation.
Your reaction on being selected to the Indian Test side.
We all start playing cricket with a view to playing Test cricket someday and now I have got the opportunity to play for the Indian Test team.
Did you expect the call up to the Test side?
It was on my mind that I might get a call up to the Test side for the England series. That is why I didn't travel with the Baroda team for the Ranji Trophy match in Raipur.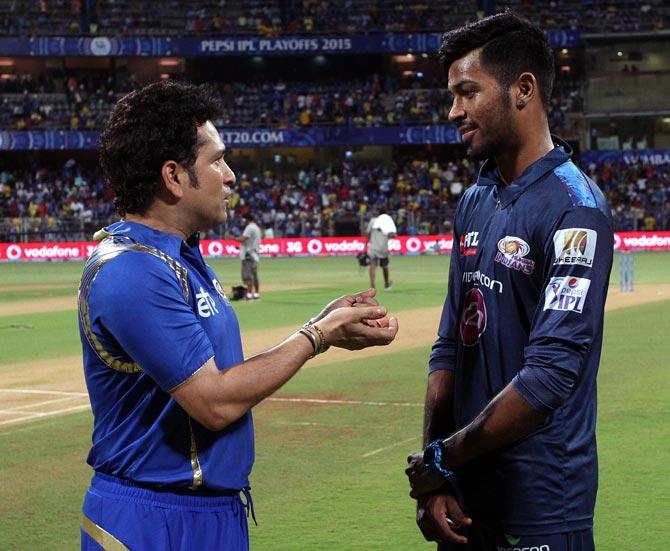 IMAGE: Hardik, right, with Sachin Tendulkar during the IPL. Photograph: BCCI
You made your name as a T20 specialist after your exploits for the Mumbai Indians in the IPL last year.
From there to making it to the Indian Test team, can you describe your journey?
Honestly, as a cricketer I don't believe that anyone is a specific player for T20s, ODIs or Test cricket.
As a player you need to react and play according to situations.
One thing I learnt from Rahul Sir (India 'A' coach Rahul Dravid) is to play smart cricket.
As a cricketer, play according to the situation and react accordingly.
Would you say the IPL is the best platform for India's domestic cricketers to make a mark and fast-track themselves into the Indian team?
If not for the IPL, would anyone have known who Hardik Pandya is?
The IPL gives you opportunities to perform and a platform to showcase your potential.
You can't describe the feeling when you are in the IPL dressing room with so many legends of world cricket. It is amazing.
We have grown up seeing greats like Sachin Tendulkar, Ricky Ponting and Jonty Rhodes and to share the dressing room with them, I just can't describe what it means.
Your performance improved after the India 'A' tour to Australia.
What did you work on in Australia under Rahul Dravid and Paras Mhambrey that resulted in such a big improvement in your bowling and your overall game?
I was maintaining a lot of discipline in my life, from my eating habits to working hard on my fitness to doing things which are right for me.
Obviously, hard work always comes and you have to keep doing it.
I feel the time I spent in Australia, I learnt so much on the areas I need to improve on.
I had the good company of Rahul Sir and Paras Sir who helped me with my game.
I believe the Australia tour was the biggest part of my career and I learnt a lot about my game and myself, which helped me improve.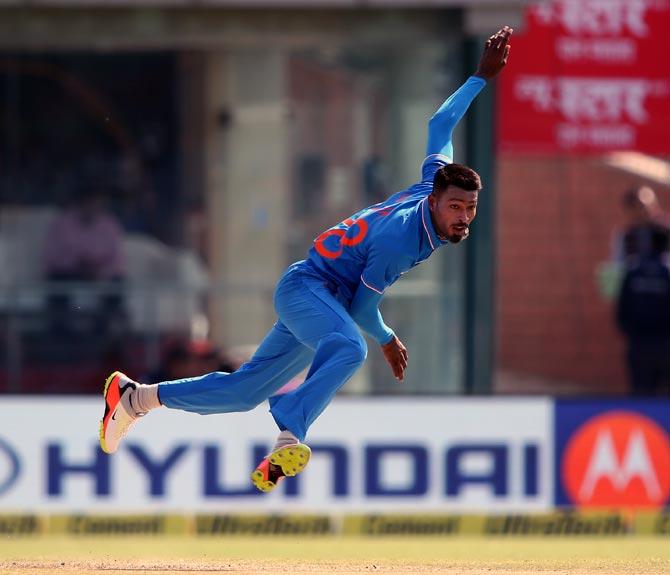 IMAGE: Hardik bowls in an ODI game against New Zealand. Photograph: BCCI
Your bowling has undergo a sea change, -- from being a part-time seamer you have added some pace and become a frontline seam bowler.
What resulted in such a drastic improvement in your bowling?
I didn't make any changes, but I got slightly stronger and slightly tougher in my mind.
I started thinking as a bowler. Before that I was thinking as an all-rounder.
I learnt one thing that when you bat you need to think as a batsman and when you bowl you need to think as a bowler.
So I have started thinking as a bowler. I got to know a few things which I could improve upon and lately I have improved.
Paras Mhambrey was there in Australia. He has been working for two years with me at Mumbai Indians, so it was a great help for me.
After your Test selection, India's chief selector M S K Prasad said you have mellowed down a lot recently and that Rahul Dravid has worked a lot on your mental aspect.
Can you share what advice Dravid gave you?
It is just that discipline is required to be a top cricketer.
I have learnt a lot of things and have become mature.
Before this, everything was new for me, playing for the national team, seeing the limelight and everything.
Now I know these things will be there always, it is just how I learn and improve.
Rahul Sir was with me in Australia, which was of great help.
He is a legend and a great role model. You learn so much from him.
I spoke to him about a lot of things which have helped me lately.
You also worked with India Coach Anil Kumble before, in the IPL for the Mumbai Indians.
I was pretty close to him during the IPL. I used to ask him questions and he was there to guide me.
And him being there as the India coach, it is a big boost for me because he backs me all the time and tells me things which I didn't know.
Having someone like him backing you and tell you things which are right for you, it definitely helps.
Former India wicket-keeper Kiran More has also played a role in your career. Isn't it?
Kiran More was actually responsible for starting my cricketing career when I was 6 years old. He has been there since I started playing cricket.
I would like to mention someone who has always been there for me: My coach Jitendra Singh.
He worked so hard with me all through the year on my game, irrespective of the weather.
Even when it was raining heavily, we used to be working on my batting.
I was not financially well placed and I was not playing any top level cricket, but he saw my potential and he helped me.
With the ball you did well in the ODI series against New Zealand in which you also opened the bowling.
But you failed to perform with the bat and got out twice in the closing stages when you could have finished off the match.
I had two opportunities to finish the match for India, but I could not and I will definitely learn from it.
We performed well as a team. Even when we lost two games, we fought till the end, we didn't give up.
The youngsters are learning and trying to get better.
As Dhoni bhai said, we will learn from our mistakes and with experience as we keep playing.
Your role in the Test team will be different as compared to the ODI or T20 format.
How will you prepare for your maiden Test series?
Cricket doesn't change, the level changes.
The cricket never changes because you still play with the bat and ball, so the preparation will always be the same and you will continue to work hard.