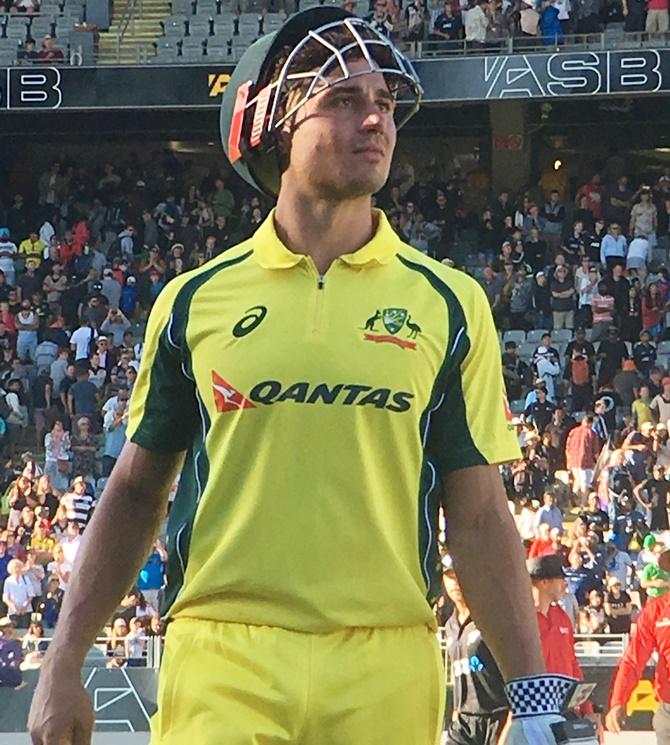 IMAGE: Marcus Stoinis's heroics were not enough to save Australia. Photograph: CA/Twitter
Marcus Stoinis scored his maiden one-day century but it was not enough to give an undermanned Australia an astonishing victory in the opening match of their one-day series against New Zealand at Eden Park on Monday.
Stoinis, who also took three wickets in New Zealand's 286 for nine from 50 overs, guided Australia from 54-5 in the 13th over to within sight of victory as he grabbed the game by the scruff of the neck.
The 27-year-old, playing his second one-day international, shared in an 81-run seventh-wicket partnership with James Faulkner (25) and 48 with Pat Cummins (36) for the eighth before Stoinis exploded for 31 runs in 11 balls to put his side into a position where they needed 19 runs from the final 24 balls.
Such was his dominance he and last man Josh Hazlewood shared a 54-run partnership, without the tall fast bowler facing a single delivery.
Hazlewood, however, was run out while backing up too far by New Zealand captain Kane Williamson on the final ball of the 47th over to dismiss the visitors for 280, giving New Zealand a six-run victory.
Stoinis was left stranded on 146 not out, having hit nine boundaries and 11 sixes.
Australia were already missing David Warner (rested), Usman Khawaja (in Dubai preparing for the tour of India) and Steve Smith (injured) but then lost stand-in captain Matthew Wade before play began with a back injury.
New Zealand had been well in control of the match as make-shift wicketkeeper Tom Latham repaid the faith of the selectors with three catches and two stumpings.
Latham, who was a wicketkeeper earlier in his career, took the gloves ahead of the uncapped Tom Blundell as the selectors looked to build more flexibility in their squad ahead of the Champions Trophy in England later this year.
The hosts had been humbled in a 3-0 series loss in Australia before Christmas but showed a marked improvement in their fielding and bowling as they put the visitors under pressure from the start of their run chase.
New Zealand's innings was anchored by Neil Broom's 73, while Martin Guptill added 61 at the top of the order.
The three-match series continues with further matches in Napier on Feb. 2 and Hamilton on Feb. 5.
Scorecard:
New Zealand:
M. Guptill b Stoinis 61
T. Latham c Handscomb b Starc 7
K. Williamson c Maxwell b Stoinis 24
R. Taylor b Head 16
N.Broom c Starc b Faulkner 73
C. Munro c Finch b Stoinis 2
J. Neesham c Head b Hazlewood 48
M. Santner c Maxwell b Cummins 7
T. Southee c Faulkner b Cummins 0
L. Ferguson not out 3
T. Boult not out 16
Extras (b8, lb5, w16) 29
Total (9 wickets; 50 overs) 286
Fall of wickets: 1-13 (Latham), 2-87 (Williamson), 3-128 (Taylor), 4-130 (Guptill), 5-134 (Munro), 6-210 (Neesham), 7-246 (Santner), 8-251 (Southee), 9-269 (Broom)
Bowling: Starc 10-0-59-1, Hazlewood 10-0-48-1, Cummins 9-0-67-2, Faulkner 6-0-29-1, Stoinis 10-0-49-3, Head 5-0-21-1.
Australia:
A. Finch c Neesham b Boult 4
T. Head c Munro b Boult 5
S. Marsh st Latham b Santner 16
P. Handscomb c Latham b Southee 7
G. Maxwell c Latham b Ferguson 20
S. Heazlett c Latham b Ferguson 4
M. Stoinis not out 146
J. Faulkner b Munro 25
P. Cummins st Latham b Santner 36
M. Starc c Neesham b Santner 3
J. Hazlewood run out (Williamson) 0
Extras (lb2, w12) 14
Total (all out; 47 overs) 280
Fall of wickets: 1-9 (Finch), 2-10 (Head), 3-18 (Handscomb), 4-48 (Marsh), 5-54 (Maxwell), 6-67 (Heazlett), 7-148 (Faulkner), 8-196 (Cummins), 9-226 (Starc), 10-280 (Hazlewood)
Bowling: Southee 10-0-63-1, Boult 9-0-58-2, Ferguson 10-0-44-2, Santner 10-1-44-3, Neesham 5-0-49-0, Munro 3-0-20-1.