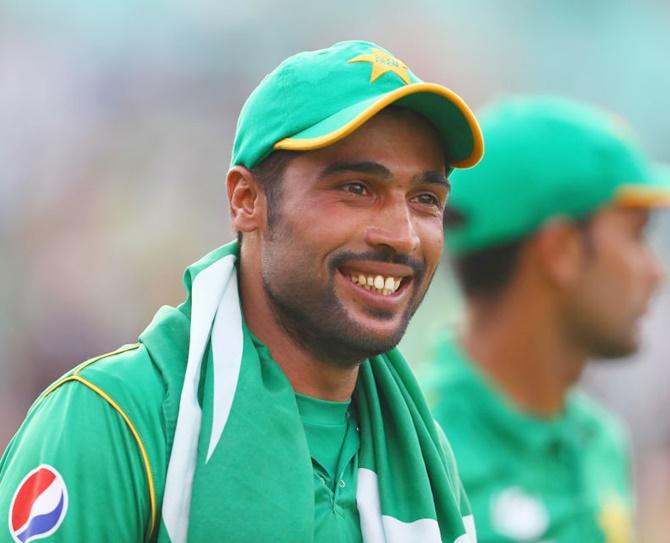 IMAGE: Mohammed Amir of Pakistan looks on after Pakistan win the ICC Champions trophy. Photograph: Clive Rose/Getty Images
Mohammed Amir needed a closure. The Oval gave him a perfect platform and boy he grabbed it as if there wasn't a tomorrow.
The closure was needed, more so for his fans, who over the years have loved and hated him in equal measure.
They love him for those wrists that can do amazing things with a six and half ounce of round leather ball.
They hate him for wasting five precious years of his life indulging in a nefarious activity like spot-fixing, which was purely his own doing.
It's been nearly a year and half that Amir has made a comeback into international cricket. He has had good performances, in fact a great spell against India at Mirpur in a T20 game but that was for a lost cause.
For redemption, he needed a bigger stage and a bigger occasion.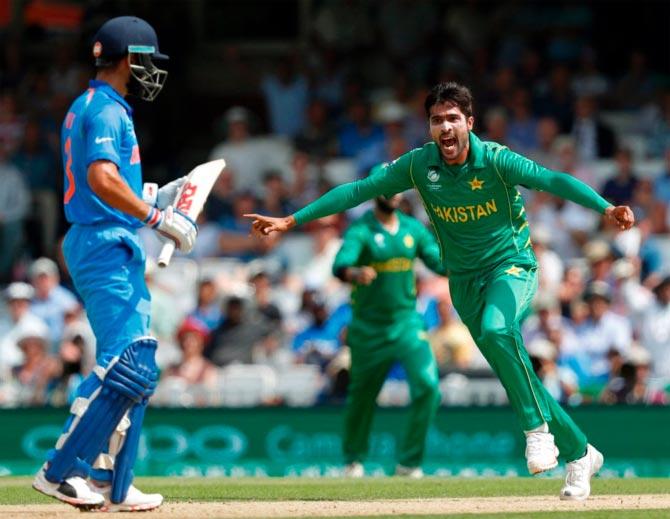 IMAGE: Pakistan's Mohammad Amir celebrates after claiming the wicket of India captain Virat Kohli. Photograph: Charlie Crowhurst/Getty Images
And since the opposition was India and occasion was an ICC event final, Amir just couldn't let this go.
"What I do know is that Mohammad Amir is a big-match player. I do know that when the game is on the line and the bigger the game, the more he performs. He doesn't shy away from pressure situations," Pakistan coach Mickey Arthur said.
"He doesn't shy away from big games. He has got a proper big match temperament, and he showed that today on the biggest stage," it could not have been put more aptly than how the coach summed up Amir's performance.
It was a flat deck. The white ball has simply refused to help bowlers in this edition of Champions Trophy. But if someone is talented, his performance is not condition dependant. Shane Warne could turn his leg-breaks anywhere and Amir could make the ball talk on shirtfronts.
He was charged up and Fakhar Zaman had given him the cushion of runs which he didn't have in Mirpur and Kolkata during those T20 matches.
And then for half and hour, there was an artist at work. The 22-yard strip was his canvas and he splashed colours like never before.
It was a kind of bowling that even made 'Sultan of Swing' Wasim Akram feel that he is reminding him of his younger days.
The first two deliveries to Rohit Sharma were angled across leaving the right-hander. The third just sharply came in. Shikhar Dhawan told Rohit not to waste a referral as Amir gave him a send-off.
The Indians fans hated it but damage was done.
In came captain Virat Kohli – India's biggest hope. First ball, quick and world's best batsman is beaten.
He was staring at the batsman, the intensity was right up there. On a track where nothing happened for other bowlers, he could make the ball rear up, bounce awkwardly and most importantly bowl fast.
He bowled a beauty. Just a shade back of length on off and middle which Kohli had to play. He pushed tentatively. It was an ideal Test match delivery first-up but Azhar Ali floored a simple catch.
There was a collective sigh from Indian fans. Kohli was still there. Amir was angry at Azhar Ali and rightly so. You could read his lips as he mouthed a Punjabi profanity – very common in northern part of India.
But he did it again like an action replay. Only the delivery reared up a bit more at a quick clip. Kohli closed his bat face but the leading edge flew to point. This time, the fielder didn't make any mistake. Amir's joy knew bounds.
He had bowled a couple of 'life-changing deliveries' in a space of 7 years in United Kingdom. The first was a 'no-ball' that took him to jail.
The second was a wicket that perhaps mentally made him a 'free man'. Till date he was just out on 'bail'.
Then Shikhar Dhawan got an unplayable delivery – a 'heavy ball' in cricketing parlance that got big on him. He nicked it and it was all over for India. Those 30 deliveries clinched the trophy for Pakistan.
"If we could get amongst the Indian top order early, we could probably expose the middle order that hadn't batted a fair amount, and Amir was the guy who could have done that for us," Arthur said after the match.
The media waited for him at the Mixed Zone. He was more sought after compared to centurion Fakhar Zaman. Perhaps he saw the kind of questions that could come up. He didn't want to answer them and it was his wish.
At last he has found closure.