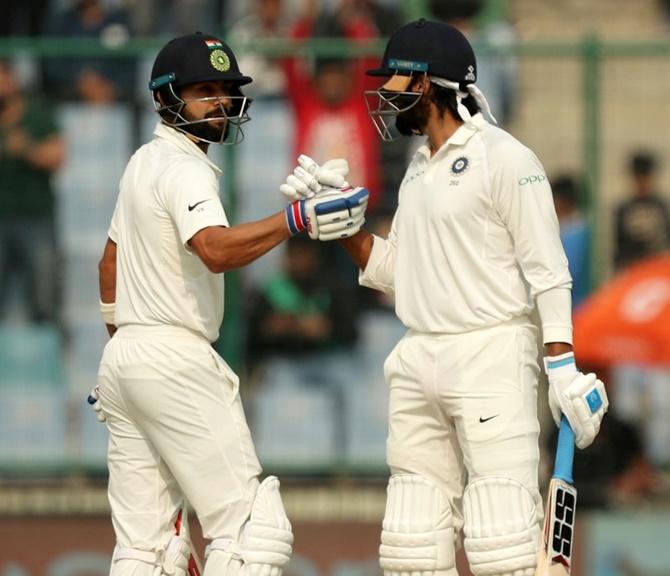 IMAGE: Virat Kohli celebrates with opener Murali Vijay. Photograph: BCCI
Captain Virat Kohli and opener Murali Vijay made a mockery of sub-par Sri Lankan attack with effortless centuries as India cruised to 371 for four on the first day of the third and final cricket Test.
Skipper Kohli (156 batting), who is on a record-breaking spree, smashed his 20th hundred in company of Vijay (155) as they added 283 runs for the third wicket.
PHOTOS: Kohli, Vijay hit centuries as India dominate Day 1
Sri Lankan bowlers were not even capable of bowling to the set field as Vijay hit 13 boundaries while Kohli's innings had 16 boundaries.
The skipper made it look like a knocking session against a bowling attack, which at times looked inferior than a middle-rung first-class side playing Ranji Trophy.
Kohli also became the first international captain to score a hat-trick of hundreds in a three-Test series.
If Kohli intimidated the Sri Lankans with his range of strokes, the sublime Vijay punished them with a innumerable cuts throughout the day.
Watching the Lankans bowl without any sense of purpose, a former India player turned commentator made a classic comment.
"Lahiru Gamage at best could be a third pacer of a mid-level Ranji Trophy side!"
The gulf between the two sides was more evident as Kohli at times merely pushed the balls through the gaps and fetched boundaries at will.
One sided contests at times can be painful for the spectators and the ruthless demolition of Sri Lanka certainly did not make up for a good contest between bat and ball.
While stacking up some amazing numbers before the South Africa series would do a world of good in terms of confidence for the batsmen, it would be interesting to see how much of a help it is in terms of preparation for alien conditions in the 'Rainbow Nation' in just about a month's time.
Vijay was finally stumped off a Lakshan Sandakan delivery giving the visitors something to cheer about towards the fag end of the day.
The Lankan attack's plight could be gauged by the fact that they were hit for 38 boundaries in just two sessions.
Pacer Gamage (1/68) would provide half-volleys on the off-stump keeping the cover area vacant and skipper would gleefully punched it through the region.
When the off-side cordon was plugged, Gamage would bowl on the legs for him to tickle to fine leg boundary. With his military medium pace, when he tried to bounce Kohli, the skipper rocked back and pulled him through mid-wicket.
Off-spinner Dilruwan Perera (1/97) was given a five-pronged leg-side field expecting that he would bowl classical off-breaks. He bowled straight with no protection on the off-side. And what did Kohli do? He simply used his supple wrists to get a boundary through the cover region and then hit a late cut for good measure.
Chinaman Lakshan Sandakan (2/110) could not find his length as he was easily negotiated by Kohli and Vijay.
Sandakan bowled a lot of deliveries outside the leg-stump and could rarely draw the batsman forward.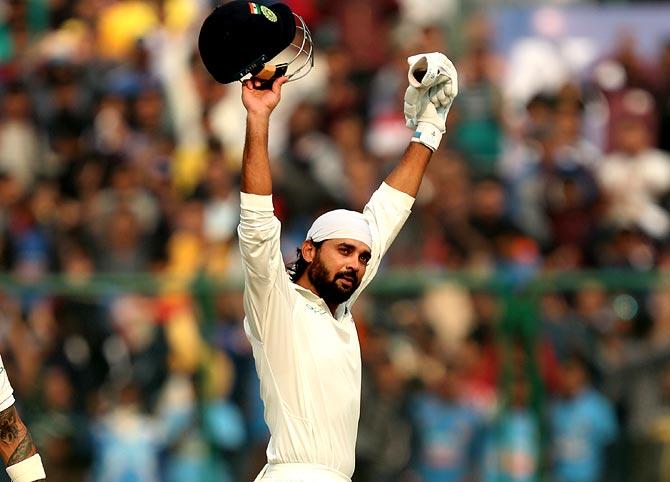 IMAGE: A jubilant Murali Vijay after completing his century. Photograph: BCCI
Kohli's career-fastest Test half-century came off 52 balls and in no time he matched Vijay's score with both racing towards three-figure mark.
Vijay reached his personal landmark - 11th in longest version with a back-foot cover drive off chinaman Lakshan Sandakan. He did a little celebratory jig after that.
Kohli reached three figure mark in the post tea session off 110 balls – also his fastest in the format.
While the home team scored runs at a fast clip at more than four runs per over, both Shikhar Dhawan (23) and Cheteshwar Pujara (23) would certainly rue the missed chance on one of the flattest decks on offer.
For Ajinkya Rahane (1), his nightmare against slow bowlers continued as Sandakan got him stumped towards close.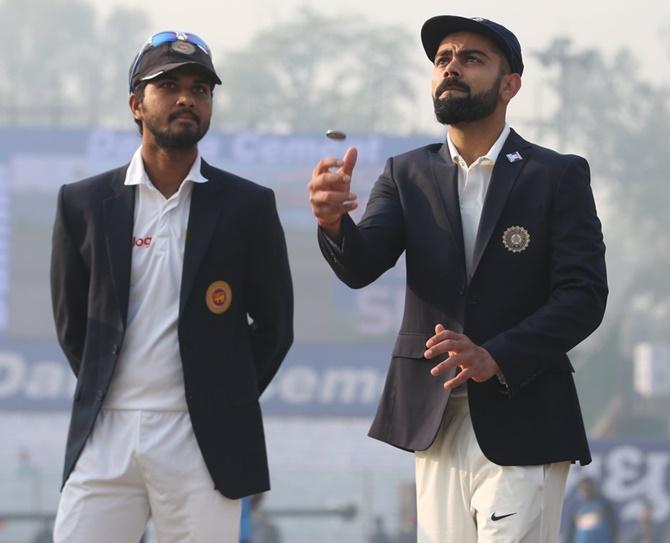 IMAGE: Indian captain Virat Kohli tosses the coin as his Sri Lankan counterpart Dinesh Chandimal looks on. Photograph: BCCI
Earlier, Sri Lankan skipper Dinesh Chandimal was spot on in his assessment of the track as it was another typical low bounce batting paradise at Kotla, where Vijay made merry from the word go after Kohli rightly opted to bat.
Vijay started with a streaky four past gully off Suranga Lakmal followed by one off his hips. In the next over from Gamage, there was a firm jab past the bowler that went to the boundary.
Vijay hit seven boundaries during that first session.
Dhawan started with a cover drive and hit three more boundaries before he top edged a sweep shot off Perera to be caught at deep backward square leg by Lakmal, who lost his footwear in the process. The wicket was Dilruwan's 100th in Test cricket.