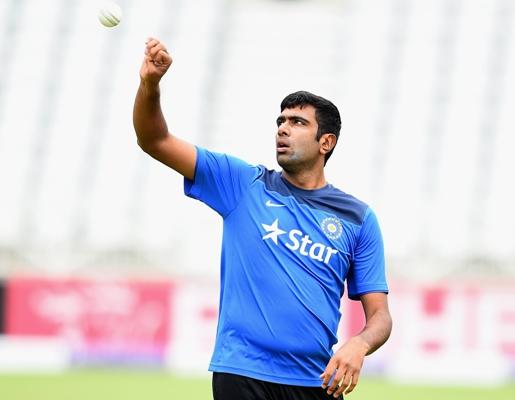 IMAGE: Ravichandran Ashwin of India prepares to bowl during net practice. Photograph: Laurence Griffiths/Getty Images.
Ravichandran Ashwin said that the slowish tracks in the Caribbean will be a big challenge for the spinners and he is ready to bowl "boring lines all day" during the upcoming four-Test series against the West Indies.
The off-spinner was rested during the first warm-up game against WICB Presidents XI but is ready to get back into action in the final three-day game starting Thursday.
"I am looking forward to the game (tomorrow). It will be challenging with the kind of heat and the wicket that are there. Watching the last game, I felt that the wickets were pretty slow. It was a bit of a challenge. I am sure I will have a long haul. I may have to bowl boring lines, chugging away all day long," Ashwin told bcci.tv.
Ashwin feels that one needs to be patient as there will be partnerships on these tracks.
"It will be the first breakthrough that will be important and results will then come faster. The West Indies team looks a pretty good side with lot of all-rounders. Even during last match, we saw Mishy (Amit Mishra) bowling 15-16 overs before getting first wicket and then went onto get a few more. The bounce is not there, so boring lines needs to be bowled."
Ashwin said that he is happy to be the leader of the bowling attack, something he relishes.
"I take pride in being leader of the pack. There are lot of challenges and advantages. The team will look towards me to deliver and with that comes pressure. I have always maintained that pressure is something that I play for," he added.