'We just want to play good cricket, we've been playing good cricket and that continues to be our main goal'
'New ODI rules will make players more focussed'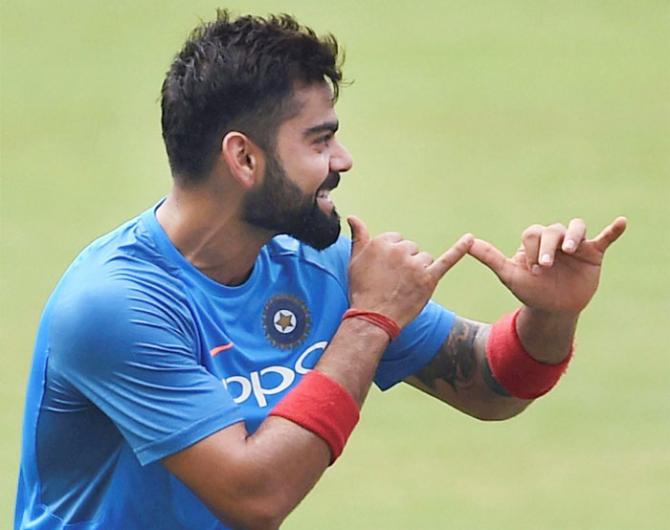 IMAGE: Virat Kohli in a playful mood during a team practice session at Wankhede Stadium in Mumbai on Saturday. Photograph: Mitesh Bhuvad/PTI
India skipper Virat Kohli said the new ODI rules will make the game more exciting and professional.
India play their maiden series under the new ICC ODI regulations when they face New Zealand in the first ODI of the three-match series, at the Wankhede Stadium in Mumbai on Sunday.
"There are few rules which are very different. The batsman reaching the crease and after that the bat bouncing off being not out (run-out rule). The rule of umpires' call in DRS (Decision Review System)… So there are few rule changes which are quite interesting. There is one about catching as well," Kohli said at the pre-match media conference today.
"So I think guys will need awareness about the new rules. They are always difficult to keep a check on initially, but I think we all will get used to it.
"But it's a good thing, new regulations will make things much more exciting and bit more professional I guess. You have to keep in mind a lot of things while you are on the field and this just adds to that and helps you focus more on what needs to be done during the course of a game," Kohli added.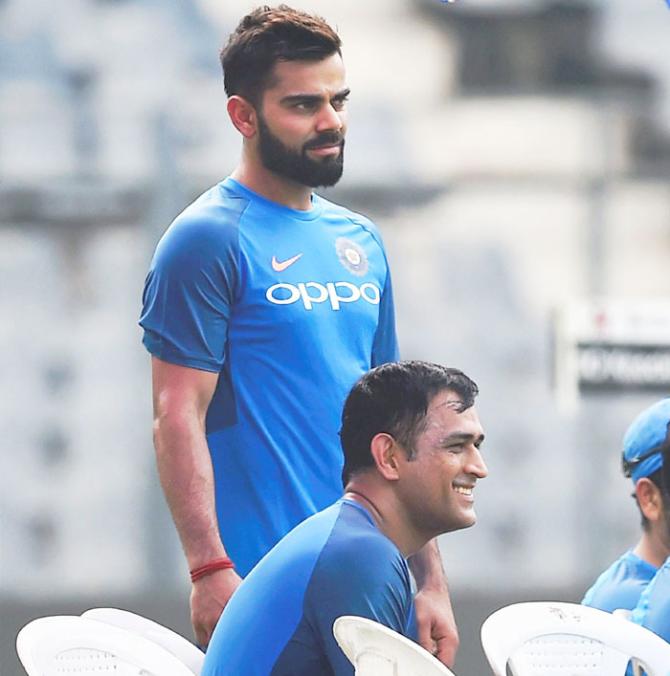 IMAGE: Virat Kohli and MS Dhoni before hitting the straps at a practice session. Photograph: Mitesh Bhuvad/PTI
India were recently dislodged from the top of the ODI rankings by South Africa by decimal points but according to captain Kohli, rankings hardly matter for a cricket team.
"We don't think of rankings. Points are tied. We had a rest period, South Africa are playing games in that period, so you can't really pinpoint some things, you can't be frustrated sitting at home that your ranking is gone and stuff like that," said Kohli, who will be playing his 200th ODI on Sunday.
"We just want to play good cricket, we've been playing good cricket and that continues to be our main goal. We are really happy with what we are doing as a team at the moment. These things will go up and down because not all teams play together.
"As I said, even for batsmen, you play at different stages, someone goes up in points someone doesn't. It doesn't really matter. At the end of the day, you have to contribute towards the team's win. Rankings, ratings all these things are definitely incentives of doing well, but that's not the ultimate goal," he added.
The last two matches of the ODI series will be played at Pune on October 25 and Kanpur on October 29.