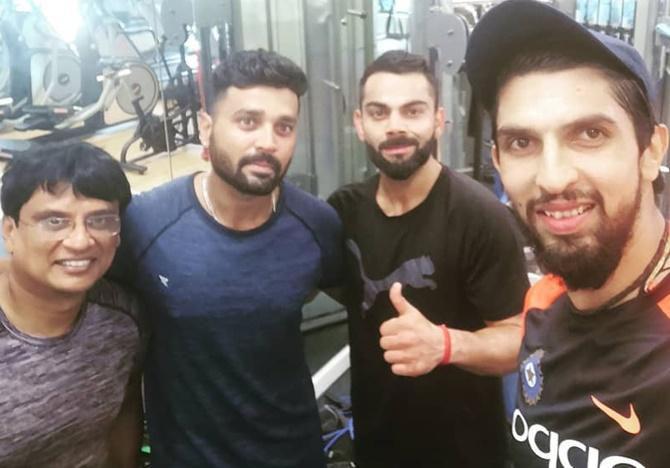 The first day of the tour game between India and Cricket Australia XI was abandoned without a ball being bowled at the Sydney Cricket Ground on Wednesday.
As rains made it difficult for the visitors to spend some time in the pitch, the players decided to hit the gym.
India skipper Virat Kohli shared a picture on social media and wrote, "The rain doesn't seem to be going away so we decided to make something of our day. Gotta love a good workout with the boys. #makeeverydaycount."
It started raining in Sydney on Tuesday night and after a deluge through the day, the ground was soaking wet. There was a brief stoppage in rain at 1 pm local time and the grounds men worked hard to get the pitch and outfield ready.
Toss was scheduled for 3.30 pm local time with play to commence at 4 pm, if no further rain showers came forth.
But play was abandoned for the day at 3 pm local time, with half an hour extension from day two onwards.
A couple members of the Indian support staff had visited the ground to assess conditions earlier in the morning. The team didn't even arrive at the ground owing to poor weather conditions.
There is more rain forecast for Thursday morning but the weather is expected to clear from day two afternoon.