Ziaur Rahman emerged the unlikely hero as he took five wickets for 30 runs to skittle out Zimbabwe in just over 30 overs and guide Bangladesh to a comfortable 121 run win in their first one day international in Bulawayo on Friday.
Bangladesh posted a respectable 269 for eight in their 50 overs on a flat wicket with the potential for runs and then put a stranglehold on their hosts, who were bowled out for 148 in 32.1 overs.
Ziaur Rahman produced a man of the match performance with the ball after Nasir Hosain had anchored Bangladesh's innings with a sparkling knock of 68.
Two early wickets saw Zimbabwe teeter at the start of their reply before Hamilton Masakadza and captain Brendan Taylor looked to be steadying the innings. But after a 65-run partnership, Taylor's dismissal set in motion a steady fall of wickets.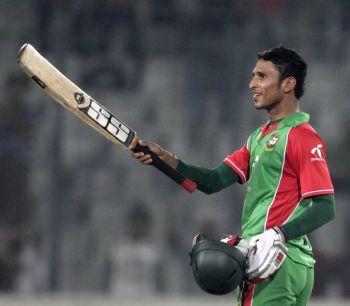 Ziaur Rahman, whose average in the international game was 100 before the match, handed Bangladesh the impetus by trapping opener Masakadza plumb in front for 38 with the first ball of his fourth over and took out the off stump of the experienced Elton Chigumbura just three balls later.
He then had Prosper Utseya caught as Zimbabwe collapsed from 93 for three to 93 for seven, leaving their chase in tatters.
Malcolm Waller and Tinashe Panyangara also succumbed to Ziaur Rahman as the hosts stumbled towards defeat.
Bangladesh also suffered a mid-innings wobble before Nasir Hosain led the fightback by scoring 68 off 67 balls.
A late cameo from Mahmudullah, who hit 36 off 38 balls, helped push up the score as did some loose bowling from Zimbabwe, who conceded 36 extras, including 18 wides.
Shingi Masakadza claimed four wickets for Zimbabwe.
Shafiul Islam became the first bowler to be no balled in international cricket for knocking over the stumps at the non striker's end after the new rule came into effect on May 1.
The second ODI is also at the Queens Sports Club on Sunday with the third and last in the series to follow on Wednesday.
Scorecard
Bangladesh
Tamim Iqbal c Taylor b S Masakadza 27
Mohammad Ashraful c Utseya b S Masakadza 29
Mominul Haque c Taylor b Chatara 38
Mushfiqur Rahim c Taylor b S Masakadza 5
Shakib Al Hasan run out 1
Nasir Hossain c Waller b Panyangara 68
Mahmudullah b S Masakadza 36
Ziaur Rahman c Chakabva b Chatara 12
Abdur Razzak not out 16
Shafiul Islam not out 1
Extras (b 5, lb 13, w 18) 36
Total (for eight wickets, 50 overs) 269
Fall of wickets: 1-65, 2-75, 3-92, 4-94, 5-170, 6-214, 7-237, 8-263
Bowling: Chatara 10-0-48-2 (w-4), Panyangara 10-1-49-1 (w-2), Chigumbura 5-0-24-0 (w-4), S Masakadza 10-0-51-4 (w-5), Utseya 10-0-48-0 (w-1), H Masakadza 4-0-24-0 (w-1), Waller 1-0-7-0
Zimbabwe
H. Masakadza lbw b Ziaur Rahman 38
R. Chakabva b Shafiul Islam 1
Sikandar Raza b Shafiul Islam 3
B. Taylor b Abdur Razzak 33
S. Williams run out 10
M. Waller b Ziaur Rahman 19
E. Chigumbura b Ziaur Rahman 0
P. Utseya c Mominul Haque b Ziaur Rahman 0
S. Masakadza lbw b Robiul Islam 33
T. Panyangara lbw b Ziaur Rahman 0
T. Chatara not out 0
Extras (lb-2, w-7, nb-2) 11
Total (all out, 32.1 overs) 148
Fall of wickets: 1-4, 2-13, 3-78, 4-93, 5-93, 6-93, 7-93, 8-148, 9-148
Bowling: Robiul Islam 5.1-1-21-1 (w-1), Shafiul Islam 6-0-39-2 (nb-1, w-3), Abdur Razzak 6-2-10-1, Shakib Al Hasan 3-0-27-0, Ziaur Rahman 9-1-30-5 (nb-1, w-1), Mahmudullah 2-0-12-0, Mominul Haque 1-0-7-0.
Photograph: Andrew Biraj/Reuters