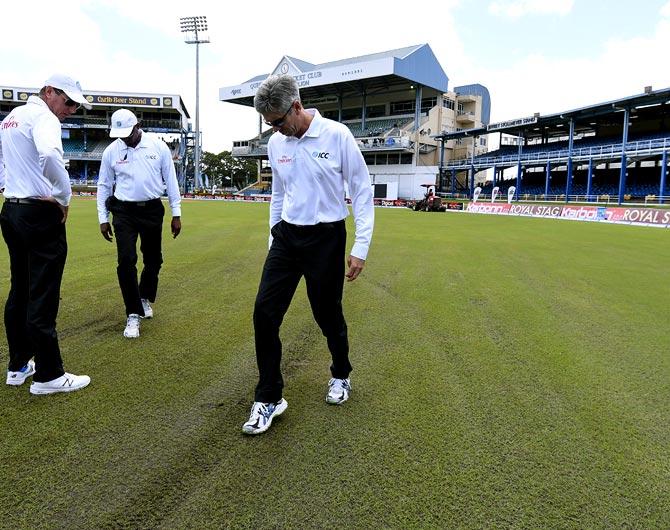 IMAGE:

Umpires inspecting the outfield during day 2 of the fourth and final Test between West Indies and India at Queen's Park Oval in Port of Spain, Trinidad. Photograph: Randy Brooks/WICB

.
The outfield of the Queen's Park Oval, the venue for the fourth Test between India and the West Indies, has been rated "poor" by the Match Referee as only 22 overs could be bowled on the opening day while unplayable conditions prevented play on four consecutive days.
The match ended in a draw, denying India chance to defend their top rank in the Test table.
The outfield at Kingsmead in Durban, where South Africa and New Zealand played the first Test, was also rated poor by the Match Referee.
Andy Pycroft and Ranjan Madugalle, both from the Emirates Elite Panel of ICC Match Referees, in accordance with Clause 3 of the ICC Pitch and Outfield Monitoring Process submitted their reports to the ICC, expressing their concerns over the quality of the outfields.
"The reports have been forwarded to Cricket South Africa (CSA) and the West Indies Cricket Board (WICB), who now have 14 days to provide their responses," said an ICC release.
The CSA's response will be reviewed by ICC's General Manager – Cricket, Geoff Allardice and Madugalle, while Allardice and David Boon will assess the WICB's reply.