With Ricky Ponting's illustrious career coming to a close, all-rounder Shane Watson has said  that if offered he would gladly accept the role of Australia captain even as Michael Clarke and Cameroon White are also in the running for the job. 
Watson, who is being pushed forward as a candidate to replace Ponting alongwith Clarke and White, said he would would embrace the opportunity with open arms if it comes his way.
"Of course it appeals (captaincy). It's the greatest honour in Australian cricket," said Watson, who has been one of Australia's best players in the disappointing Ashes series against England which they lost 1-3.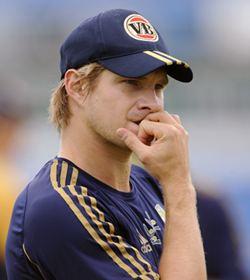 He, however, said that Australia were blessed to have several leaders in the team and among them White is the best "prospect" to replace Ponting. 
"Ricky Ponting has done a great job for the Australian team, as has Michael Clarke," Watson was quoted as saying by the Sydney Morning Herald. 
"Cameron White has been outstanding with the Twenty20 in the field, and his experience with Victoria makes him a great leader. He's a great prospect, Cameron White is a natural leader," he added. 
But the 29-year-old Watson, who has represented Australia in 27 Tests, 121 ODIs and 22 Twenty20 matches so far, said his experience holds him in good stead for the captaincy job.     
"I've been lucky enough to be around some of he best cricketers to have ever played for Australia. One thing I have always done, and still do, is learn everything I can. 
"I think with all I've been through, including injury, means I have a lot to offer people around me and to help them out...I believe I have a lot to give the group," he said.