Former England fast bowler Derek Pringle says Alastair Cook has it all to succeed in international cricket. His assessment of the young England opener came after watching him sizzle on Wednesday, day one of the first Test in Nagpur.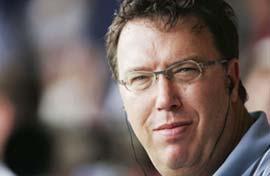 "He [Cook] plays at my club Essex, but there is so much international cricket being played today that I don't get the time to see county cricket. I have just seen him four times before this innings here. But colleagues of mine, Graham Gooch and Keith Fletcher, say that he has a very wise head on his young shoulders. He may not be as talented as David Gower or Graeme Pollock, but he has it all to succeed in cricket," Pringle told rediff.com.
The 21-year-old the left-hander delighted everyone at the Vidarbha Cricket Association stadium in his debut innings with a delightful knock of 60, looking comfortable against both pace and spin.
Pringle, who is covering the English team's tour of India for British daily The Telegraph, also praised the efforts of India's debutant fast bowler S Sreesanth, who took two wickets on day 1 of the Test.
"Sreesanth is a thinking bowler. He is a very good prospect for India," said Pringle, who played 30 Tests and 44 One Day Internationals for England.
He feels India have always made up for the absence of a quality fast bowler by producing good seamers.
"India's problem for a long time has been that they have really lacked an express fast bowler who can rattle the opposition. But they make up for it by having clever bowlers, who move it around a bit, bowl cutters and think on their feet," said Pringle, discussing Sreesanth and Irfan Pathan's bowling on day one, when they had the English batsmen struggling against their swing.
| | |
| --- | --- |
| | Also Read |
| | |
The 47-year-old believes that England's two debutant spinners -- Ian Blackwell and Monty Panesar have a tough job on hand against the famed Indian batting line-up, renowned for playing spin.
"On the pitches here [India], the Indian batsmen are the best players of spin in the world, and the two debutants, Monty Panesar and Ian Blackwell, will have a tough job. It will be a harsh baptism for them," he said.
He also dismissed the theory that Indian batsmen still struggle abroad on seaming pitches.
"I was impressed by the way India played in England last time. Rahul Dravid got a wonderful hundred in Headingley in seamer-friendly conditions; he is a great technician. Sachin Tendulkar also batted well in that game.
"I made my debut against India back in England (1982) and in those days Indian batsmen were susceptible against the moving ball in English conditions. I didn't fear anything. I think less now because there is more cricket being played. Teams play each other a lot nowadays than they used to," he said.
Pringle said England will have to accept that injuries are part and parcel of the modern game.
"Obviously, it will affect their morale; but if you are playing a sport, there will always be injuries. You cannot expect a full strength squad all the time. It's unfortunate that England had to lose their captain, Michael Vaughan, who has made this team his own. He has stamped his personality on this team."
He also feels that the team will miss the services of fast bowler Simon Jones, who was lethal in the last Ashes series with his reverse swing.
"We were spoilt a little bit in the summer against Australia because our fast bowling foursome performed brilliantly. Simon Jones was perhaps the most revelatory bowler of them all. A few months earlier the captain [Vaughan] didn't want to bowl him much in South Africa because he thought he was wild, but against Australia he got his game together. We will obviously miss him if he is bowling that well.
"But there is no guarantee that having had a bit of time out he is going to bowl that well again. But, hopefully, he can come back from his injury and show the form that he displayed against Australia. England would rather have him fit and firing than not."
Andrew Flintoff was handed the captaincy for the first Test after the injured Vaughan had to return to England.
Asked whether Flintoff could serve as a long-term replacement for the injury-prone Vaughan, he replied: "You cannot name Flintoff as a long term replacement unless you know what is wrong with Vaughan's knee. As far as I am aware, Trescothick was the vice-captain in the team and he would captain the team in the absence of Vaughan, but he has gone home to sort out problems of his own. Flintoff has been appointed till Vaughan is unavailable."