India paceman Praveen Kumar found himself in a fresh controversy after he reportedly abused an opposition player during a match of the BCCI's Corporate Trophy in Raipur.
The incident happened after Praveen bowled a short-pitched delivery at Ajitesh Argal during the match between ONGC and Income Tax on Monday.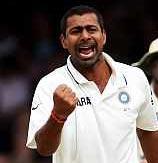 When Argal, who represented Income Tax team, checked with the umpire whether it was a no-ball an angry Praveen started abusing the batsman prompting the on-field umpires to report the incident to match referee Dhananjay Singh.
It is learnt that the match referee has described Praveen as "mentally unfit" in his report to the BCCI.
In an earlier match also, Praveen had a ruckus with the crowd and the local cricket authorities had to ensure tighter security arrangements at the ground.
When asked whether any action would be taken against Praveen, BCCI's chief administrative officer Ratnakar Shetty said it is an internal matter of the board.
"It's an internal matter of the board and we cannot divulge anything at this stage," he said.