'If Rohit keeps working as hard as he does with the talent that he has, then I think he can actually become a very good Test player for India.'
'Virat wears his heart on his sleeve, he is animated. That's the way he bats and that's the way he captains.'
Cricketing great Ricky Ponting discusses Rohit Sharma's inability to dominate Test cricket like he does in ODIs, Virat Kohli's captaincy and the Australian team's poor showing in the Test series in Sri Lanka.
Rediff.com's Harish Kotian listens in.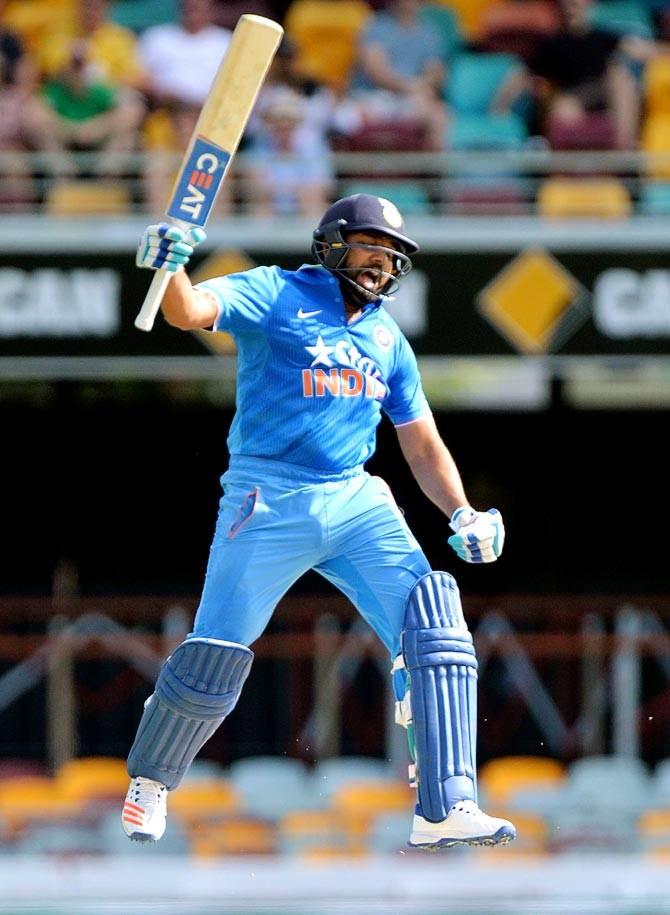 IMAGE: Rohit Sharma celebrates his century in the second ODI against Australia in Brisbane, January 15, 2016. Photograph: Bradley Kanaris/Getty Images
Not many players have dominated limited overs cricket like Rohit Sharma has. The Mumbai batsman hasn't been able to replicate that success in Tests.
Rohit -- the only batsman in the history of the game to hit two double centuries in One-Day Internationals -- averages 42 in the 50 overs format, but when it comes to Tests it is a below par of 32!
On the West Indies tour last month, Test specialist Cheteshwar Pujara was dropped to accommodate him, but Rohit failed to make most of the opportunity, scoring 9 and 41 in the two innings of the third Test in Gros Islet.
Batting great Ricky Ponting, who worked with Rohit at the Mumbai Indians franchise for two Indian Premier League seasons, is unable to fathom why the talented batsman hasn't been able to crack the code in Test cricket.
"I have seen Rohit up very close. I have worked exceptionally hard on his batting and his leadership around your team. He is one of the nicest people that I have met in the game and is one of the most talented people I have seen in the game. I still haven't been able to put a finger as to why he hasn't been able to really dominate red ball cricket like he has with the white ball," Ponting said in Mumbai on Tuesday, September 6, during the launch of the BSchool Flagship 5-Day Residential Executive Leadership Programme in Tasmania in 2017.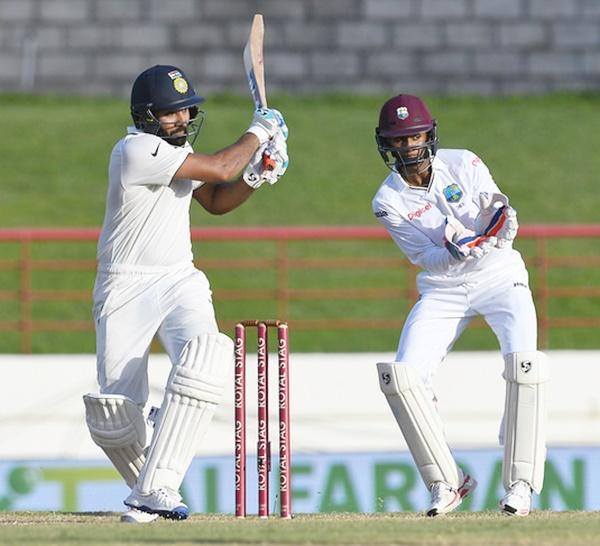 IMAGE: Rohit on Day 1 of the third Test against the West Indies, August 9, 2016. Photograph: WICB Media
Rohit kicked off his Test career with back-to-back centuries against the West Indies in 2013. Since then he hasn't got past the three figure mark even once in 29 Test innings, while registering just four fifties for a tally of 946 runs in 18 Tests, at an average of 32.
Off-spinner Ravichandran Ashwin's batting average -- 1,439 runs, including four centuries and six fifties, in 36 Tests, at an average of 34 -- is better than that.
Ponting believes the 29 year old can still work on his game and leave a mark on Test cricket.
"I know he is a determined young man and he works hard at his game and if he keeps working as hard as he does with the talent that he has, then I think he can actually become a very good Test player for India."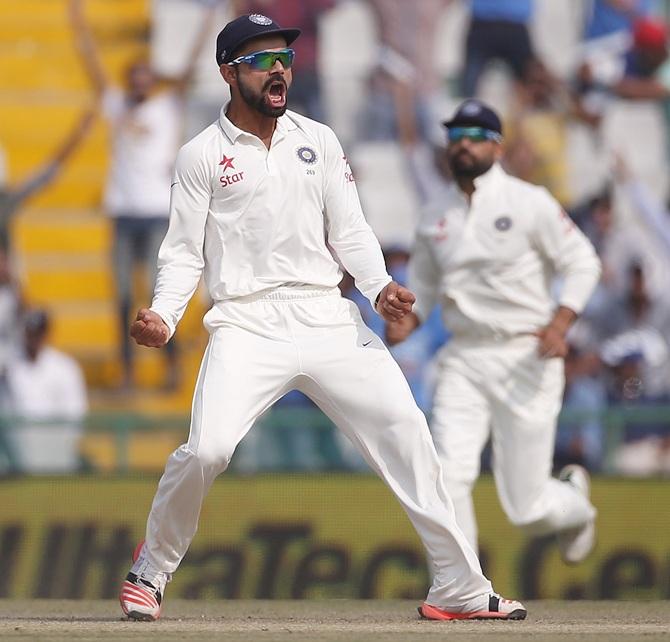 IMAGE: Virat Kohli celebrates a dismissal. Photograph: Adnan Abidi/Reuters
Australia's most successful Test captain, with 48 victories from 77 matches, also analysed Virat Kohli's leadership skills in the longer format, but refrained from giving the Indian batting star advice on captaincy.
"I think he is doing well enough for himself without any advice. Judging leadership from the outside is so difficult, I believe. I can see the way that he plays, it comes through a little bit through in the way he captains the side," Ponting said.
"He is very aggressive, he wears his heart on his sleeve, he is animated. That's the way he bats and that's the way he captains because, at the end of the day, that is his personality," Ponting added.
"I think the best leaders out there are just showing their true personality more often. I don't think there are too many leaders out there who are fake or who are putting something on that doesn't come naturally to them," the Aussie legend felt.
"I think leaders are the best problem solvers and they have the way of expressing themselves quickly and well to everyone they work with and that is what I am sure Virat will aspire to as the captain of India," Ponting said.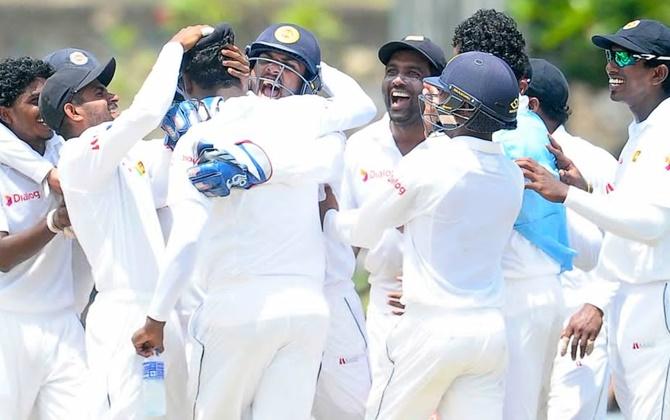 IMAGE: Rangana Herath celebrates with team-mates. Photograph: Twitter
"I was disappointed with the result," Ponting said, speaking of Australia's 0-3 defeat in the Test series against Sri Lanka last month.
"The guys over there playing would have been more disappointed than me. I think the most disappointing thing for me was the fact that it was a very young, inexperienced Sri Lankan team as well and they were able to beat the Australian team very comfortably," Ponting pointed out.
"The conditions were very challenging, but as Australian players now you know that those are the sort of conditions you are going to confront when you go anywhere in the sub-continent. I was really happy and pleased to see them bounce back in the one-dayers the way they did."
Australia, Ponting felt, have a lot of work to do before the series in India early next year. Australia lost 4-0 on the last trip in 2012-2013.
"They play India in India pretty soon as well," Ponting said, "so if that group of players think they can compete here (India) then they have a lot of work to do, both technically and the way they approach those conditions."
The key for the Australian players, he felt, is to learn to play on turning wickets in the sub-continent.
"It is always going to be the biggest hurdle for the Australian players to play the spinning conditions well and it is probably something that we never mastered. We might have never mastered those conditions, but, say around 7 to 10 years ago, we managed to be ultra competitive," he recalled.
"There were a lot of tight series here, and a lot of unbelievable Test matches. I still believe this current group of Australian players is good enough to win in the sub-continent. They just have to tweak their game a little bit, maybe think about their approach a little bit differently and I am sure they can win here."