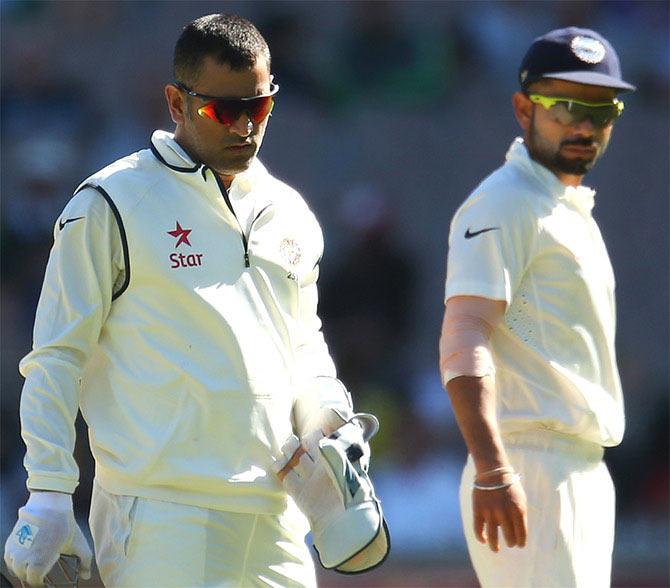 India's Mahendra Singh Dhoni and Virat Kohli. Photograph: Scott Barbour/Getty Images
Groupism and a low morale were the reasons why the selection committee wanted to replace Mahendra Singh Dhoni with the young and untested Virat Kohli as Indian cricket captain back in 2012, a plan scuttled by the then BCCI President N Srinivasan.
Recalling the planned move, former national selector Raja Venkat told PTI that the idea to elevate Kohli was prompted by a string of poor results during the tour of Australia at that time.
India had been thrashed 0-4 in that Test series in 2011 and the team seemed to be in disarray as the drubbing had come few months following a similar debacle in England.
Venkat said the then selection committee, headed by former captain Mohinder Amarnath, was of the view that a change of leadership was needed to infuse a bit of freshness, and lift the sagging morale of the side.
"Two of my colleagues were there during the Test series and after 0-3 margin, they came back. What they saw was that the team's morale was down and players were confined in small groups and it didn't look good," Venkat said.
"Since we had seen Virat lead a North Zone team brilliantly in a Deodhar Trophy competition a season before, we thought why not select him as captain for the tri-series. Accordingly we informed the then secretary (Sanjay Jagdale). Secretary then informed the president.
"But the then BCCI president (N Srinivasan) said that since the team had already been announced, there was no need to change the captain. As per BCCI constitution, the President was well within his rights to overrule the selectors' decision," said the former Bengal left-handed batsman, who was representing East Zone in the selection panel.
Amarnath, on his part, refused to comment on Venkat's revelations.
"I am not aware about what has come out in the media. I would not wish to make any comments about this," Amarnath said when asked for his response on the controversy stoked by Venkat's claims.
Kohli was a mere 23-year-old when the selectors were contemplating his elevation. Asked whether the batsman was even ready for the tough job, Venkat said it could have gone either way.
"It might be a case of hindsight. It could have gone either way. We don't know."
However, he did not divulge what kind of equation the selection committee shared with Dhoni.