The Gujarat Lions team members and supporting staff came wearing orange turbans to the reception.
Haresh Pandya reports from Rajkot.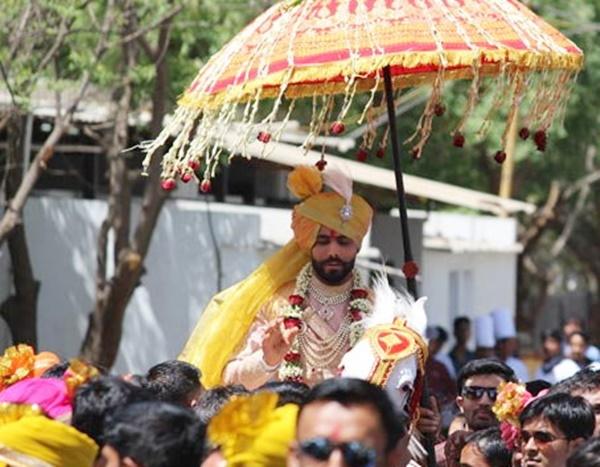 IMAGE: Ravindra Jadeja on his way to the wedding ceremony in Rajkot. All Photographs: Haresh Pandya
Contrary to expectations, cricket stars like Mahendra Singh Dhoni, Suresh Raina and Dwayne Bravo were absent at India all-rounder Ravindra Jadeja's wedding reception at the Hotel Seasons, Rajkot, on Sunday, April 17, night.
The reception started at 9 pm with the arrival of the immaculately dressed Jadeja (in black) and his bride Reevaba Solanki (in silver grey).
Among the guests to go on stage to congratulate the newly wed couple were local cricket star Cheteshwar Pujara and his wife Puja.
The Gujarat Lions team members and supporting staff came wearing orange turbans to the reception. They made quite an impression and attracted attention by distinguishing themselves from the large number of guests assembled at the reception.
But the Gujarat Lions were without Raina and other leading Indian cricketers. The team's foreign players were reported to have stayed back in Mumbai.
Saurashtra Cricket Association officials, led by supremo Niranjan Shah and his son, current Ranji Trophy captain Jaydev Shah, were present to wish the couple. Former Saurashtra players, including Rajendra Jadeja, Bimal Jadeja, Prakash Bhatt, Altaf Merchant and Kashyap Mehta, were also present.
Also present were many Gujarat political stalwarts, including state Bharatiya Janata Party President Vijay Rupani and Congress bigwig Shaktisinh Gohil. Several MLAs and Gujarat ministers were seen among the the guests.
Guests kept wishing the couple till well after 12:30 am. So massive was the crowd.
Aniruddhsinh Jadeja, the cricketer's unassuming father, overcome by emotion and the presence of hundreds of wellwishers, told this correspondent: "It is really touching -- so many people coming here, standing in the queue to wish the couple. It shows their affection and feelings for Ravindra and our family. What else do you want in life, but the love of people?"
Every guest was photographed and shot on video by a team of professionals. Many guests could not control their urge to take selfies with Ravindra and Reevaba. This was time consuming and carried the function well past midnight.
Earlier on Sunday, Jadeja tied the knot with Reevaba at a grand but traditional wedding ceremony at the Hotel Seasons.
Though it was not exactly like one of those fat Indian weddings at which a huge amount of money is lavishly spent on everything, it was not an ordinary either.
IMAGE: Jadeja and Reevaba Solanki at their wedding ceremony.
Of course, it was a Rajput wedding and so there was a touch of tradition and modernity to it. As Jadeja's sister Nainaba Jadeja rightly said, this particular wedding will be long remembered in Rajkot.
In the morning, the bearded Jadeja was seen sitting in the front seat of his newly purchased Audi Q7 attired in typical Rajput fashion. He was wearing a cream and peach coloured knee-long sherwani and stylishly designed turban with a sheathed sword by his side when he stepped out of the hotel for the wedding procession.
From the hotel gate he alighted from the car and mounted a stately decorated horse amid beats of drums and wedding songs sung by women. Thus began the procession that lasted nearly an hour.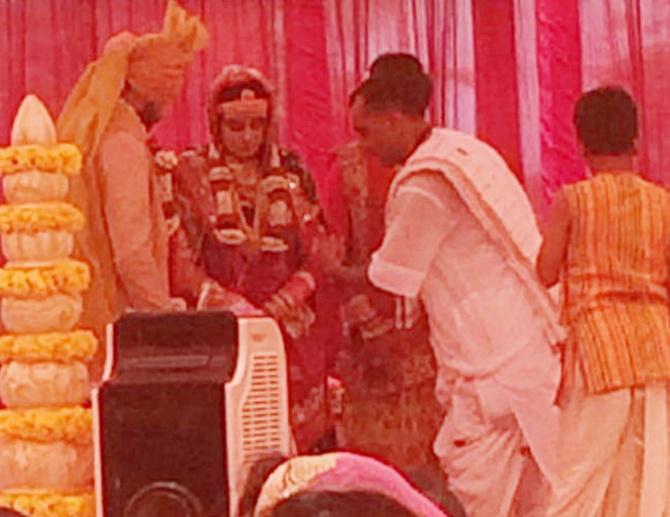 IMAGE: Jadeja and Reevaba at their wedding ceremony.
Crackers were burst, dholis beat the drums, a band blared out music and young men and women, including Jadeja's sisters, danced with abandon. Being a Rajput wedding, it was not surprising when some over-enthusiastic men fired in the air, giving ammunition to the media and police as it is not permitted by the law.
The wedding ceremony was performed under a huge and beautifully created pandal amid Vedic chants by three priests and marriage songs sung by professional singers.
The usually serious-looking Jadeja looked very cheerful, smiling and laughing at times. Draped in an artistically designed green saree, Reevaba, the bride, looked beautiful.
IMAGE: Jadeja with a relative at the wedding ceremony.
The couple was flanked by Jadeja's sisters Nainaba and Padminiba and others. Their father, Aniruddhsinh Jadeja, wearing a black suit and a turban, looked very pleased and proud. He had every reason to. After all, his family's is a fascinating rags-to-riches story thanks to the cricketing genius of its illustrious son.
The ceremony was performed to the letter; every minute detail was taken care of. As Ravindra and Reevaba started the mangal phera that ceremoniously united them as life partners, everyone present blessed the couple by sprinkling rose petals on them.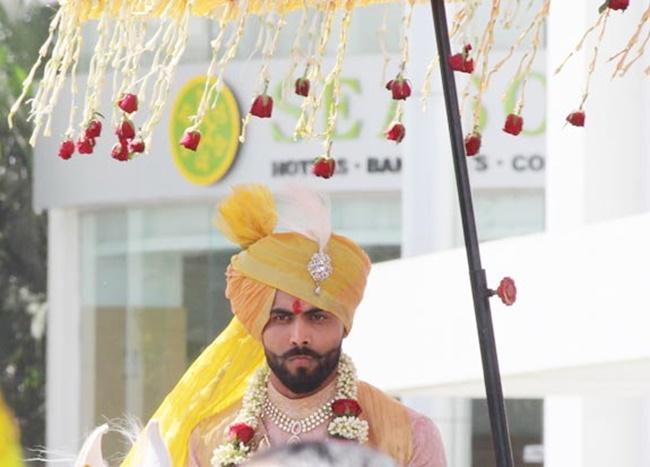 IMAGE: Jadeja as intense as he is on the cricket field on his way to the ceremony.
A new innings has begun in Jadeja's life. He will resume his cricketing innings by appearing for the Gujarat Lions against the Sunrisers Hyderabad in Rajkot on Thursday, April 21.