Australia can take the top Test ranking from India with a series victory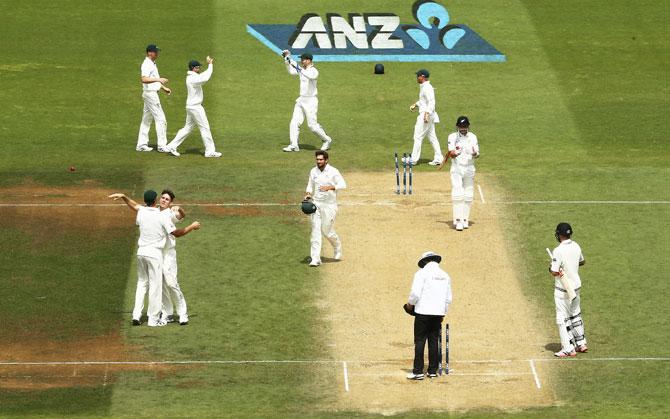 IMAGE: Australia's Mitch Marsh celebrates with teammates after claiming the wicket of New Zealand's Trent Boult to register victory on Day 4 of the 1st Test match at Basin Reserve in Wellington on Monday. Photograph: Ryan Pierse/Getty Images
Australia secured an easy victory in the first Test against New Zealand on Monday, thrashing the hosts by an innings and 52 runs after lunch on the fourth day to take a 1-0 lead in the two-match series.
Nathan Lyon grabbed two more wickets to finish with figures of 4-91 for Australia, who can take the top Test ranking from India with a series victory.
Mark Craig, who top scored in New Zealand's first innings with 41 not out, was left 33 not out when Trent Boult was bowled by Mitchell Marsh for 12, to bring the hosts' second innings to an end on 327.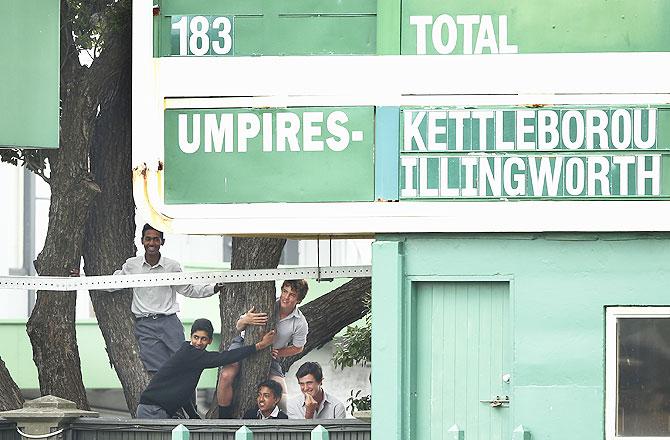 IMAGE: School kids climb a tree to watch action fro, day four of match at the Basin Reserve on Monday. Photograph: Ryan Pierse/Getty Images
New Zealand were dismissed for 183 in their first innings and faced a deficit of 379 runs after Adam Voges's second Test double century drove Australia to a mammoth 562.
The visitors captured the last six wickets on Monday without the experienced Peter Siddle, who bowled just eight overs on Sunday before succumbing to a back spasm.
"They (the bowlers) put the ball in the right areas and put New Zealand under pressure and that's all you can ask for," Australia captain Steve Smith said in a televised interview.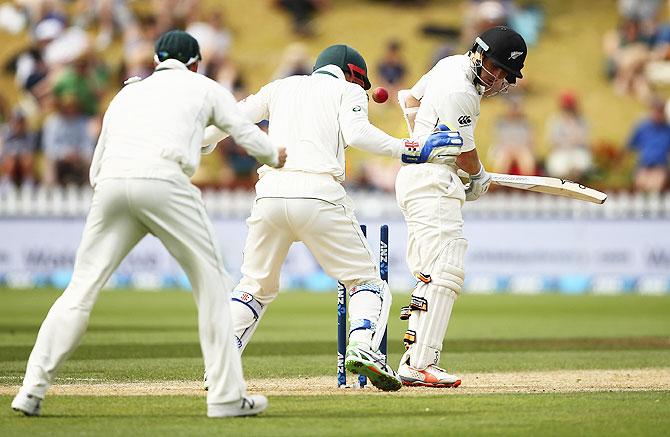 IMAGE: New Zealand's BJ Watling is bowled by Australia's Nathan Lyon. Photograph: Ryan Pierse/Getty Images
"We battled quite hard with the bat and were under a little bit of pressure early but the partnership between Usman (Khawaja) and Voges was spot on and they played out of their skin and put us in a good position."
Marsh, Lyon and Jackson Bird all grabbed wickets before lunch to set up the victory push in the middle session.
Hazlewood trapped Doug Bracewell in front for 14 just three deliveries after they returned from the break.
Tim Southee provided some typical rearguard fireworks with 48 from 23 balls but holed out at long on trying to hit a fourth six off Lyon, before Boult was bowled by Marsh just under an hour into the final session.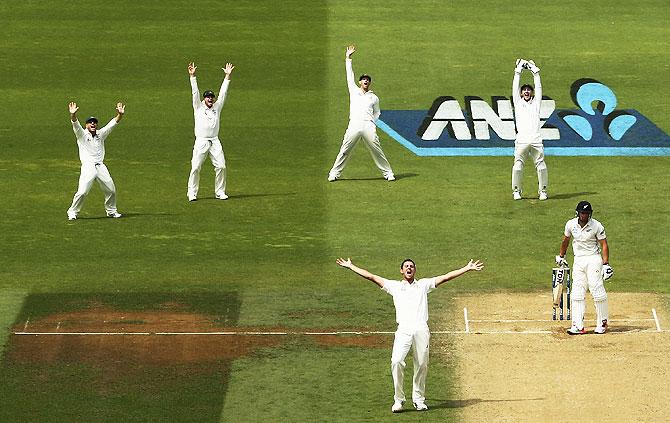 IMAGE: Australia's Josh Hazlewood appeals for the wicket of New Zealand's Doug Bracewell. Photograph: Ryan Pierse/Getty Images
The only bright spot for New Zealand was debutant Henry Nicholls scoring his first Test half century before he was bowled by Bird for 59.
Hazlewood's ability to get the older ball to reverse swing should be of concern for New Zealand, whose top-four batsmen made solid starts but failed to push on in what were considered good batting conditions.
"We were outplayed throughout the Test match and Australia deserve to be 1-0 up in the series," New Zealand captain Brendon McCullum said.
"We need to be a bit better than what we were, though obviously Australia were very, very good in this Test match."
The second match starts in Christchurch on February 20.
SCOREBOARD
New Zealand 1st innings 183
Australia 1st innings 562
New Zealand 2nd innings (overnight 178-4)
T Latham c Khawaja b Lyon 63
M Guptill c Marsh b Lyon 45
K Williamson c Nevill b Hazlewood 22
H Nicholls b Bird 59
B McCullum lbw Marsh 10
C Anderson lbw Marsh 0
BJ Watling b Lyon 10
D Bracewell lbw Hazlewood 14
M Craig not out 33
T Southee c Khawaja b Lyon 48
T Boult b Marsh 12
Extras: 11 (b2, lb5, nb4)
Total: 327
Fall of wickets: 1-81, 2-121, 3-157, 4-178, 5-185, 6-214, 7- 218, 8-242, 9-301.
Bowling: Hazlewood 29-7-75-2; Bird 19-4-51-1; Siddle 8-0-30-0; Marsh 17.3-2-73-3; Lyon 31-10-91-4.