England's star batsman Kevin Pietersen clashed with his skipper Alastair Cook on the eve of the fifth Ashes Test in Sydney.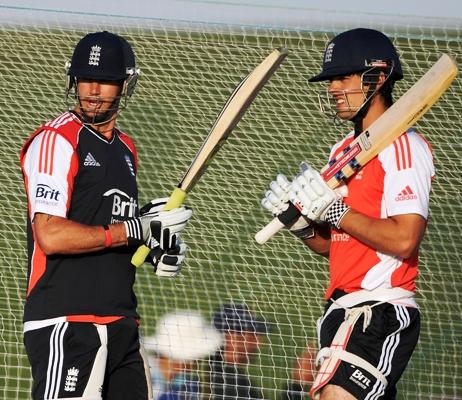 According to reports Pietersen was involved in a heated discussion with Cook at the SCG members bar.
The conversation took place in the SCG members bar and both players were said to be making very animated hand gestures, The Sydney Morning Herald reports.
Pietersen's future in international cricket remains shrouded in doubt, even though he finished the whitewash as England's top scorer, and although team director Andy Flower denied reports that he had issued a 'KP or me' ultimatum, he has not backed the star publicly.
Cook has also reportedly declined to comment on the future of Pietersen, despite the mercurial batsman ruling out retirement and expressing his wish to play in the 2015 Ashes.
Oz proud to have forced three England players to return home: Bailey
Meanwhile, George Bailey has rubbed salt to England's wounds by saying that the Australian side was proud of forcing three of England's players to return home.
Jonathan Trott (stress), Graeme Swann (retired) and Finn (technical issues) have all left England's dire tour.
Nearly eight weeks have passed since Australia and England clashed in the first Test and England has not won a match apart from a meaningless victory over a Prime -Minister's XI this week.
Bailey said Australia wore it as a badge of honour that so many England players had headed home.
He further pointed that Asutralian players are making life uncomfortable for Enland, whether that's through form or fitness.