'Reeva is a God's gift for me.'
Team India all-rounder Ravindra Jadeja tells Haresh Pandya what attracted him to Reeva Solanki.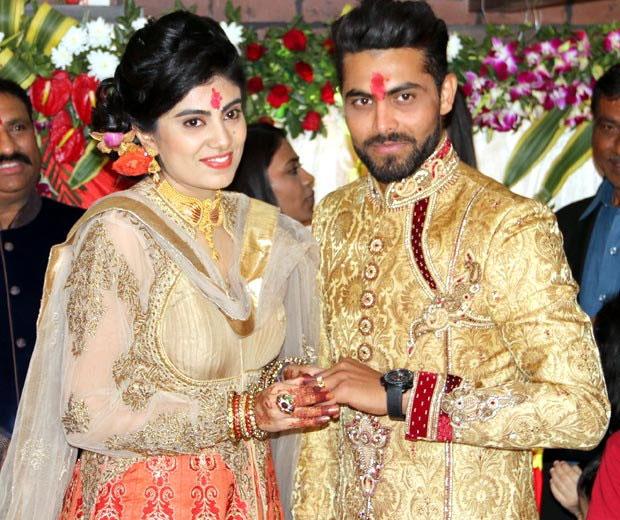 IMAGE: Reeva Solanki and Ravindra Jadeja after their engagement in Rajkot on Thursday, February 4. Photograph: Haresh Pandya
The last few months have seen more and more Indian cricketers either getting engaged or married.
Close on the heels of Varun Aaron, Harbhajan Singh and Suresh Raina tying the knot, and Yuvraj Singh and Mohit Sharma getting engaged, has come the wedding and engagement of India all-rounders Irfan Pathan and Ravindra Jadeja.
On February 4, Pathan married Safa Baig, a model from Saudi Arabia, while Jadeja got engaged to Reeva Solanki, a Rajkot-based mechanical engineering degree holder, currently preparing for the UPSC examination on February 5.
While Pathan's nikaah took place in Mecca, Jadeja's betrothal was held at his restaurant, 'Jaddu's Food Field', in Rajkot, Gujarat, in the presence of former Ranji Trophy players and dignitaries, including Niranjan Shah, the Saurashtra Cricket Association supremo.
Unlike most cricketers, Jadeja did not have a girlfriend. Or so we believed, or were led to believe!
He did not know Reeva, who also belongs to the same Rajput community as him, till two months ago.
The Jadeja and Solanki families met only a few weeks ago and a meeting was arranged between the star cricketer and Reeva. It proved fruitful.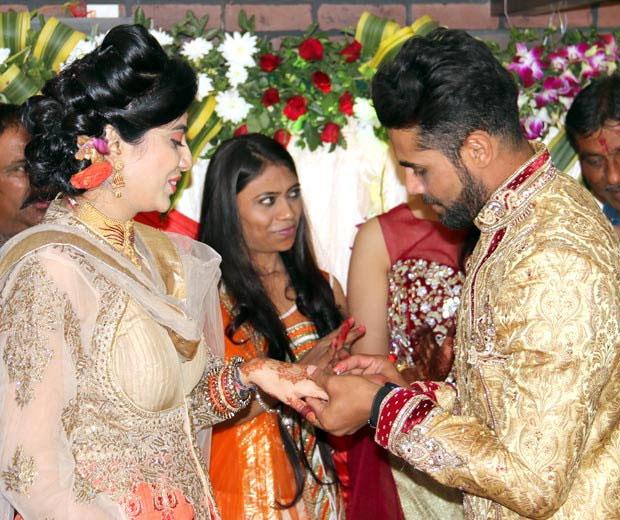 IMAGE: Reeva and Ravindra exchange rings at the engagement. Photograph: Haresh Pandya
In Jadeja's words, both found their "many interests and thoughts similar" and "agreed" that they were "made for each other."
With the families agreeing to the 'match' and the young couple's approval, it was decided that Ravindra and Reeva would be betrothed.
The engagement ceremony took place much earlier than expected because of the player's punishing cricket schedule.
At the ceremony, the two not only exchanged rings, as per the custom, but also gifted a gold bracelet to each other.
The elegant and ever-smiling Reeva is her middle-class parents' only child. Her father Hardevsinh Solanki is a businessman. Her mother Prafulla works for the Indian Railways.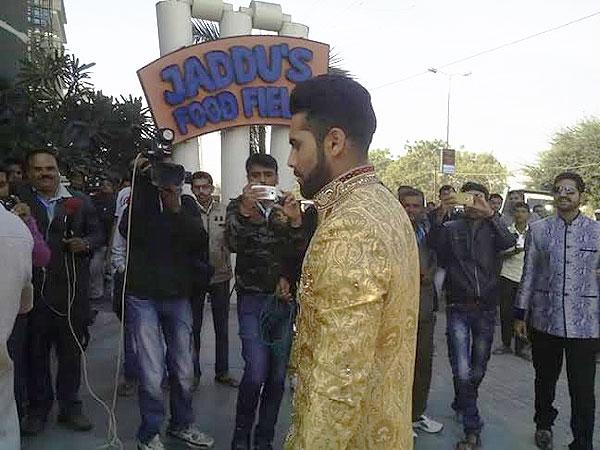 /
IMAGE: Jadeja outside his restaurant. Photograph: Haresh Pandya
Though the Solankis live in Rajkot, Reena did most of her studies outside Gujarat. An alumnus of Mayo College Girls School, Ajmer, she did her mechanical engineering in Delhi.
"I don't look at Ravindra as a celebrity," she said. "For me, he is a humble, simple, cheerful Ravindra, whom I have chosen for my life partner. But, yes, I'm happy and proud that I'm now engaged to him and we are going to marry soon."
"I hardly used to watch cricket on television until recently, but I've started now. I particularly watch cricket when Ravindra is batting or bowling."
Asked what made him decide to get engaged, Jadeja replied: "I'm 27 now so I thought it was time to settle down. I always wanted to marry in my own community. So when my family told me about Reeva, I told them to go ahead. This was how the meeting was arranged. We instantly liked each other."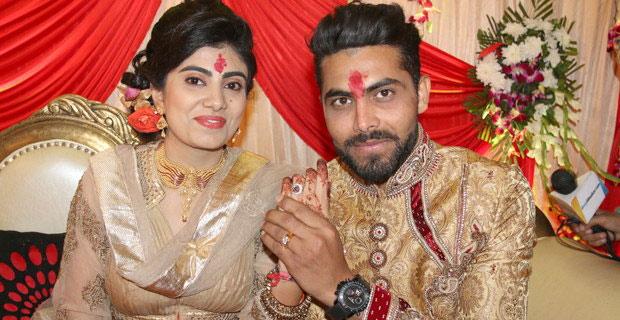 IMAGE: Reeva and Ravindra show off their engagement rings. Photograph: Haresh Pandya
Jadeja's sister Naina said it was "tough and challenging" convincing her brother to say 'yes' to marriage because he would always argue that he did not have time from his cricket.
"It required a lot of cajoling to get his approval to start looking for a girl for him. Reeva made our task a lot easier. Once he met Reeva, he couldn't say no."
What attracted Jadeja to Reeva?
"I found her to be the right kind of girl I had been looking for: Attractive, educated, understanding; someone who can understand me and, of course, from my own community."
"Reeva is a God's gift for me. I know life won't be the same again for me from now on. I'll have to be more serious, more responsible."
"Already 2016 has begun well for me and India. I'm sure now that I'm engaged to Reeva, lady luck will smile on me."
"I think I played a small role in India's success in the Twenty20 series in Australia. We are all keyed up to do our best and win the ICC World Twenty20 for which we are considered favourites by many."
"The Saurashtra team has been doing very well in the Ranji Trophy season. I'm keen to do my best in the forthcoming IPL season, in which I'm going to represent the Gujarat Lions."
He would like to tie the knot at the earliest, but is not sure when because of the crowded cricketing calendar.