Images from Day 3 of the fifth and final Test between India and England in Chennai, on Sunday.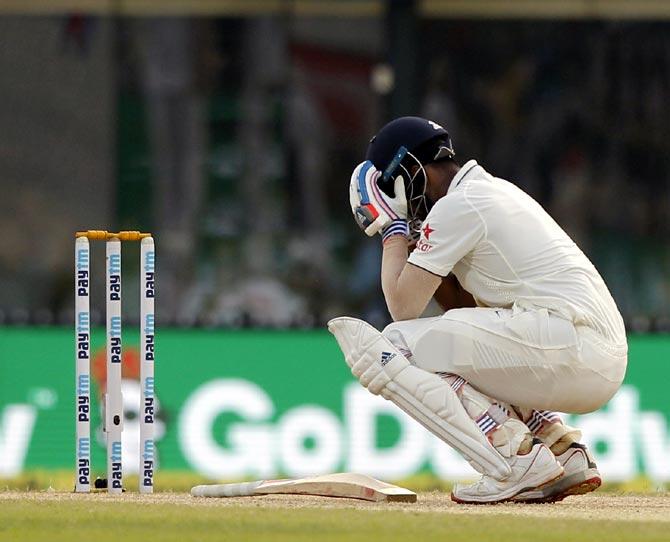 IMAGE: KL Rahul reacts after his dismissal on 199. Photograph: BCCI
India opener Lokesh Rahul fell agonisingly short of his maiden Test double century as he helped his team to 391 for four in a robust reply to England's first innings total of 477 in the fifth and final Test in Chennai on Sunday.

The elegant right-hander made 199 before throwing his wicket away and squatting at the crease, head-in-hands, after the anti-climactic end to a stellar 311-ball knock.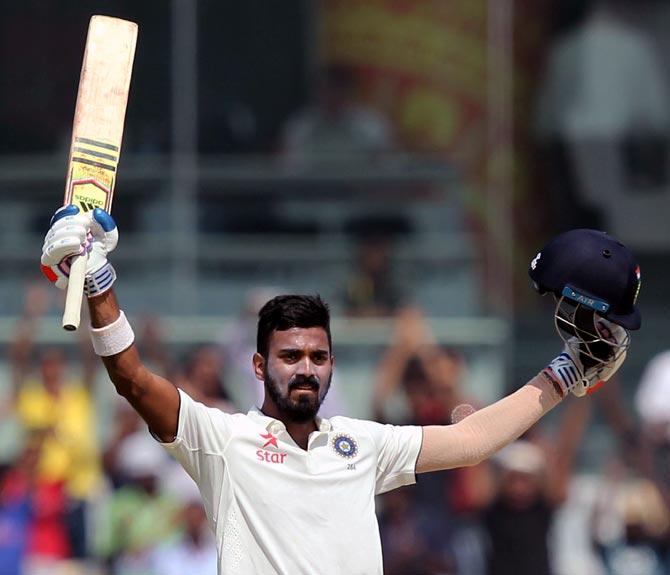 IMAGE: KL Rahul celebrates after completing his century. Photograph: BCCI
India, who have taken an unassailable 3-0 lead in the series, finished day three at the M A Chidambaram Stadium, on course for a first-innings lead.

Karun Nair was batting on 71, his maiden Test fifty, at stumps with Murali Vijay, who dropped down the order following a shoulder injury, on 17 at the other end.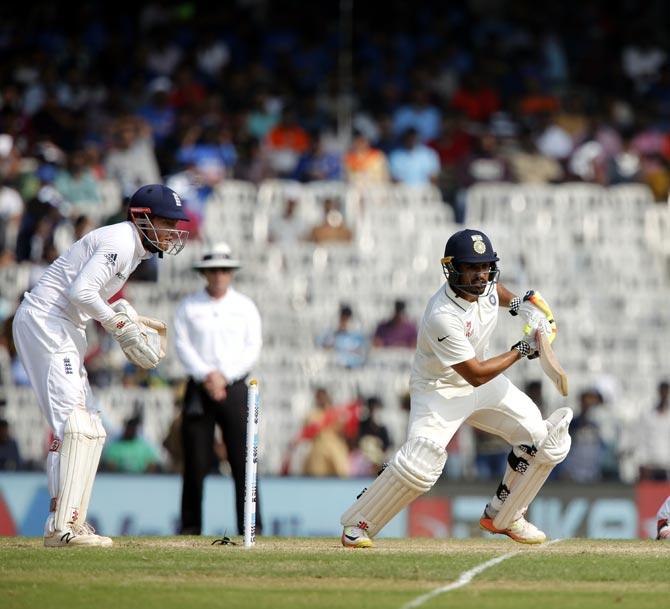 IMAGE: Karun Nair bats during Day 3. Photograph: BCCI
Rahul featured in century-plus stands with stop-gap opener Parthiv Patel and number five Nair to provide the bedrock of India's reply.

Resuming on 60 for no loss, the hosts got off to a solid start with their make-shift opening pair of Rahul and Patel adding 152 runs.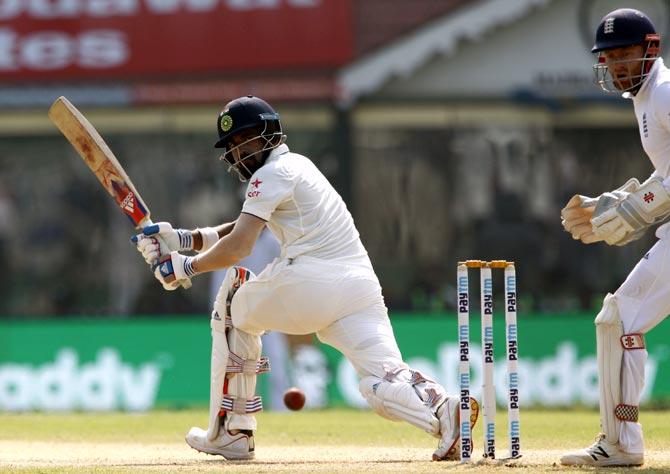 IMAGE: KL Rahul bats during Day 3. Photograph: BCCI
Rahul was particularly harsh on debutant Liam Dawson, twice stepping out against the left-arm spinner to hit him for sixes in the morning session.

Patel made a career-best 71 before falling to Moeen Ali, having impressed as he and Rahul combined to forge India's first century-plus opening stand in 32 innings.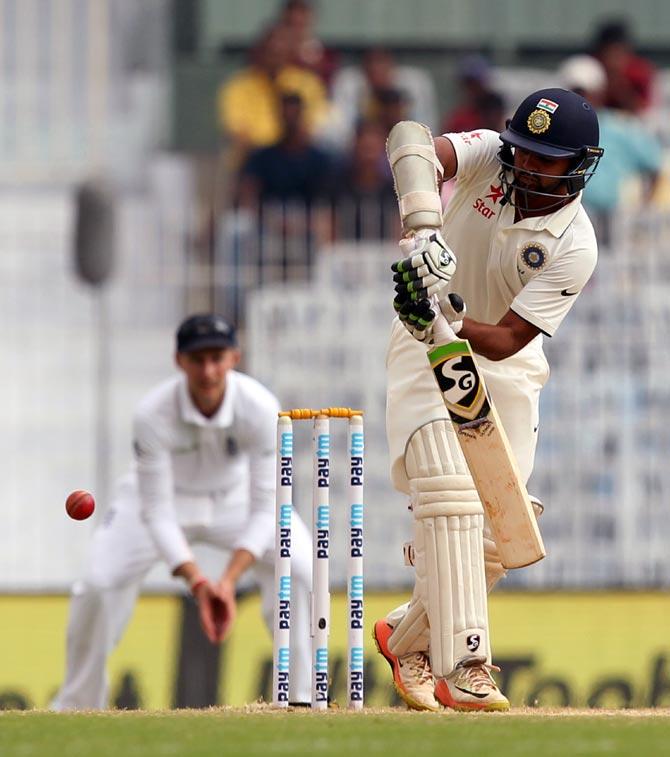 IMAGE: Parthiv Patel bats during Day 3. Photograph: BCCI
Drafted into the side after the second test to replace the injured Wriddhiman Saha, Patel kept wicket for over 157 overs and then returned to partner Rahul after regular opener Vijay sustained the injury.

England claimed two big wickets after lunch with Cheteshwar Pujara edging Ben Stokes and Stuart Broad dismissing the in-form Virat Kohli with a slow leg-cutter which the India captain drove straight to short cover.
IMAGE: Stuart Broad, right, celebrates with team mates after taking the wicket of Virat Kohli. Photograph: BCCI
Kohli made 15 and it was the first time in the series that the Indian run-machine was dismissed for a sub-40 score.

Rahul hit Adil Rashid for his third six to race to 193 and collected his 16th boundary off the same leg-spinner to reach 199.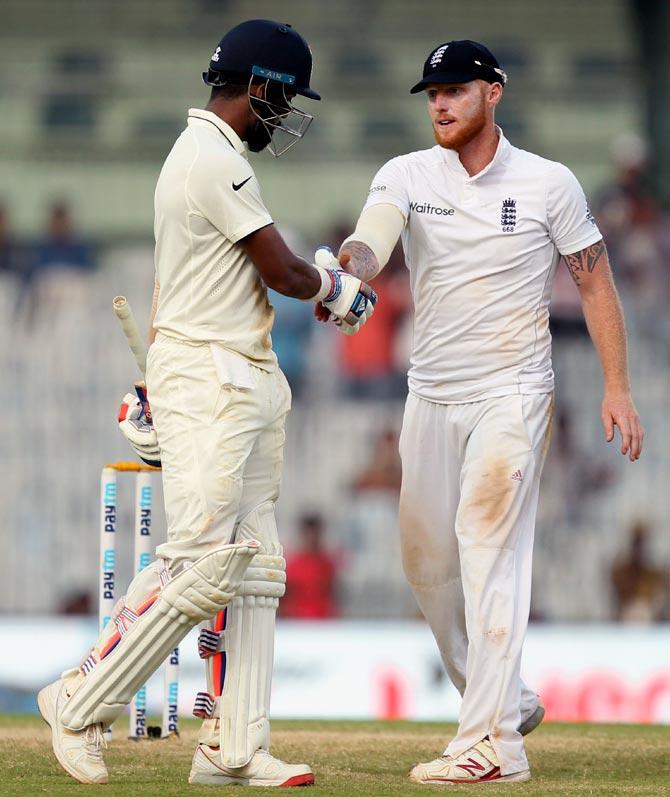 IMAGE: Ben Stokes congratulates KL Rahul as he makes his way back after his dismissal on 199. Photograph: BCCI
Rashid followed it with a tossed up innocuous delivery way outside the off-stump and Rahul offered a reckless shot, lobbing the ball to Jos Buttler at cover point.

"I will always have to live with it," Rahul said of the shot.

"I didn't get a double hundred, I played a horrible shot. It will take some time to sink in. I thought I would get a double hundred with ease. I just have to come back stronger," he added.