'When rain forces you to move inside, you can still devise your own game using the space that is available.'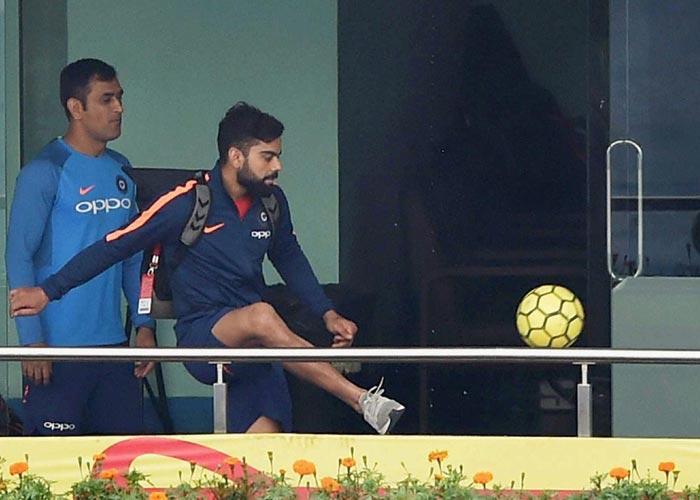 IMAGE: Mahendra Singh Dhoni, left, and Virat Kohli play football. Photograph: PTI
India's practice session on the eve of their first Twenty20 match against Australia was called off due to intermittent showers in Ranchi on Friday.
The JSCA International Stadium Complex ground has been under covers because of continuous rains since Thursday.

The Indian players arrived in the city on Thursday evening following a short break after the five-match ODI series, which the hosts won 4-1, but they were denied practice because of a downpour.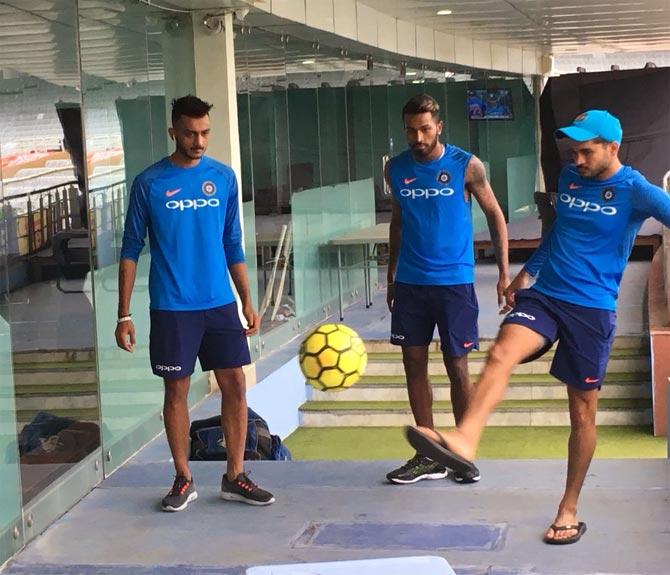 IMAGE: Axar Patel, Hardik Pandya and Manish Pandey play football. Photograph: BCCI
The players kept themselves by playing some football in the narrow corridor outside the dressing room.

"When rain forces you to move inside, you can still devise your own game using the space that is available," BCCI tweeted.

"We came here and it started raining. We have not planned anything as of now. Once we practice, we will have an idea (about the conditions)," India pacer Jasprit Bumrah said in the pre-match press conference.

"The rain is not in our hands. We think of what we can do. We will try to give our best effort," he added.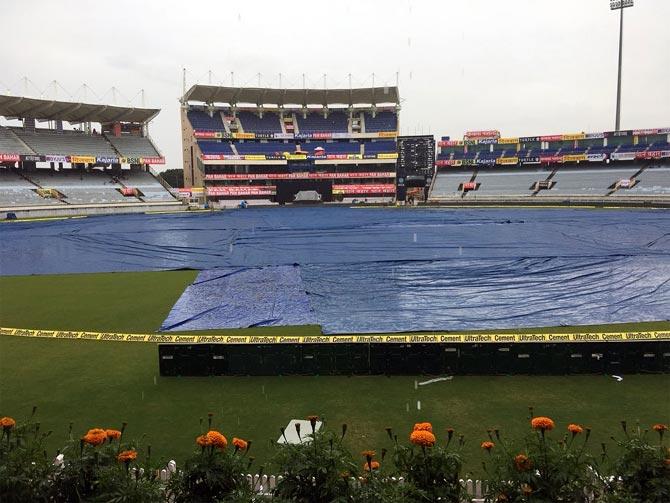 IMAGE: JSCA International Stadium in Ranchi under covers. Photograph: BCCI
According to the local Meteorological Centre, a cyclonic circulation is persisting over the northwest Bay of Bengal, which is capable of causing heavy rainfall in Ranchi for the next two days.

"There's chance of a light to moderate rainfall towards the evening. The upper air cyclonic circulation is going to persist for 2-3 days," R S Sharma, weather scientist at the Met Centre, said.

The last T20 International was held at this venue in February 2016 when India defeated Sri Lanka by 69 runs.