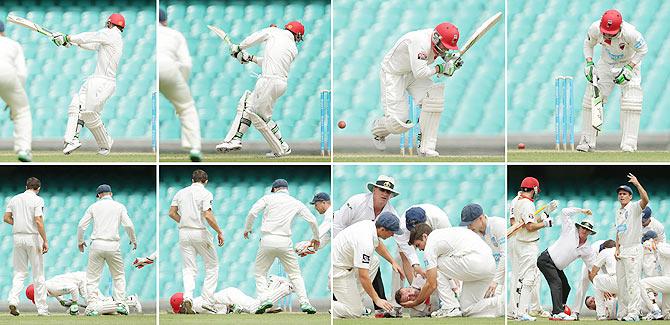 This sequence of images shows Phillip Hughes of South Australia as he is struck on the head by a delivery during Day 1 of the Sheffield Shield match against New South Wales at the Sydney Cricket Ground on Tuesday. Photograph: Mark Metcalfe/Getty Images
Injuries on a cricket field may not be uncommon, but when cricketers suffer knocks and blows, especially those that are freak and career-threatening, it sends a chill down the spine. Besides, they makes headlines, of course!
On Tuesday, Australian cricketer Phil Hughes was struck on the helmet following a beamer from Sean Abbot and suffered a serious head injury. The 25-year-old batsman eventually succumbed to the injury on Wednesday.
There are many examples of injuries on the cricket field, some fatal and others life-altering.
Rediff.com brings you a lowdown of ten most critical injuries in cricket.
Steve Waugh-Jason Gillespie collision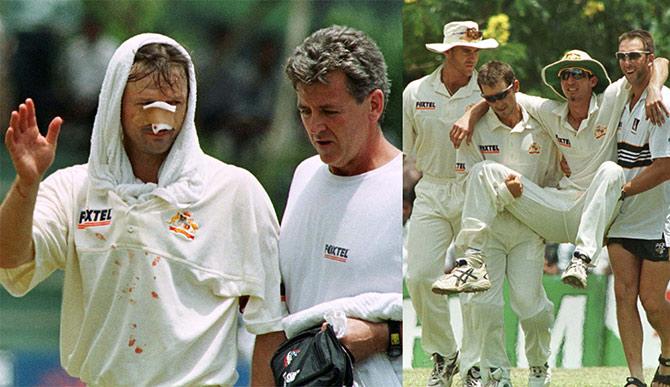 Australia captain Steve Waugh (left), with physiologist Errol Alcot, waves to the crowd before leaving the field after colliding with teammate Jason Gillespie in an attempt to take a catch to dismiss Sri Lankan batsman Mahela Jayawardena on the second day of the first Test at the Asgiriya stadium in central Kandy on September 10 1999. (Right) Jason Gillespie is carried off the field. Photograph: Reuters
Fresh from claiming the 1999 ICC World Cup, Steve Waugh and his warriors headed to the subcontinent for a Test series against Sri Lanka in September that year.
The series, however, began on an unfortunate note for the Aussies, as Steve Waugh, the then captain, fractured his nose in a freak fielding accident with fast bowler Jason Gillespie during the first Test in Kandy.
Gillespie broke his leg and was ruled out of the remainder of the tour.
Sri Lanka won that Test even as Waugh soldiered on in that series with a broken nose. For the record, Australia went on to lose the series.
Raman Lamba succumbs to blow on the head

Indian cricket had never experienced an on-field tragedy of this magnitude.
Former opener Raman Lamba died after being struck by the ball on the head while fielding at silly mid-on in a Bangladesh premier cricket league match between Abahani and Mohammedans in February 1998.
The 38-year-old Delhi batsman underwent brain surgery to remove a blood clot at a hospital in Dhaka after being hit. He was declared brain dead three days after the surgery and the life support was withdrawn following his family's approval.
Irfan Pathan and Suresh Raina collide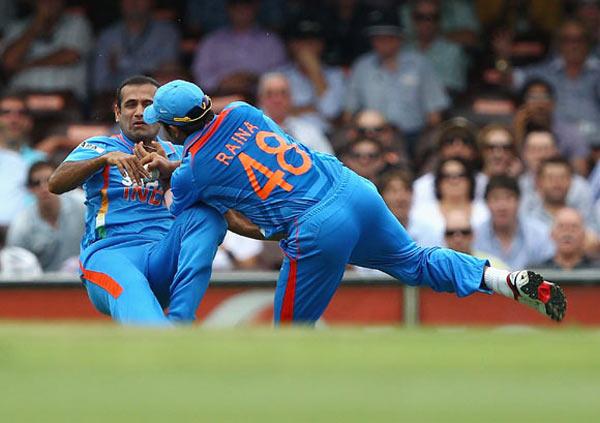 India's Suresh Raina collides with Irfan Pathan after the former takes a catch to dismiss David Warner of Australia. Photograph: Getty Images
During the last tour of Australia, India were nearly dealt a severe blow in the CB Series One-dayers.
Australia batsman David Warner was in good form, hitting the ball all over the park. But one mistimed shot had two Indian fielders in a tangle.
Warner tried to sweep a fullish delivery from Ravindra Jadeja, and as the ball looped up in the air, both Suresh Raina, from inside the circle, and Irfan Pathan, at fine leg, dashed for it.
Raina, following the ball, took a splendid catch, but couldn't avoid the on-rushing Pathan and both collided.
However, both escaped without any serious injury.
Saba Karim's eye injury
Former India wicketkeeper Syed Saba Karim, sustained a serious eye injury while playing in the Asia Cup in 2000.
He was struck on the right eye by a delivery from leg-spinner Anil Kumble that deflected off Bangladeshi batsman Habibul Bashar's pad in the opening match.
Karim was admitted to hospital with retinal oedema and inflammation, but complications set in due to increase in intra-ocular pressure, a condition known as glaucoma. He was operated upon for glaucoma.
With the health of his eye sight not showing any signs of improvement, he was forced into retirement at the age of 34, having played just one Test and 34 ODIs.
Gary Kirsten hit by Akhtar beamer

This former South Africa opener was left badly bruised by the Rawalpindi Express.
During a Test match in 2003, Shoaib Akhtar, running in at full steam, bowled a short delivery that Kirsten tried to hook. He missed the ball completely – the ball lodged into the visor and hit his cheek.
Kirsten removed his helmet and there was blood all over resulting from a gash in his left eye.
He had ten stitches on his eye and an sustained a broken nose.
Bail in the eye ends Boucher's career
South Africa wicketkeeper Mark Boucher is injured as a delivery from leg-spinner Imran Tahir flicks the bail into his face. The 'keeper had to leave the field with a bloodied eye. Photograph: Ben Hoskins/Getty Images
Former South Africa wicketkeeper Mark Boucher suffered a cut to his left eyeball after being struck by a bail during his country's tour match against English county side Somerset in Taunton in July 2012.
Boucher was injured when a delivery from leg-spinner Imran Tahir flicked the bail into his face, forcing the 35-year-old off the field with blood oozing from his eye.
'Mark suffered a laceration to the sclera of his left eye,' team manager Mohammad Moosajee told the Cricket South Africa website (www.cricket.co.za).
The former South Africa wicketkeeper lost the lens, iris and pupil in the eye injury which forced him to announce his international retirement that same week.
Vermulen gets dent in skull
It's one of those freak injuries that cost the batsman a lot. And Irfan Pathan was involved in this one too.
In 2004, Zimbabwe's Mark Vermeulen fractured his skull while batting in a triangular series match against India in Brisbane.
The 24-year-old top-edged a bouncer from Pathan and the ball struck him above the right eye wedging between the visor and peak of his helmet.
Vermeulen was taken to a Brisbane hospital where a depressed skull fracture was diagnosed.
He had a reconstructive surgery later and played no further part in the series.
The talented batsman had previously suffered a hairline skull fracture during a net session at the 2003 World Cup.
The player was arrested in 2006 on charges of arson and later cleared of it. It was alleged that he set fire to the offices of the Harare Sports club.
Rumours suggest that he has been suffering from partial epilepsy and other psychological problems following the blow on the head.
However, Vermeulen made a return to international cricket when he was included in the one-off Test against South Africa in August this year.
Courageous Kumble soldiers on despite broken jaw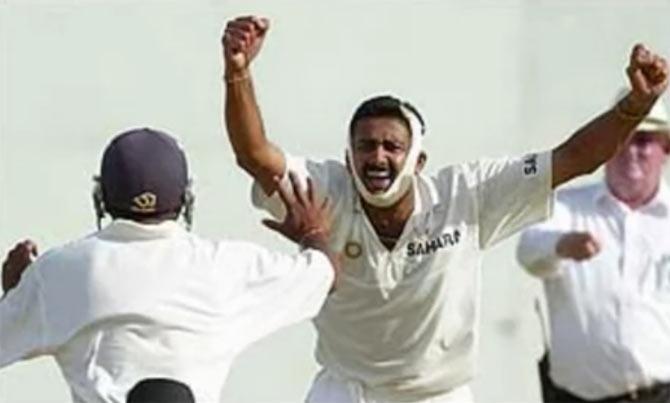 A heavily bandaged Anil Kumble appeals for a wicket during the Antigua Test against the West Indies in 2002.
In what can be described as a courageous gesture from one of India's most successful cricketers, Anil Kumble came on to bowl against the West Indies in the series in 2002 despite a broken jaw!
Kumble was hit by a rising delivery from paceman Mervyn Dillon on the second day of the fourth Test at the Antigua Recreation Ground.
A cracked jaw and the prospect of not playing any further part the match only spurred the leg spin ace to bowl his best when he took the field, his face heavily bandaged.
Griffith delivery leaves Contractor unconscious

In the 1960s, India captain Nari Contractor was hit on the head by a ball from West Indian paceman Charlie Griffith.
Contractor was unconscious for six days and needed blood transfusion to survive. He never played international cricket again.
Marshall leaves Gatting with broken nose
Former England batsman Mike Gatting's nose was smashed by Malcolm Marshall in the first ODI in Jamaica in 1986.
Gatting misread the length of the ball and was hit on the nose. He was left with a broken nose.
What was worse, Gatting was bowled as the ball lodged onto the stumps after hitting his face.
In other instances, Bob Willis fractured Rick McCosker's jaw in the 1977 Centenary Test.
In 1975, New Zealander Ewen Chatfield swallowed his tongue and stopped breathing after being hit on the temple by English fast bowler Peter Lever during a Test match. His life was saved by English physio Bernard Thomas, who sprinted onto the field and administered CPR.
Pakistan's Abdul Aziz was struck on the chest by a delivery, collapsed and never regained consciousness. He died on the way to the hospital, aged 17.