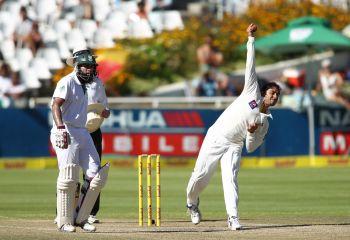 Pakistani cricket authorities said that they would be soon be sending suspended off-spinner Saeed Ajmal for an informal biomechanic tests in a bid to get him cleared before next year's World Cup.
The PCB chairman Shaharyar Khan said the decision to send Ajmal for the informal test on his remodelled bowling action was taken after positive reports from the team of experts which is working on correcting the off-spinner's bowling action at the National Cricket Academy in Lahore.
"We are going to send him for an informal review of his bowling action to anyone of three ICC accredited biomechanic labs and we remain hopeful once he passes that test we can than approach the ICC and ask them to have Ajmal undergo a proper bowling test again," Sharharyar told reporters in Lahore.
He said that the team of experts which is headed by former Pakistan spinner Saqlain Mushtaq had given a positive report and said there was a marked improvement in Ajmal's action.
Ajmal, 36, who has been Pakistan's leading bowler in all formats of the game for the last few years was first reported by match officials during the first Test against Sri Lanka in Galle in August.
He then failed to pass a formal test conducted by the ICC in Brisbane last month and was subsequently suspended from bowling in international cricket.
Since then he has been working hard under the supervision of Saqlain known as the pioneer of the 'doosra' delivery at the NCA to correct his bowling action.
The PCB hired Saqlain to work on Ajmal's bowling action after it was revealed that he had exceeded the 15 degrees extension allowed by the ICC for bowlers to straighten their arm in the biomechanic tests in Brisbane.
"Saqlain has given a positive report that Ajmal has managed to remodel his bowling action to within the permissible limits of the ICC. He and Ajmal are both ready to go for the informal test," Shaharyar said.
"Once he clears the informal test we will than ask the ICC to test out Ajmal so that he can be cleared before the World Cup," he added.
Shaharyar said Ajmal would bowl the off-break and the 'doosra' with his remodeled action when he goes for the informal tests.
Image: Saeed Ajmal
Photograph: Shaun Roy/Gallo Images/Getty Images