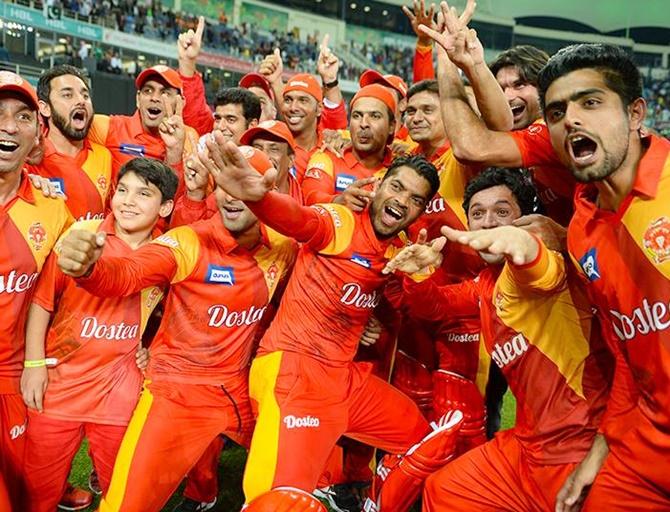 IMAGE: PSL players celebrate. Photograph: Facebook.
The Pakistan Cricket Board announced an overall profit of 260 million rupees ($ 2.6 million) from the first edition of its Pakistan Super League held in February in the UAE.
The total profit of the board dwindled since the PCB has promised to distribute around 200 million rupees among the five franchises to cover their losses from inaugural edition of the T20 tournament.
But PSL chairman Najam Sethi said on Tuesday that the PCB was satisfied with the outcome of the first PSL since initially it was thought the tournament would not be a profitable one.
"But we have managed to make an overall profit of $ 2.6 million from the country's first ever Twenty20 league which is a healthy and encouraging sign for us," Sethi told the media in Lahore.
The PSL, which had five franchises, generated massive interest in Pakistan despite being held in Dubai and Sharjah due to security issues in the country.
Not only did it generate interest but also hit record television viewership figures worldwide as the PCB adopted the strategy of producing and broadcasting the league itself and aired it simultaneously on three sports channels after buying airtime from them.
"Overall the PSL was a bigger success than we initially expected and the profit is a welcome sign," Sethi said.
He said around $ 6 million were earned from television rights and gate money.
The inaugural edition was won by the Islamabad United franchise led by Test captain Misbah-ul-Haq and coached by Dean Jones and Wasim Akram.
Sethi said there was lot of pressure on the board to add a sixth franchise even though the PCB had an agreement with the five franchises that a new team would only be added after two years.
He said the franchises had already increased their brand value after the success of the first edition. Sethi pointed out that Quetta Gladiators, which was brought for an annual sum of just $ 1.1 million, was now valued at around $ 2 million.
Sethi said the PSL would soon be registered as a company with the PCB as its owners. He said it was his dream to have some matches of the PSL's second edition in Pakistan.