'Over 200 of Australia's most senior cricketers are unemployed as of the 1st of July'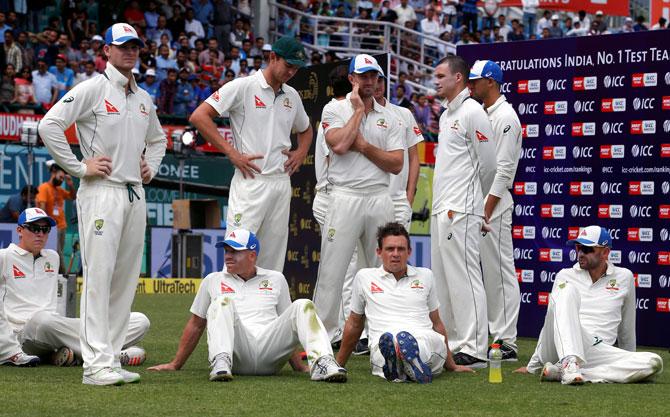 More than 200 of Australia's top cricketers face unemployment within days, with a bitter pay dispute "extremely" unlikely to be resolved by a deadline on Friday, players' union boss Greg Dyer has said.
Australia's top cricketers face being locked out unless a new memorandum of understanding (MoU) is struck between Cricket Australia and the Australian Cricketers' Association (ACA), with the current agreement set to expire on June 30.
ACA president Dyer said players and Cricket Australia remained "a long way apart" on basic issues and the union was preparing its members for unemployment.
"It is extremely likely that as of July 1 we'll be jumping over the cliff together," Dyer told local media on Tuesday.
"The fundamentals of the deal are nowhere near to being resolved.
"Over 200 of Australia's most senior cricketers are unemployed as of the 1st of July.
"We will be assisting in whatever way we possibly can in that but they're unemployed."
At the heart of the dispute is a long-standing agreement that gives the players a fixed percentage of the revenue of the game, a deal which CA says prevents them from sufficiently investing in the grassroots.
CA offered a revised deal on Friday but the union quickly rejected it.
Unless the impasse ends, the upcoming Australia A tour of South Africa, a two-Test series in Bangladesh and a limited-overs tour of India are under threat, with the Ashes also looming at the end of the year.
CA has declined to comment on the negotiations but said in announcing its revised offer last week that it was "100 percent committed" to resolving the MoU by the deadline.
Former Australia Test opener Ed Cowan, who is contracted for New South Wales state, said players remained unified and resolute in their demands, and cast doubt on Steve Smith's Test side boarding the plane for Bangladesh for the Test series starting August 27.
"The next line in the sand is probably the tour of Bangladesh, do the players go on that late August?
"My gut feeling is probably hit and miss for security reasons (and) MoU reasons."
The ACA has already made moves to prepare for a lockout, setting up a business to manage and market players' intellectual property.
Cricket Australia last week applied a much moderate approach to resolve the ongoing pay dispute by offering a greater share of international surpluses, included domestic players in its sharing arrangement and opted to increase annual pay rises to state players.
However, the cricket board refused to take a softer line on its position that the existing revenue-sharing model, which has been in place for nearly 20 years, was untenable which has been the sticking point to the ACA.
Sutherland had in May insisted the players will receive around 15 percent hike in pay under the governing body's new model, while emphasising that there are not many people in the country getting something like that.
ACA had earlier rejected the new pay offer from the game's governing body, saying the proposal will be a win for cricket administrators but a loss for the game.
In March, CA made an offer, proposing that the average pay of Australia's international women's players would rise from $A79,000 to $A179,000, while the average remuneration of state cricketers would more than double to $A52,000.
Under CA's proposal, only male international players would have the chance to share in any surplus revenue, while other domestic male players and women at both domestic and international level would have to settle for fixed amounts which would not fluctuate according to the game's income.
However, the ACA pointed out a series of concerns with the proposal, saying that it "disrespects the value of domestic cricketers and the role they play in Australian cricket".
The major reason behind the ACA's opposition is CA's proposal to scrap a shared revenue model for player payments, which has been in place for nearly 20 years.
Cricket Australia had in May threatened that players would not be paid beyond June 30, the date of expiry of their current five-year financial deal, if they don't accept the governing body's new proposed offer.
Image: A file photo of the Australian cricket team
Photograph: Adnan Abidi/Reuters