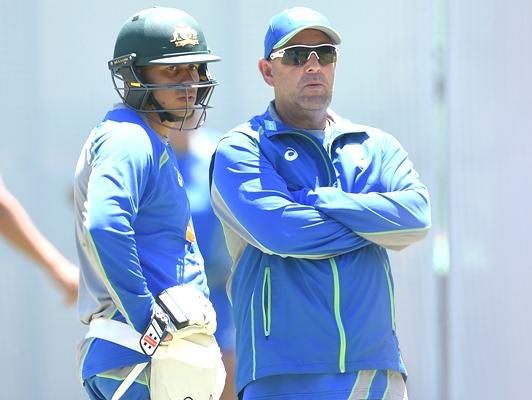 IMAGE: Australia coach Darren Lehmann speaks to Usman Khawaja who was set to captain the Australia 'A' tour . Photograph: Matt Roberts/Getty Images
Australia's 'A' tour of South Africa has fallen victim to the pay dispute between the players and Cricket Australia after the squad decided not to travel as scheduled on Friday in the absence of a new agreement.
With talks between the union and the governing body deadlocked, around 230 players were left effectively unemployed when the previous five-year pay agreement expired at the end of last month.
The Australian Cricketers' Association (ACA) held an emergency meeting in Sydney last weekend and the players decided they would boycott the 'A' tour unless a new Memorandum of Understanding (MOU) was signed this week.
"It is with great frustration that with no progress towards resolving the current dispute, Australia 'A' players confirm they will not tour South Africa," the player's union said in a statement on Thursday.
"By making this call, the Australia A players have sacrificed their own ambitions for the collective; an incredibly selfless act that shows their strength and overall commitment to the group.
"All players are deeply disappointed at the behaviour of CA which forces this course of action, given the players would rather be playing for their country."
At the heart of the acrimonious dispute is Cricket Australia's insistence that the two-decade-old model, under which players get a fixed percentage of revenue, should be jettisoned.
CA believes the revenue-share model is unfit for modern times and is starving grass-roots cricket of funding, while players say it has underpinned the game's growth and prosperity over the past 20 years.
The ACA said on Thursday the governing body had refused mediation or to "offer any genuine flexibility" in negotiations and called for "common sense to prevail" with CA chief executive James Sutherland becoming directly involved in talks.
The 'A' team, captained by Test batsman Usman Khawaja, were scheduled to play two four-day matches and a 50-over tri-series against India and South Africa on the tour.
The senior Australia team is scheduled to play a two-Test series in Bangladesh in August and September before a one-day series in India and then the Ashes at home against England.