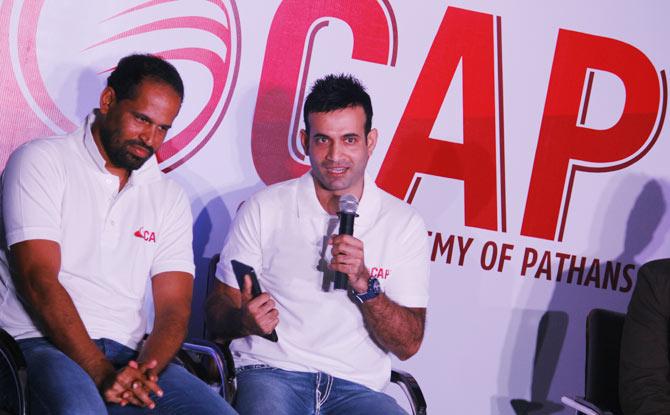 Irfan Pathan (right) with his brother Yusuf at the launch of their academy 'Cricket Academy of Pathans' in Mumbai. Hitesh Harisinghani/Rediff.com
One of Indian cricket's most famous brothers Irfan and Yusuf Pathan took their bonding to a new level as they launched a cricket academy on Thursday which will also have former India coach Greg Chappell as the mentor.
The brothers' academy which has been named Cricket Academy of Pathans will be launched initially in Baroda next month with around 50 more academies planned all across the country. Australia's Chappell and Cameron Tradell are the two mentors, who will oversee the work done by the various head coaches and specialist coaches picked from all over India.
"Cricket has given a lot to us and we wanted to give something back to the game in whatever way we can. My dream was to start an academy and help the youngsters at the grassroot level because I believe the foundation is important for the growth of any player."
"We will be approaching all the schools in Baroda and we will tie up with only those who have proper infrastructure for cricket," Irfan said in Mumbai at the launch of CAP.
The duo have fallen out of favour with the selectors in the last couple of years but they believe they still have a few years of cricket left in them.
"We have around 7-8 years of cricket left us in and we are sure that we will soon be playing at the highest level. I am sure it won't be long before the questions from people change from 'how are you planning to do it? (make a comeback to the Indian team) to 'how did you do it?' Irfan added.
Australia batting great Chappell, who served as the Indian coach from 2005 to 2007, will be the mentor of CAP. He will assist in not only developing the coaches at the academy but also oversee the improvement of the young boys, who will have the option to enrol for specific courses.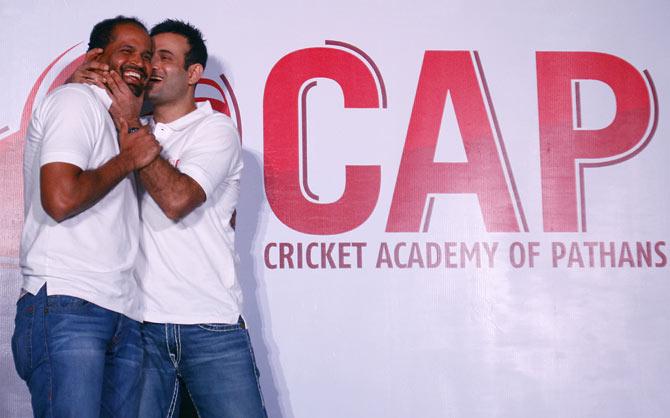 Irfan Pathan (right) kisses his brother Yusuf. Hitesh Harisinghani/Rediff.com
Irfan was part of India's T20 World Cup winning team in 2007 and has represented the country in 120 ODIs and 29 Tests, claiming 173 and 100 wickets respectively. However, poor form and a spate of injuries have seen him last turn out for India in 2012 in an ODI against Sri Lanka in Pallekele.
The left-arm pacer said he is targeting the forthcoming domestic season and has still not given up hopes of coming back. "I am looking at the upcoming Ranji Trophy season and hope to do well and take it forward from there," he was quoted as saying by PTI last month.
Yusuf, who will be part of Kolkata Knight Riders in the forthcoming Champions League T20, says good coaching is vital at a young age.
"When we started cricket, we didn't know much about the technical aspect or many other things and we just learnt what was taught. But after having played for so many years, we have realised that it is important to impart some of our knowledge to the small kids at a very young age which would help in their overall development," the 31-year-old said.
Irfan stressed that they both won't be involved in any kind of coaching at the academy and would only oversee the development of the young cricketers.
"We will not be doing any coaching as we both are actively playing at the moment. We will be overseeing everything and make sure that we achieve the results at the end of each course. We will be monitoring the development of players and take active interest in the running of the academy," he said.