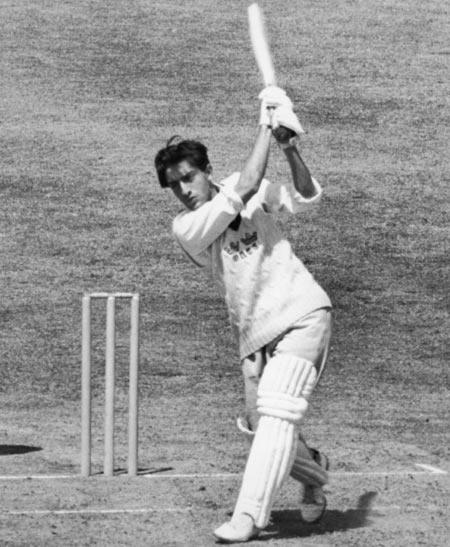 Mansur Ali Khan Pataudi in action for Oxford against Surrey at the Oval, in June 1961. Photograph: Dennis Oulds/Central Press/Getty Images
Ahead of Mansur Ali Khan Pataudi's third death anniversary in November, a website claims to have unearthed an unheralded aspect of the former Indian captain's game -- he was the best when it came to handling pressure.
"On the occasion of the Nawab of Pataudi Jr's third death anniversary on November 22, Impact Index unveils the most special quality he had as a cricketer which has so far gone unheralded. According to the most complete cricket analytics system in the world, MAK Pataudi absorbed the most pressure (of falling wickets) in the history of Test cricket in his career (minimum 40 Tests)," the website said in a release.
Batsmen renowned for playing under pressure like Zimbabwean Andy Flower, Australians Warwick Armstrong and Clem Hill and West Indians Brian Lara and Jimmy Adams, and Chandu
Borde closer home, are all behind him in this respect.
Twice every week, Impact Index will reveal two such stories in this series, which will go on for a year. They will include stories from all three formats of the game, especially Test cricket and 50-over cricket (those stories will be released closer to the World Cup next February).