The second Twenty20 International between India and Pakistan in Ahmedabad on December 27 has been pushed back by a day after the Board of Control for Cricket in India acceded to a request from their Pakistani counterparts.
The Pakistan Cricket Board (PCB) requested that the match to be re-scheduled as December 27 is the death anniversary of former Pakistan Prime Minister Benazir Bhutto, who was assassinated in 2007.
Following the change, the second T20 match will now be held in Ahmedabad on December 28.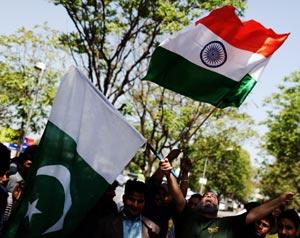 Pakistan will tour India later this month for a limited-overs series comprising two Twenty20 matches and three One-Day Internationals.
The tour begins with a T20 in Bangalore on December 25, while the ODIs will be staged in Chennai (Dec 30), Kolkata (January 3) and Delhi (January 6).
Pakistan will be visiting India for a bilateral series after five years, the last being in 2007-08, for a three-Test and five-match ODI tour.
Ties between the two countries' cricket authorities were hit by the 2008 Mumbai attacks, in which 175 people died.
Photograph: Daniel Berehulak/Getty Images