Pakistan Cricket Board chairman (PCB) Zaka Ashraf on Thursday wished a speedy recovery for ailing Shiv Sena supremo Bal Thackeray sending a 'get well soon' message to the veteran politician.
The 86-year-old Thackeray has been suffering from respiratory problems and his condition turned critical on Wednesday night.
Shiv Sena party spokesman Sanjay Raut informed the media that the Sena patriarch is showing signs of improvement and has been taken off the life support system.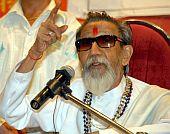 "I have sent a message of 'Get Well Soon' to Mr Bal Thackeray. Our religion and our Prophet Mohammad taught us that we should wish everyone good health and life and following that I have wished him well and sent him a bouquet," Ashraf was quoted as saying by media reports in Pakistan.
Thackeray has demanded that the Indian government cancel next month's tour by the Pakistani cricket team to the country until Islamabad brought the perpetrators of 2008 Mumbai terror attacks to justice.
However, the Indian government earlier this month gave its go ahead to the tour which comprises of two Twenty20 matches and three one-day internationals to be played between December 25 and January 6 -- their first full series since 2007.