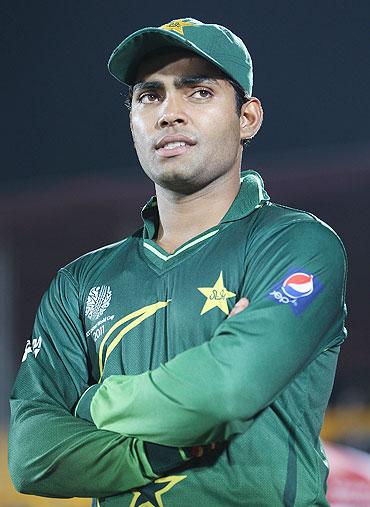 Pakistan Test batsman Umar Akmal was released from jail after spending an entire day in lock-up for allegedly thrashing a traffic warden and tearing his uniform after being stopped for violating a signal in Lahore.
Umar was locked up at the Gulberg police station in whose jurisdiction the incident occurred in the afternoon as the police registered three cases against him.
"He has just been released on personal surety by the station house officer of the Gulberg PS but will have to appear before the magistrate on Monday to get his bail confirmed until the cases are heard against him," SSP Zahid Aziz said.
Umar, who was whisked away in a waiting car to his residence, spent the entire day at the police station prompting a large number of his supporters to gather outside and raise slogans against his arrest.
"I have burnt my entire cricket kit today in front of the station because if this is the way our national cricket heroes are treated for a minor traffic offence I don't want to play cricket again," irate fan and club player Reza Bhatti said.
Umar's elder brother, Kamran, who was allowed to take his sibling home earlier, told reporters that he was very upset with the way a national team player had been treated.
"We are not terrorists and we know and respect the law of the land but this is not the way to treat a Pakistan player like an ordinary criminal for an incident which has been blown out of proportion," Kamran said.
Earlier in the day, efforts by the Akmal family to secure bail for Umar failed as by the time the police produced him in a judicial magistrate court it had closed for the week and the judges had gone home.
Senior superintendent police, Zahid Aziz told the media that three charges were registered against Umar but all were bailable offences.
Umar, 23, the youngest of the Akmal brothers who has played 16 Tests, 89 ODIs and 52 T20 internationals for his country alleged the warden had abused and than slapped him.
This is not the first time the young batsman has been embroiled in a controversy. He had undergone counselling in the past on directions of the Pakistan Cricket Board for behaviour problems.
Last year, Umar was censured by the board when he was called back from the Caribbean Premier League after reports he had suffered a seizure and on returning home contradicted the board's version.
The Pakistan Cricket Board preferred to remain quiet on the incident.
Image: Umar Akmal