Streak will continue in the capacity of bowling coach of IPL franchise Gujarat Lions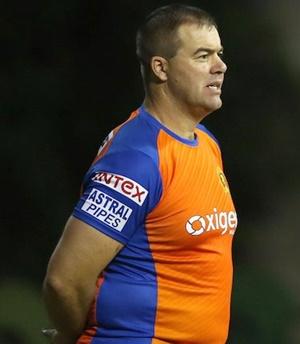 Former Zimbabwe skipper Heath Streak has been appointed as the head coach of the country's cricket team.
He will succeed Dav Whatmore, who was sacked in May this year after Zimbabwe failed to reach the Super 10 stage of the World T20 in India.
The 42-year-old was preferred over former team-mate Andy Blignaut and South Africans Peter Kirsten and Justin Summons, who were all interviewed for the job, ESPNcricinfo reported.
Although Streak will continue his role as bowling coach for the Gujarat Lions in the Indian Premier League (IPL), he now also has a task in hand to ensure Zimbabwe qualify for the 2019 World Cup.
Streak's first assignment will be a two-match Test series against Sri Lanka, starting from October 29 in Harare.
The former paceman has previous experience as a head coach, having served a four-year stint as bowling coach of the national team between 2009 and 2013 before taking charge of the Bulawayo-based franchise Matabeleland Tuskers in the 2012-13 season.
He also spent two years as the bowling coach of Bangladesh, before moving to the IPL.
Meanwhile, former South Africa fast bowler Makhaya Ntini, who was appointed as interim coach after Whatmore's dismissal, is expected to stay on as bowling coach.
Image: Heath Streak
Photograph: Gujarat Lions/IPL