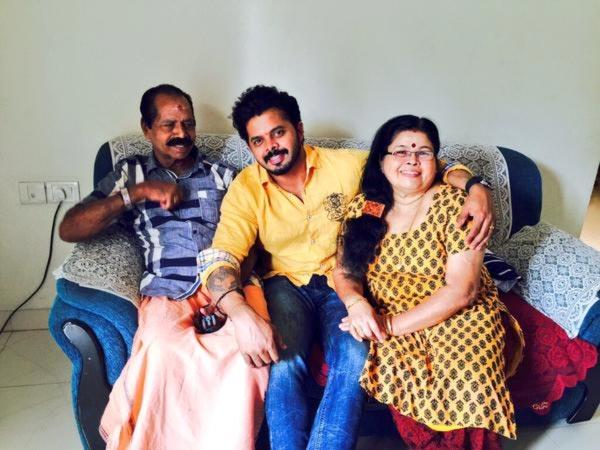 Shantakumaran Sreesanth with his parents. Photograph: Twitter
Cricketer Shantakumaran Sreesanth's parents could not find enough words to express their elation as a Delhi court dropped all charges levelled against their son in the spot-fixing scandal which rocked the sixth edition of the Indian Premier League in 2013.
- Timeline: IPL spot-fixing scandal

"Thank God. Our prayers are answered. He (Almighty) is witness to everything. We thank all those who worked to prove his innocence," Sreesanth's father Shantakumaran Nair said, reacting to court verdict discharging all 36 accused in the spot-fixing case.

All the 36 accused persons, including Sreesanth and his Rajasthan Royals team mates Ankeet Chavan and Ajit Chandila, were cleared of all charges by the Patiala House court in New Delhi.
- Sreesanth seeks BCCI nod for training, eyes 'selection'

"We thank all those who prayed for our son. We were all tensed after Court reserved order on plea. We were all praying for him," Sreesanth's mother Savitri Devi said.

Kerala Cricket Association president T C Mathew, who is also the vice-president of the Board of Control for Cricket in India, said the state cricket body would do everything possible to ensure re-entry of Sreesanth into mainstream cricket.

He said he would seek all possibilities to revoke the life ban imposed on Sreesanth by BCCI.